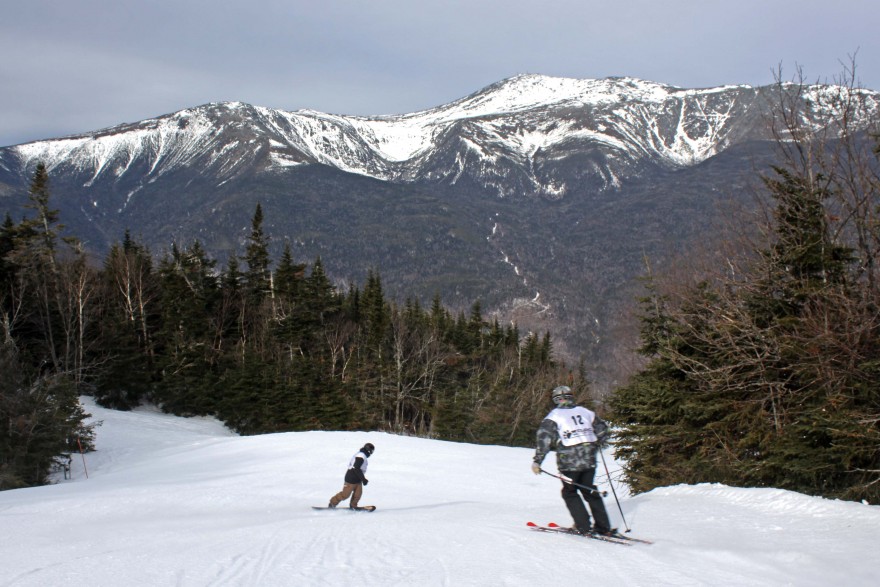 For some, it's kind of a bucket list item. Take Jim Fagone. He's a ski coach at Cranmore Mountain in North Conway, New Hampshire. When he turned 45 decided he would ski 45 runs in a day.  With each year, he would increase the number of runs to match his age. That endeavor turned into a fundraiser for his late friend, a fellow ski coach Ian Meserve, and the scholarship set up in his memory.
Eventually, Fagone skied 50,000 vertical feet in a day. But he wanted to do more.
A short drive away from North Conway, he found himself this March on the chairlift at Wildcat Mountain in Pinkham Notch, a 4,000 foot-plus mountain in the White Mountains across from Mount Washington. He was taking part in another fundraiser, the 13th Annual 100,000 Vertical Foot Challenge to benefit Make-A-Wish New Hampshire.
"Because I turned 50 this year, I decided I was going to come here to Wildcat and do this," said the Cranmore coach.
Fagone's been a ski coach for more than 30 years, so he's on the hill a lot. "I have a lot of skiing under my belt, but I don't train for anything," he laughed. "I just want everyone to be safe. This is definitely challenging. Nobody should push themselves too hard, " he said on the chairlift.
It was a long wintry day with gusty summit winds. Skiers had a 9-hour window from 7:30 a.m. to 4:30 p.m.
Skiers and riders used the high-speed quad to access the cordoned off Lynx Lair, Upper Lynx, Middle Lynx, Lower Lynx and Lower Catenary route. They tallied about 2,100 vertical feet with each run and reached 100K at 48 runs. The maximum number of runs allowed during the day was 50. That's about 11 minutes and 15 seconds per run. The lift goes to the summit in under seven minutes, leaving about 4 1/2 minutes to make each run.  Skiers had priority lift access for the day.
Conway's Jim Hannigan also skied the event for the first time.
"I"m doing this for the kids and a little challenge for an old guy who just turned 61," he said. "It's a good goal to reach health wise."
Hannigan put in about 30 ski days this season. The day before the event, he loaded up on carbs and protein. He carried cheese and nuts in his pockets and quaffed Gatorade when he could.
"I just hope we can raise more money for the kids  to some day have a cure for the health issues that they have and make their dreams come true before their health catches up with them unfortunately," says Hannigan.
Ed Sawtell relocated to the Mount Washington Valley five years ago from Montana. Since then he's always wanted to try the Vertical Challenge.
You know he skis a lot because he wore those insulated hardware store gloves favored by mountain men and women.
"I think 24 is the magic number to get to and see how you're doing at that point," he said, taking out his ear buds. "You have a big chunk of your day and then you have that extra hour if you stay at six runs per hour. You can adjust that at the halfway point."
Sawtell said there was a charged up energy at the onset of the challenge, and that there are some really good skiers taking part.
"This is just a cool day, a sweet day," he said.
The course was very fast, according to several skiers. An eagle-eyed crew near the lift kept track of runs, watching the bibbed skiers go by. Throughout the day many bystanders broke into applause as skiers came down the final section of the trail and went onto the chairlift.
Marketing director Thomas Prindle stated he was extremely appreciative to the groomers, ski patrol, lift operations, buildings and grounds, food and beverage and many other Wildcat staff who contribute  annually to the event.
"I also am extremely fortunate to again have had this year's participant group, 36 total this year, collectively raise well over $81,000 and add to the over $750,000 that the event has raised previously," he said.
All in a 100K day.
Image courtesy of Wildcat Mountain.