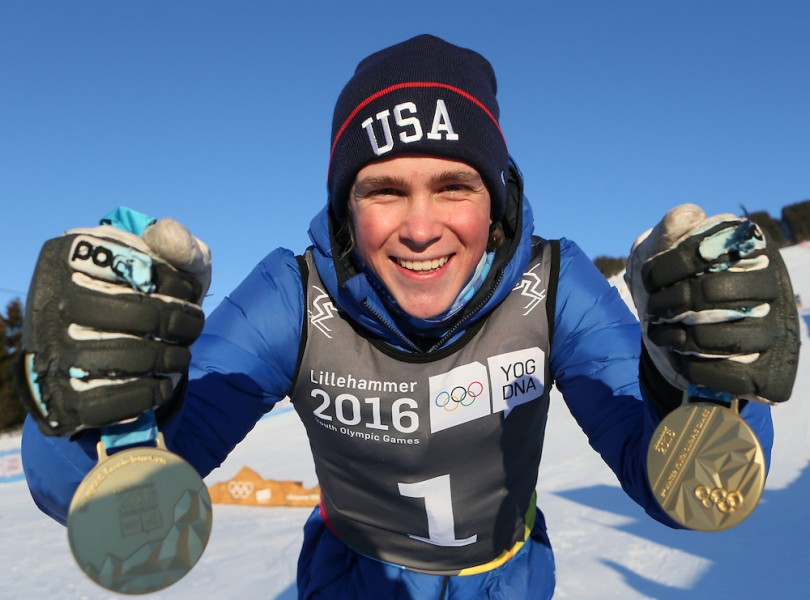 River Radamus ran through the recent Winter Youth Olympic Games (YOG) to a treasure chest filled with gold.
Barely 18, the youngest skier on the U.S. Ski Team's development squad showed promise ahead by winning three gold medals at the Games in Lillehammer, Norway Feb. 12-21. A product of the Ski & Snowboard Club Vail, Radamus became the first skier or snowboarder in history to win three individual gold medals in the Games.
His hat trick came with victories in super G, alpine combined and giant slalom. He's already being compared to Bode Miller, his idol.
Radamus' historic third gold medal was given to him by Swiss Olympic downhill gold medalist Dominique Gisin.
"I'm sure we will hear a lot about him," Gisin told Around the Rings. "His skiing is fantastic; it's really Bode style."
The golden collection began on the Hafjell Olympic slope when Radamus narrowly bested Italy's Pietro Canzo for the top prize in super G by a slim .03 seconds. Austria's Manuel Traninger took bronze.
Following that race Radamus said the course was pretty technical.
"There were a couple of really key spots that I think I nailed," he told the U.S. Ski Team. "I didn't really go in with any sort of expectations. I knew that if I executed my lines and skied the way I wanted to, I would have a chance, but this is definitely a welcome surprise."
Radamus is the current U.S. Junior National Slalom champ. The Coloradan grew up in ski racing. His father Aldo is a former U.S. Ski Team coach and longtime head of the Ski & Snowboard Club Vail which has produced a number of racers like Sarah Schleper de Gaxiola. Radamus is also a senior at the United States Ski Association's TEAM Academy, the ski teams program for high school aged athletes.
The YOC was a 10-day competition that drew some 1,100 athletes from 71 countries. The U.S. collected 16 medals, 10 of which were gold (6 silver) tying for the most of any country. There were 70 medal events across all 15 sport disciplines on the 2018 Olympic program. The YOG, modeled after the Olympics, made its debut in 2012 and is held every four years.
Following super G gold, it was time for the alpine combined. That's super G in the morning and slalom in the afternoon. Like super G, the podium was stacked with the same names. Radamus stayed on top, but this time Traninger took silver and Canzio bronze.
"The first (gold) came definitely as a shock," he said after that race. "To win two in two days is pretty awesome."
Radamus said he came into the Games with no expectations He didn't know where he was ranked and he had never competed against any of the skiers in the fields.
"I just wanted to come here and have fun and take in the entire experience and just let whatever happens, happen," he said.
He just felt he'd been freeskiing and training really well.
"And I think I'm in a really good spot mentally, I've got confidence in my skiing and what I'm able to do and I'm not putting any expectations on myself for the rest of the event, but I like where I'm at," he said.
That confidence was on display for the giant slalom, which he won handily by 1.07 seconds with Japan's Yohei Koyama taking silver and Germany's Anton Grammel the bronze medal winner.
U.S. Ski Team youth coach Chad Wolk said River had been building confidence in his skiing since the day he arrived for the Games.
"Although the super G and alpine combined wins were great, River had high expectations for the giant slalom," Wolk said. "He has had some strong training sessions leading up to today's performance. Early in the day he seemed nervous about the added pressure of the previous day's success, but found a way to let go of the external and focus on what he needed to do in order to go fast."
Wolk said both courses were challenging.
"The first run was pretty offset with consistent swing, and the second run had multiple rhythm changes and demanding changes of direction," Wolk said. "River executed his tactical approach to a tee. We couldn't be happier for him."
Radamus' golden run ended as he didn't finish the first run in the slalom.
That happens when you take risks and ski to win. Just like Bode.