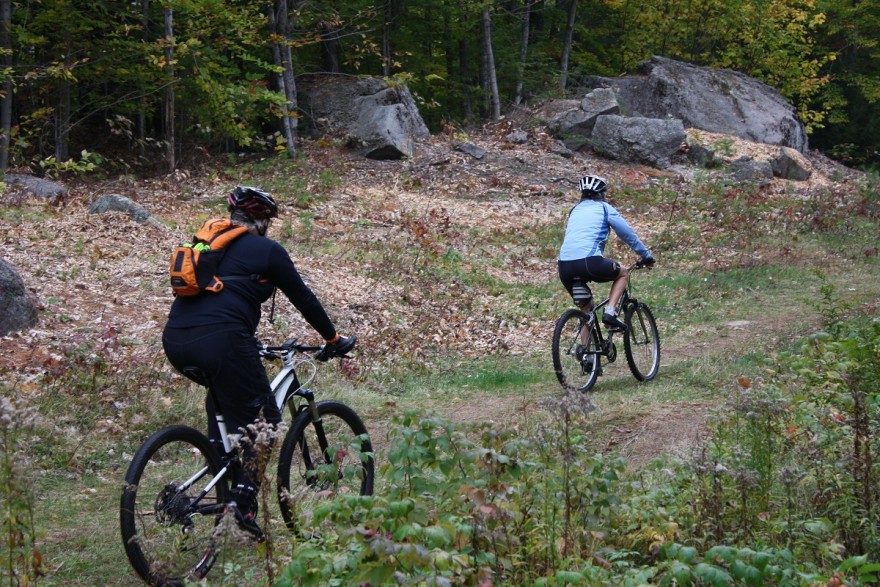 Should electric-powered mountain bikes be allowed on the same trails as traditional human-powered mountain bikes?
Electric mountain bikes, also called eMTBS or e-mountain bikes, are the new kids on the North American block. Those who advocate their use point to how the steads that easily cost from $4,000 on up help them get to the top of hills with less effort.
Manufacturers say the bikes will attract new participants to the pursuit.
But according to a Wall Street Journal article, the bikes have ignited a dispute between manufacturers, mountain bike advocacy groups, and riders.
Plus, in several states the bikes aren't allowed on some trails because they are considered motorized vehicles.
Enter the International Mountain Bike Association (IMBA) and Bicycle Products Suppliers Association. The two groups have agreed to conduct a study of the environmental and social impacts that e-mountain bikes have on natural surface trails and those who use them.
"Little to no scientific information is currently available evaluating the social, environmental and trail impacts related to electric mountain bike use," said U.S. Forest Service assistant forest engineer Garrett Villanueva in a statement. "Many questions have emerged, including how pedal-assist electric mountain bikes will evolve, how use of those machines should be regulated and the possibility of user conflicts. IMBA's proposal to evaluate use and impacts could be a step in the right direction to better understand this new technology."
IMBA will facilitate the study with the assistance of qualified researchers, with the intention of producing objective data that can be used to provide recommendations for trail management and spur additional research.
"From the U.S. Forest Service and the Bureau of Land Management to state and local agencies, we have repeatedly heard from land managers that they are uncertain about the best strategies for classifying and overseeing this new form of recreation," said IMBA's executive director Mike Van Abel. "It is easy to understand their confusion—eMTBs visually resemble traditional mountain bikes, and the power output is typically significantly less than with other forms of motorized recreation."
According to the WSJ, e-bikes have been around Europe and Asia for decades. Technological advancements in lithium-ion batteries have shed weight and given more power to the bikes.
Though many e-bikes stick to the road and are favored by commuters, there are also e-bikes suited to the wonderful world of dirt.
The study, managed by IMBA trail solutions project manager Jill Van Vinkle, seeks to better understand how Class I and Class II e-mountain bike compare with traditional mountain bikes and gas-powered dirt bikes in terms of trail erosion.
Class 1 bikes are pedal assisted rigs that are generally low-speed and activated by a pedaling action.
Class II bikes are those with an electric drive system that's activated through a throttle, button or trigger. It's also low-speed.
"One study will not create a scientific consensus," said Van Winkle. "But it can go a long way in helping us understand the range of impacts and guide the development of best management practices for trails." Van Winkle also notes that the study effort will include a review of existing regulations at the federal, state and local levels, and will document current management strategies.
The Bicycle Product Suppliers Association created an Electric Bicycle committee with Larry Pizzi as its chairman. The group includes representatives from manufacturers like Trek, Specialized and Giant.
"We have heard from multiple sources, including federal land mangers, that IMBA is the only organization with the credibility to produce this data," said Pizzi. "We are committed to learning from this study and helping guide the development of eMTBs in a way that respects traditional mountain biking and ensures no loss of existing or future access."
Trek now has three models of its Powerfly+FS models billed on its UK website  as "More power, more bike."
Paired with a Bosch electric assist system, "the full suspension Powerfly+ makes mountain touring even better."
The bikes start at around $4,100 and rise to about $5,300.
According to The Independent Bike Blog, e-bikes are among the six trends for bicycle retailers to watch this year.
"We are seeing a LOT of new e-bike dealers and manufacturers (product liability inquiries) come through our system," Scott Chapin, bicycle industry risk specialist with Marsh & McClennan Agency in Minneapolis, is quoted as saying. "I feel that most of these are exclusively selling e-bikes." He also notes that traditional bike stores have not yet jumped into e-bikes in a big way, in favor of stores that cater almost exclusively to this style of bike.