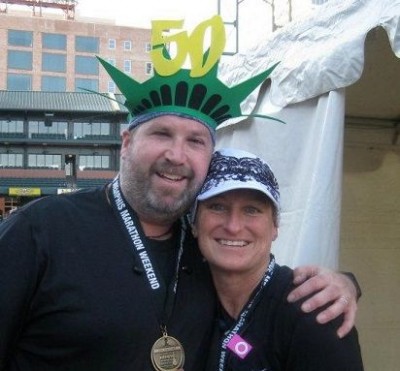 They say a couple that plays together, stays together. That couldn't be more true for Greg and Barb Damon who, just a few weeks ago at the Chicago Marathon, completed an 11-year journey that changed their lives. The challenge was to run 50 marathons in all 50 states, making them honorary members of the elite 50 States Marathon Club.
Starting the Challenge
Though the couple wouldn't call themselves inactive, before taking on this challenge, they had never really been runners. Greg, who attended Colorado College, had developed a love for skiing while away at school, a pastime he deemed "obligatory of living in Colorado." Barb, on the other hand, had been an active philanthropist through her sorority at the University of Oregon. Though she had participated in the occasional charity 5K, her background in running was extremely limited.
But that all changed 11 years ago when the couple, then residing in Seattle, received a flyer from the American Stroke Association promoting the "Train to End Stroke" marathon team. "The timing couldn't have been more perfect, as we were sadly, experiencing many personal connections to the heartache of stroke [with family and friends]," Barb explained. "Even though neither of us were runners, we decided to run that marathon in honor of those loved ones, to raise money and awareness, and also to introduce something different and more healthy into our own lives."
The marathon was planned to be a one-time event for the couple. When they crossed the finish line and found that the sense of accomplishment was one of the best, most empowering feelings of their lives, they returned home determined to duplicate the experience by completing another marathon together, locally.
It was in the final stretch of that second marathon when the couple was inspired to take their adventure a step further. "At about mile 23, running through the Seattle arboretum, we struck up a conversation with a fellow marathoner who told us that he was attempting to run a marathon in each state," Barb recounted. "We thought that adopting that goal would be an incredible way to explore our country."
Additionally, the couple decided to use their lofty goal as a platform to raise money for the American Heart Association, which Barb had worked extensively with through her sorority.
Keeping Up the Stamina
As one might guess, such an undertaking requires extensive planning and an intense and consistent training regime. "We were extremely dedicated to the 'long-run' distances each weekend," Greg said. "Weekday runs were short, and supplemented with lap swimming and strength training. We also paid close attention to nutrition, and utilized a team of health providers to help keep us in optimal condition.
"We've often said, 'We see training for a marathon as a metaphor for marriage as it requires dedication to a commitment we have made to each other and to the event itself, through sickness and health, through good times and bad.' For us, the process [of the 50-state marathon journey] needed to be about our overall journey together vs. specific performance results […] we found that we could accomplish anything by simply honoring each other's efforts—by being each others' biggest cheerleaders throughout, we inspired each other."
This impressive shared commitment led them not only through beautiful races, like the ones they ran in South Dakota and Idaho, but also through the rough ones where weather presented an additional problem. "We had a couple where many of our miles were in heavy [even flooding] rains, a couple with sleet, and several with high winds," Greg recalled. "One of the worst we did was in New Jersey," Barb added. "Temperatures during the race were in the 90s with nearly matching humidity, that made the 26.2 almost unbearable. Dozens of people collapsed during the event."
But the Damons persevered, completing the race despite the sweltering heat.
Crossing the Finish Line
This month's Chicago Marathon was the final test. "We made the decision to target Chicago for our 'finale' from the moment that we decided to attempt the 50-state goal," Barb said. "Not only was it the city where Greg was born, [but] we had heard great things from other marathoners about the course, volunteers, and city-wide support. It was also a great central location for friends and family to join us in celebrating our achievement." And, despite both battling illness, the inspirational pair crossed the finish line to thunderous applause. "Even now, over a week later, nothing can erase the smiles from our faces as we let 'sink-in' the huge sense of accomplishment," Barb said.
Though Barb will soon require a knee replacement because of a previously-botched surgery, the couple plans to return to their outdoor activities as soon as she heals. "About half-way through our marathon journey, we started cycling [up to century rides], and open-water swimming—we then completed a number of triathlons." Barb said. "While we'd like to continue our side quest to complete a marathon on each continent [having already completed one in Rome, Italy and Canberra, Australia], we also want to explore communities through other sports, such as a multi-week cycling [trip] through Vietnam or maybe running the rapids of Chile."
Looking back on the journey, both Greg and Barb agreed they wouldn't change a thing. Not only did they complete this impressive athletic accomplishment but, by giving themselves an extended time limit, they were also able to learn and enjoy the diverse cultures of our country. "We decided from the beginning that having the opportunity to 'see the country 26.2 miles at a time' shouldn't be squandered," Greg said. "We were able to explore the unique gems of each state, including state and national parks, monuments, museums, sporting events, festivals, local cuisine and libations, as well as visits with family and friends.
"Honestly, there isn't a thing we would do differently."
Though the marathons are over, the Damons are still accepting donations for the American Heart Association. Visit their donation website to learn more about this amazing couple and help them reach their goal of $200,000.
Images courtesy of Greg and Barb Damon