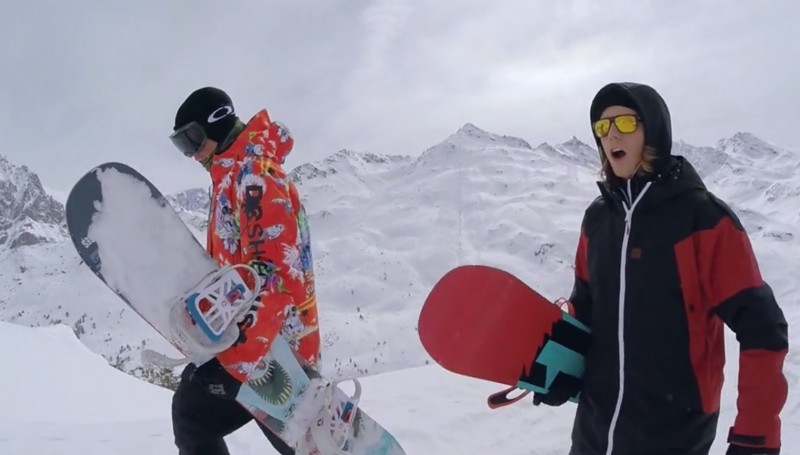 The Shred Bots, the snowboarding industry's hilarious and impressive collection of videos and snowboarders, released a film for Vimeo On Demand aptly named Shred Bots: The Movie. The movie follows professional snowboarders Torstein Horgmo, Brage Richenberg, Craig McMorris, Anto Chamberlain, and Andreas Wiig through the backcountry (and a few parking lots) for a wildly entertaining film that comes in under an hour.
Horgmo is a professional snowboarder from Norway. He's won a gold medal in the Snowboard Big Air event at the 2008 Winter X Games, has started his own company called AWSM, and qualified for the 2014 Winter Olympics. In short, he's been busy. In 2012, he released a film called Horgasm: A Love Story, chronicling his snowboarding career and the antics that he gets into when he's not on a board. Throughout Shred Bots, he makes it obvious that he has a wild sense of humor, one that's well known by the snowboarding community that follows him.
They all might be a little bit crazy, but in a really good way.
Andreas Wiig comes off as one of the calmer characters in the group. He's won bronze, silver, and two gold medals in slopestyle at the X Games. He and Horgmo produced the film.
The rest of the cast that appears intermittently are equally as accomplished. Craig McMorris is a member of the Canadian national snowboard team in slopestyle, and Anto Chamberlain and Brage Richenberg keep up with the others the entire time.
Shred Bots opens with a cameo of each snowboarder, and then introduces Dex Carrington, a comedian who made an appearance in Horgasm, and continues the cameo as Horgmo's manager in this film. He appears throughout the movie as a sort of strange narrator, equipped with his pompous humor and throwing a different element into the film. Everyone else in the movie seems to share the same sense of humor, but somehow Carrington's off the wall personality works in a different way.
The idea for the film came from feedback the snowboarders received from shorter Shred Bots videos. "We saw that people were hyped," Horgmo told me. "They wanted more, so we filmed some more and made a movie."
To be fair, there is no story here. There is no problem and resolve, except maybe when a snowmobile goes un-manned off the side of a mountain (still waiting on the status of that). Shred Bots is a massive compilation of years of impressive footage, edited meticulously to flow with a soundtrack that almost always complements the scene at hand. There's no meaning, there's no grand scheme, it's a film that showcases how immensely talented this group of athletes is and how hilarious they are.
"The main thing about this film is to get people excited about snowboarding," Horgmo said.
It's a menagerie of wild people doing really wild things, on and off the slopes. If the film doesn't make you want to try snowboarding, it will make you want to be a much funnier person, with weirder friends and more guts.
Watching the movie feels sort of like hanging out with the people in it—it's obvious they're completely in their element. Their weird senses of humor break up the snowboarding footage nicely because they're real people, telling real jokes, making real mistakes, and often making real fools of themselves. There's no acting, besides Carrington's.
At one point, Carrington attempts to explain the Shred Bots, saying, "Think of those guys as killer robots who are shredding really hard, they are killer robots because they are killing it."
Horgmo explained the idea for Shred Bots a little differently. "Robots are meant to be controlled and they do exactly what you want them to, like some riders are sometimes being controlled these days," he said. "A Shred Bot is able to block that out and have fun in the best way possible, the way that speaks to yourself."
The only thing that Horgmo and company take seriously is having fun, and applying that fun to snowboarding. Their positivity and carefree attitudes are contagious throughout the movie and their skills are evident throughout as well. Instead of becoming bored by the constant snowboarding footage, the scenery changes provide something new every few minutes.
The making of the movie, which took three to five years according to Horgmo, took them to Whistler Blackcomb and 100 Mile House in British Columbia, Edmonton, Alberta, Montreal, Quebec, Grand Targhee Resort in Wyoming, Hemsedal, Norway, Asahi-Dake Mountain in Japan, and other viciously beautiful locations.
For Horgmo, Alaska was the place that stood out the most in his travels. "It was my first time there and I had no clue how it would work," he explained. It was a late-season trip with no plans except a big hope for good snow. While there wasn't a lot of footage from Alaska in the movie, the trip was big for him. "For me it was more of an experience thing," Horgmo said. "I got really scared and learned a lot about myself."
For experienced snowboarders, Shred Bots will make your palms sweat and your feet itch for a snowboard, which was Horgmo's hope. For those who have either never snowboarded, tried and failed, or don't ever care to even try, it's still an enjoyable watch. The feats the crew executes are amazing to see, and they prove they are somehow possible. The tiny spinning figures hanging in mid-air against a backdrop of a massive mountain range is hard to not enjoy, and 40 minutes of it is the perfect amount. Those who can appreciate a strange sense of humor and bad singing will enjoy it even more.
Shred Bots might be different because of the mindset behind the project as a whole, which Horgmo described as a state of mind.
"You're unable to focus on anything else but the shred," he said. "Your brain goes stupid for hours and it's the best kind of stupid. The movie captures this and that's what makes it different."
The documentary was released October 21, and is available for $12.99 on Vimeo on Demand.
Check out the trailer below:
Images courtesy of Shred Bots/Vimeo, Instagram