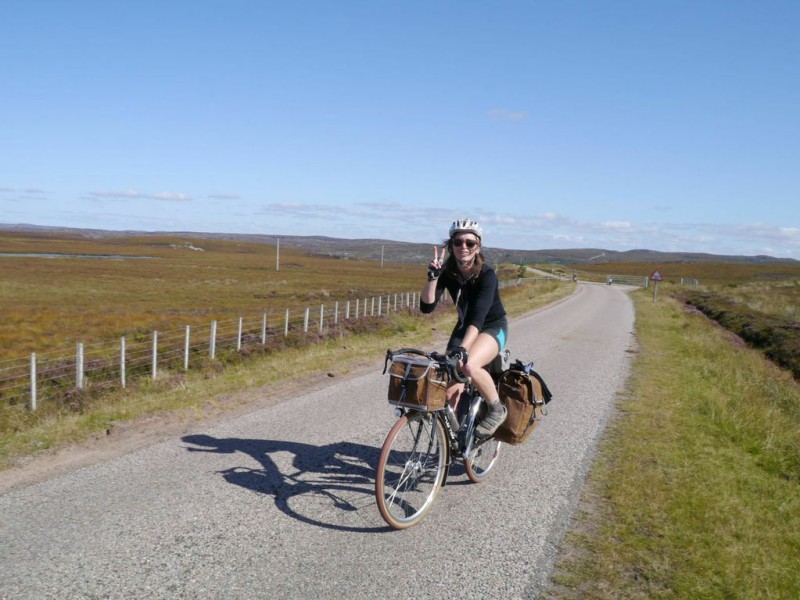 Justin Pogge and Marina Mertz have shared many things: an interest in biking, an interest in each other, a tandem bike for two weeks, and a similar love for their current home, Tallahassee, Florida. They also know a thing or two about bike tours.
Both Mertz and Pogge also own businesses that are centered around biking, with names that draw from the Native American history of Tallahassee. Mertz's bike bag shop is called Anhaica, which was the Apalachee people's principal town, located in Tallahassee. Pogge's bike business is called Old Field Cycles. Tallahassee is a Muskogean Indian word for old fields.
They're a team, and recently got back from a roughly 1,500-mile bike tour through England and the French Pyrenees. So much for a relaxing summer vacation. The first route they took is called LeJog, or Land's End to John O'Groats. After they finished that portion, the couple flew to Southern France to tackle the Pyrenees mountains from the Eastern side of the country to the West.
Both of their businesses helped them prepare for the trip. Anhaica originally was born from the need for commuter-style backpacks, and Mertz began to focus more on touring-style bags. She found that most of the existing bags were sporty, often black, shiny, and unattractive. "I don't believe that technical and unstylish need to go hand in hand," she explained, and noted that a bag can be extremely practical but still look good. She's right, and her bags are proof of that. Most of her creations look worn in, stylish, and urban while still being practical for touring or commuting.
Old Field Cycles came from a fascination with building bikes. Over time, Pogge learned more and more about building bikes, eventually building them for friends and himself, including the bikes he and Mertz took on their Euro-tour. For him though, it's a side-gig, accompanied by the vegan restaurant, Sweet Pea Cafe that he owns.
After their first spin on a tandem bike through Canada and Maine, they knew they could stick together. They also knew they wanted to plan another bike tour, and managed to ride through their most recent one with almost no major issues. Their first step was planning, of which they did a lot.
Pogge and Mertz began the planning process about a year before the tour set off, picking routes and locations they had dreamed of seeing. After they bought the plane tickets about three months in advance, the real planning began. They started to outline their route and got in touch with possible hosts via the website Warm Showers. The website is couch surfing for tour cyclists, in a nutshell, and proved to be extremely helpful for the couple.
"We started contacting people for advice on our route—a lot of people would get back in touch saying 'Hey don't take these roads,' or give other advice, but the beginning stages were getting in touch through Warm Showers," Mertz said. They created a spreadsheet where they had places to stay and when, and that served as the backbone of their trip.
Pogge had done several bike tours previously, and suggested even before beginning the planning that they figure out the goal of the trip. "Some people want to do an entire route and have bragging rights of saying [they] did the whole thing," he said. For him and Mertz, they just wanted to have the experience of seeing Europe. "Think about your reasons," he advised. "Are you going to be camping? Staying in hotels? Doing a mix? How many creature comforts do you want?" From there, begin to determine the route.
Another important aspect of a tour—if flying is part of the plan—is figuring out how to get a bike on a plane. Mertz and Pogge used couplers, which is a device that basically allows the bike to come apart into two pieces, and then (fairly) easily put on a plane.
The bike itself needs to be a really good fit, Mertz explained, "I recommend if you're not sure to go and talk to your local bike shop." You're on a bike all day long for a bike tour, and if the fit isn't right, it will be evident pretty quickly. She also pointed out that making sure the bike saddle is comfortable is important. Pogge said it's best to have a front and back rack, and enough clearance on the tires for fenders.
It's also necessary to have a tool kit. Flat tires are inevitable, but being prepared for other incidents is important as well. Pogge rattled off a list of tools he likes to have on a tour, including an allen wrench, chain tool, an emergency folding spoke, spare tubes, and a pump. He recommended the Topeak Road Morph, because it's similar to a floor pump as opposed to a frame pump that, according to him, doesn't work as well.
Mertz's bag recommendations started with making sure the attachment systems are high quality, and taking into account the durability and capacity. Having a good attachment system is important so the riders don't have to worry about anything falling off. Making sure bags are waterproof is important as well, and Mertz had that covered. All of her bags are lined with vinyl and the canvas outer is waxed. "Weight distribution is really important," she added.
She explained her set-up for the Euro-tour, which was a randonneur, two large rear panniers, and a large saddle bag. Pogge had a randonneur, front and rear panniers, and a large saddle bag. They had a lot of room to give, too. Packing was simple—they only brought what they needed, with a few extra little things. "If I'm going to be on a long trip, I want little things that are going to make me comfortable and happy," Mertz said. For her, this was a notebook, sunglasses, and a french press. "For us, getting up and having coffee makes a difference," she said with a laugh. The couple likes to cook as well, so Pogge said he brings a camp stove and a tent for nights they aren't staying with a host.
Pogge's last tip was an important one, "Don't be overzealous with how many miles you think you'll do each day," he said. He made this mistake on his first bike tour. "Fifty miles is pretty much doable most days except for really mountainous areas," he said. "That gives enough leeway that if you want to rest, it won't mess your route up so bad."
Bike tours are a unique way to travel that not only add a lot of planning, but add an entirely different experience to seeing a new place. Fifty miles a day feels like forever on foot, nothing by car, and a successful haul by bike. It's slower—a ground level way to see the roads without spending much money to travel on them. Mertz and Pogge agreed it's a good way to meet people, as well. "I've regained a love of humanity after doing tours. You find all these hospitable people and they're doing it because what you're doing is neat, or maybe they just think you're crazy," Pogge said. Mertz said the whole world opens up to you that you don't see by taking other modes of travel like a bus or a car. Tours allow riders to immerse themselves in a landscape, even if that means struggling up a mountain. The slow means of travel proves to be worth the wait.
Images courtesy of Justin Pogge