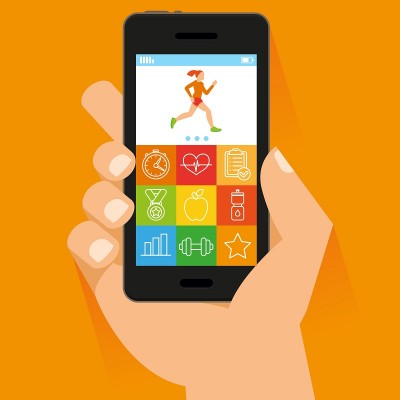 With the release of the new iPhone, now is a great time to work technology into your running regime. With fitness app popularity on the rise, it can be hard to sift through the clutter and find the one that works best for your needs. So, we did the leg work for you and came up with a list of our favorite apps to amp up your next run. Best of all, each one is free and available on both iOS and Android devices.
This may be the oldest and most popular running app available, and there are plenty of reasons why it's great. The first reason is simplicity. RunKeeper records a variety of stats you can easily and quickly sort through. The GPS shows your running route on a map, while the rest of the functions log speed, calories, pace, and a whole slew of other information. Upload your data to the website to access it anywhere, or share it with your friends to show off your best runs via social media. And for runners looking for an extra challenge, RunKeeper also provides access to custom training plans created by experts in the field.
Though the free app is relatively thorough, for $10 you can also download RunKeeper Pro, which offers increased features and functionality including audio cues and advanced coaching.
Running the same route every day can get boring, but you don't want to get lost either. Enter MapMyRun, the longtime leader in routing apps for runners who like to switch things up. With this app, you can easily load any previously mapped-out routes, or you can generate new ones. Not feeling particularly creative? The MapMyRun community provides all users with access to a plethora of pre-created routes for every area.
In this same vein, runners can customize future runs by taking notes on routes, setting goals, and creating training schedules to help keep them on track. Best of all, this app is one of the easiest to integrate into the new iPhone 6 HealthKit.
This app is a favorite among runners who love to compete. Though many runners simply run for the personal satisfaction, it's hard to argue that a little added competition doesn't take things to the next level. For these challenge lovers, Strava is the answer. Able to record your time, speed, distance, and course, Strava not only saves the data, but has the ability to share it with the app's online community. The leader board shows the most updated stats of your friends and other app users in the area, challenging you to push yourself further in order to earn a coveted spot on the leader board. As an added incentive, Strava also provides customized community challenges. To learn more about how to integrate this app into your daily routine, read our more in-depth article.
A favorite of social media mavens, this GPS-powered app allows you to easily and quickly record your stats and share them via Facebook or Twitter. This means your friends and family can cheer you on in real time, pushing you to run longer and faster. Nike+ is the ultimate motivator by also providing you with audio feedback as it records your stats so that you are constantly aware of your pace and distance.
This app is perfect for the multi-sport enthusiast. With the aim of "making fitness fun," Endomondo records every activity you can think of, including ping-pong. Like many other running apps, Endomondo tracks distance, duration, and calories burned, and allows you to share them with friends. But it also comes equipped with an audio coach who can provide you with pep talks and suggestions to help you push yourself to tackle more challenging routes or strive for better times.
Made for visual learners, Runtastic is a feature-rich app that shows progress through graph results. With the integration of pre-set goals, you can track your heart rate, distance, and speed, the whole time watching as the graphs fluctuate as you get stronger and more fit. Runtastic aims to keep you in the best condition, even after your workout. It does this by tracking your mood, hydration, and food consumption to ensure that you are getting enough sustenance for peak performance.
As an added bonus, Instagram and Foursquare users will love the extra social media features that allow you to share photos and geotag landmarks while you're working out.
Designed for the novice runner, there is no better way to get yourself motivated than with this personal trainer in your pocket. Created by Active.com, virtual coaches drive this beginner's app, which aims to get you 5K ready in just nine weeks. With four coaches to choose from, you can decide on the style of motivation that works best for you, whether that means detailed logs or upbeat audio cues. Though this is a more tailored app, C25K doesn't slack on features, and records your distance, pace, and routes in a daily log.
But, in today's every-changing digital atmosphere, there are always new and improved apps popping up. What are some of your favorites?
Image courtesy of venimo/iStock