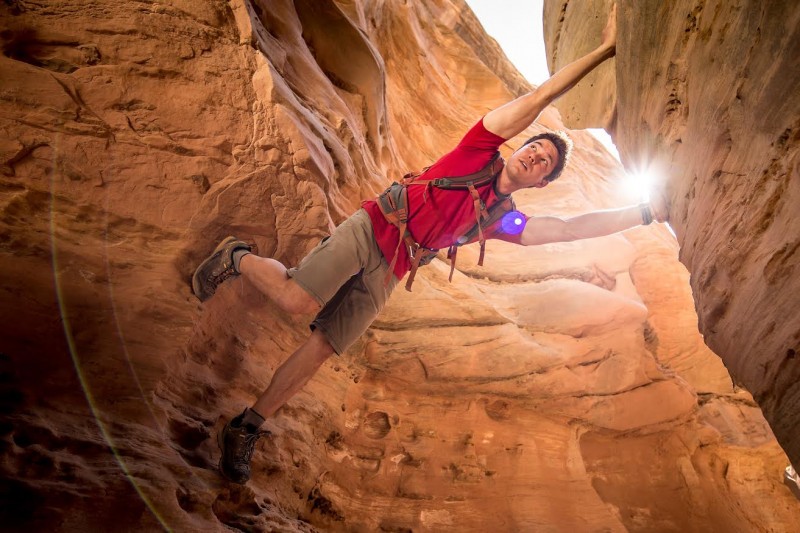 Since the ripe age of 13, JJ Yosh has been toting around a video camera, finding ways to incorporate film into his life.
Currently, he runs an entertainment production company called Higher Earth Entertainment, and spends his time either behind the camera or in front of it, but almost always in the outdoors.
He fell in love with the outdoors when he started an excursion club at the University of California, Santa Barbara. He twisted in his love of cinematography by filming expeditions and doing promotional photos. That was when the seed was planted.
From there he began pairing the two together—and hasn't stopped since. Adventure and filmmaking are now what he does full-time. His company, Higher Earth Entertainment seeks to educate and empower viewers to build a more sustainable earth, a theme that runs through all of the work that Yosh does.
Currently he's working on a movie and TV series called Ancient Tomorrow, a project he's been involved with for the past five years. "It's all about trying to find a clean source of energy for tomorrow, but happens that this energy is from the past," Yosh explained. "It also involves a theory that the pyramids of Giza were clean-burning power plants that were operational thousands of years ago." The show, which Yosh is featured in, travels all over the world trying to piece the puzzle back together and attempts to shed light on how the earth's climate has changed, while tying it all back to the pyramid power plant. Yosh has an hour special filmed now, and hopes to make it a series in the future.
The theme of conservation and environmentalism is obvious in all his work. It makes sense, too. He spends the majority of his time in breathtaking places that make it hard not to appreciate the earth and care a bit about keeping these places around. He feels that film is the best way to convey the message.
"Film has a way of telling really powerful stories, visually," he began to explain. It's obvious in his careful way of speaking that he's extremely passionate about the field. He compares film to photography and reading, pointing out that both leave a little bit up to the reader or viewer. There's still some imagination that's required to really understand what's happening in a certain chapter in a book or in a photograph.
"The thing about movies, though, you're actually getting to see and feel the vision in the artist's mind, getting to experience this surreal, secondhand experience of what really happens," he said. For him, film as a medium captivates him the most—he said it allows viewers to get a sense of emotion.
"I love being able to climb an amazing peak, see this amazing vista, feel wind on my back and sun on my face and that feeling of being out there, immersed in natural setting, it's amazing," he said. "The thing I always think is that I want to share this with other people." Of course, there is no music playing at the top of the peak, and dramatic camera angles play up height and performance, even when the activity is already intense. Yosh explained that the real-life version is much less glamorous, and because of that he enjoys showing the more jazzed-up version. "It's like an enhanced version of life—who wouldn't want to experience life in super super HD?" he questioned.
He gets as close as he can to recreating the real thing for viewers, attempting to captivate emotion and experience for those who don't live in Boulder, Colorado, like Yosh, and have beautiful views from their backyard.
Visual media has played a huge role in his life in a different way, as well. It has inspired him in his travels, and given him his current philosophy. He attempts to create films that are engaging and alluring, and hopefully will get people to go out and help the world, he said. These are films that appeal to the mainstream—they're not already targeted toward the outdoor industry, because they don't need to be. He knows those people are already getting outside. It's the mainstream media consumers he's hoping to get off the couch.
In 2000, Yosh was inspired by the movie The Beach, and after laying eyes on the beach in Thailand featured in the movie, he was determined to get there (and eventually did). He hopes that by showing people extraordinary locations in his films, it will inspire them to go to the places and see for themselves, as he did.
In addition to his mission of getting people outdoors, he centralizes many of his efforts around the environment. In school, he studied chemical engineering with the hope of combating and finding solutions to climate change.
"I got into film because I found it to be beneficial to be able to serve as a platform in a way that you feel inspired," he explained. Whereas most environmental campaigns can focus on telling people what to do or not to do, films suggest and inspire rather than restrict. "I want to help the world and I feel like film is a excellent vehicle to do that," he said. "The environment is motivation for getting into film and career paths I choose, I'm determined to make films that are going to entertain, educate, and inspire people to explore the world around them."
His passion is obvious, and even short promotional clips and previews highlight beautiful locations he hopes others feel inspired to go to. Yosh has seen firsthand the changes the changes the outdoors can bring about in people, and is passionate about continuing that.
Even back in school when he was running the excursion club, he saw others changing their lifestyles and career paths toward those more focused on the outdoors, as a result of spending more time outside. He believes that getting outdoors is the first step into thinking clearer, being happier, healthier, and forming connections with each other and the earth. If all goes well for him, he said, "I can make powerful, inspirational movies that will challenge society in a positive way."
Images courtesy of JJ Yosh