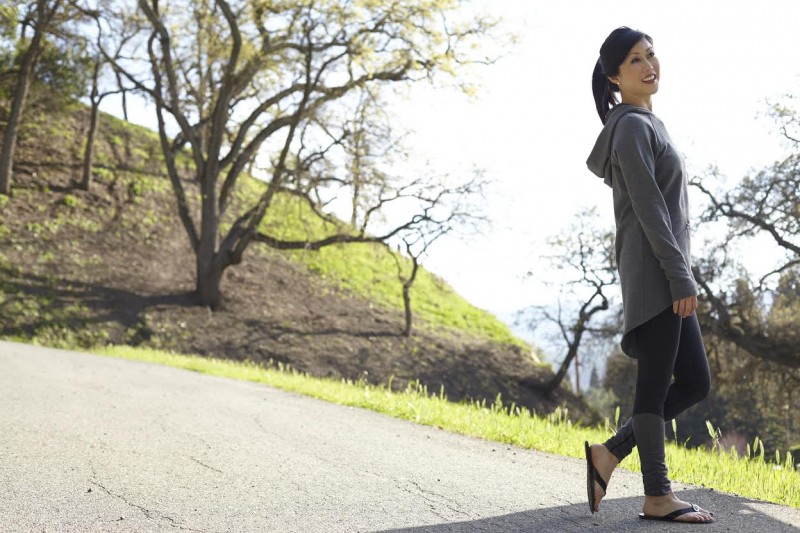 Known for her years competing as a professional figure skater, American athlete Kristi Yamaguchi was accustomed to wearing all varieties of athletic wear. Because of her career, she basically lived in it. Now a mother and philanthropist, she said she still spends most of her days sporting workout attire because of its comfort. Two years ago, Yamaguchi sought to create her own line of athletic and lifestyle apparel that could seamlessly transition between a day at the office, running her kids around after school, and finding time to exercise.
She launched Tsu.ya under a licensing arrangement in the fall of 2012, and the brand has now re-launched on its own, featuring a collection of apparel structured enough to wear daily but functional enough to wear during any workout. I recently had the chance to chat with Yamaguchi about Tsu.ya, her current focuses, and what goals she has for the future of her young company.
Where did the initial idea for Tsu.ya come from?
It started back four or five years ago. I really wanted to start a lifestyle brand that had purpose behind it, kind of like Newman's Own or Toms. I segued into active wear because it fit my lifestyle at the time—a busy mom wearing many hats. Also, I felt it was what I'd known my whole life.
Our first two seasons were under a licensing arrangement, fall 2012 and spring 2013. I worked closely with their designer and we came up with the collection. After spring 2013, I wanted to take more control over production and development. That's when we started to hit the ground running, to relaunch on our own.
Can you tell me a bit about the Always Dream Foundation, and the proceeds percentage that goes toward it?
The Always Dream Foundation was really the pure inspiration behind the line itself from the very start. We wanted to support that. We don't have a set percentage right now because we are so new, so it's hard to say. It will change and adjust as the company grows. but a portion of every sale goes to the Foundation, which is 18 years old. Right now the focus is on early childhood literacy, so we're in 14 schools in California—64 classrooms—with the Always Reading Program. We're currently expanding out to about 12 more schools.
How did you decide what pieces to incorporate into the collections?
We started with active jackets—that seemed to be what was popular in the first two collections. We infused some fun colors in the active jackets and added in bottoms from there. Our first piece was the Julia Jacket. It came in white, black, lime, and purple, and was one of our bestsellers. We are continuing on with the same Julia Jacket now.
I do a lot of inspiration shopping, whether it's about colors or just the feeling of fabrics. It takes several months to come up with the design. In the beginning, it was just me and my husband, and now we have two full-time employees, two others who are part time, and we grab an intern here and there. We do have an office in Oakland, California.
What sets Tsu.ya apart from other women's athletic apparel brands in the market?
Other than giving back and being a product with purpose, we are small, so we really look to be fashion forward but also appropriate for our target—women between 25 and 55. We're really paying attention to flattering silhouettes that are maybe more feminine than other brands.
I find that a lot of pieces are easily incorporated into my daily wardrobe. Right now I have on the Mica Jacket, which is easy to throw on—I have it on with jeans. It does cross over to everyday life. I have on one Tsu.ya piece or more every day, so they are pieces I do personally wear and enjoy on a daily basis.
What's your daily schedule like at the moment?
It's not typical, but when I'm not traveling, I'm getting the kids up and out the door, and then I go into the Foundation office. More so now, I'm going into the Tsu.ya office to answer emails and all that normal daily stuff. Three times a week I do some kind of activity, and lately I've started to do barre3 classes. After school it's really running the kids around, who are eight and almost 11.
What goals do you have for the company, both short and long term?
I think we would love to just grow our awareness first of all, and we are really actively trying to grow our online presence as well. The collection itself is pretty even, about 60 percent active wear and 40 percent lifestyle, but we're hoping to drift more toward 50/50, as we've had a lot of interest in the lifestyle side.
Images courtesy of Tsu.ya