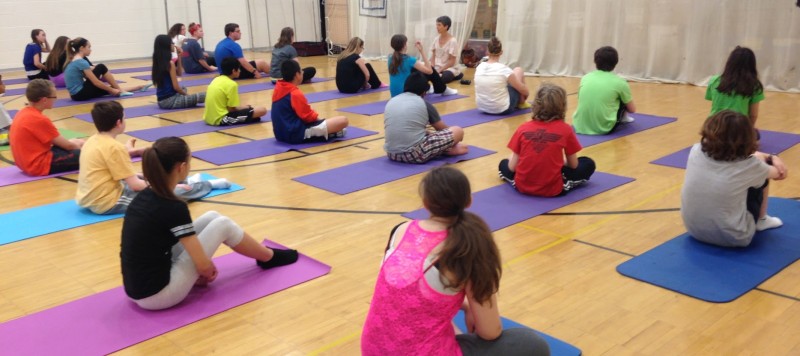 Like a doctor making a house call, arriving bag in hand ready to remedy, Lisa Ballo descends on the schools and offices of Southeast Michigan. Instead of a bag rattling with pill bottles and bandages, she carries a yoga mat. Ballo is the founder of Belightful Yoga Services, a mobile yoga studio.
Since the inception of the company in 2010, the mobile yoga studio has set up shop for public schools, girl scout troops, businesses, private parties, special needs schools, and hosts classes at public libraries, among other outlets.
Ballo started doing yoga 25 years ago for the physical benefits. She was mostly sitting at the job she had at the time, and started to notice tension in her body. Yoga relieved the tension, and also began to change her mental standpoint as well—she was more relaxed and focused.
She's stuck with it long enough to establish a successful business, and still loves the work she does.
"It's really a life tool for me. It helps in any situation as things get challenging in life—it provided me with a way to connect inward and relax," Ballo said.
She kept practicing, and eventually decided that she wanted to become a teacher and bring yoga to a younger community, which she has surely succeeded in doing.
"I wish I had it at a younger age," Ballo said. At the time she was mentoring a group of girls, watching the stress and struggles they went through and thought yoga would be a good way to rid some of those stressors. She was working in a corporate environment as well, and observed the pressure her co-workers were constantly under.
This was the driving force for starting her business. She understood that often availability and convenience hinders people from practicing yoga, and the mobility aspect became one of the most important parts of Belightful Yoga. She brings the yoga to the yogis, and makes it convenient. Ballo will often teach a class at a corporation during lunch, or host programs for children after school.
As well as teaching a traditional yoga practice, she incorporates techniques into her classes that people can use in any situation. Belightful is a way for Ballo to share the tools for mindfulness, and she does this by teaching breathing exercises, mindfulness techniques, and ways to raise the energy in a classroom setting. She does specialty training for each group that she teaches, and is sure to equip the class of children, professionals, and parents with skills that can support the situations they're in every day.
In a corporate situation, she feels it's important to bring the wellness onsite. "Health care supports morale, employee satisfaction, and productivity," she said. Providing light yoga during a lunch hour brings employees back to work in a more focused and relaxed state, or providing a class after work allows employees to wait out the traffic that often accompanies the commute home from work.
Ballo is a key component to the yoga community in Southeast Michigan. She also teaches a dynamic movement class part time at Cranbrook Schools in Bloomfield Hills. She began her business with only a few yoga teachers on her team, and it has grown into a community. The network of people that Ballo has involved herself in has largely been the reason for her success.
"It just grew organically, through word of mouth," she said. "We had a few key clients, and based on word of mouth we added more on and it kind of branched out into a community."
Belightful has grown into a resource not only for corporations and private schools, but also for special needs children and adults. She's worked with people of all different needs, from mental and physical disabilities, down syndrome, autism, and has worked at grief camps.
She alters each class according to the participants, their disabilities, and the student to teacher ratio, carefully crafting each session to ensure the most beneficial practice possible.
"It's not categorizing everyone," Ballo said. "It's being mindful of each child's uniqueness and being present to that, and modifying that in a class."
She makes sure students get the mindful focused attention they deserve, and recognizes the diverse spectrum of disability. She also keeps in mind that parents of children with special needs are under immense pressure and stress, and encourages parents, siblings, and anyone interested to practice along with the class. She hopes parents will be inspired to bring the practice into their homes.
"The parent has to be strong [and] able to help their children," she said.
After four and a half years, Ballo has no intention of quitting. Her initial passion is still there fueling her business.
"My purpose was to serve children—that was clear and I haven't wavered from that," she said. Ballo wanted to share the benefits of yoga, conveniently, with others, and the idea has reached a wide variety of audiences and has sparked feedback for Ballo that keeps her going.
Even more than a physical benefit, Ballo hopes her students will be inspired to honor whatever their passion is, and that maybe yoga can help in that process. The name, Belightful, is a colorful combination of "be light, be full, be you," a motto the company embraces.
In the future, Ballo hopes to work with more youth organizations and continue to grow. In September, she will be a featured speaker at the National Kids Yoga Conference in Washington D.C., speaking about youth empowerment skills among other speakers and leaders that are at the forefront of children's yoga.
"I've seen how yoga has changed my life and I want to share. If it's a tool that can help someone, then I want to bring this to other people," she said.
Her purpose is clear and her success is evident. For now, she and her team of yoga instructors will continue to answer to the house calls and spread the tools and teachings of yoga to the classrooms, organizations, and cubicles across Southeast Michigan.
Images courtesy of Lisa Ballo