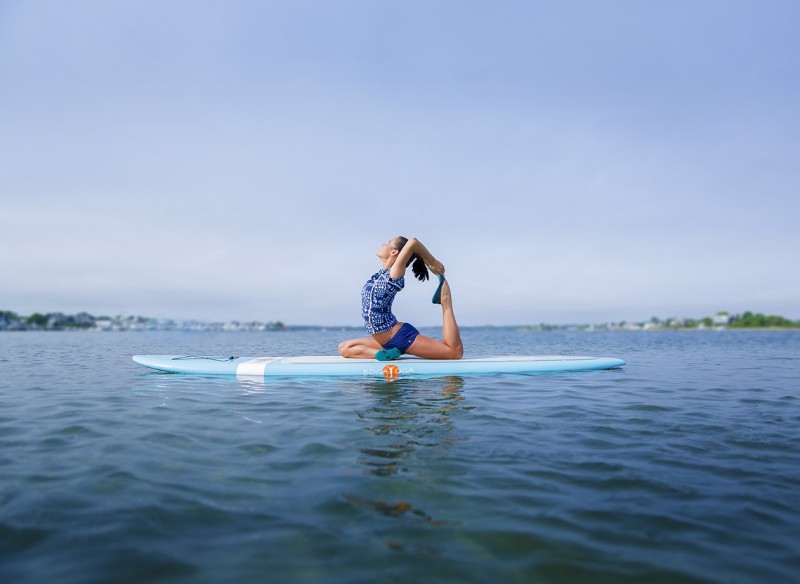 Lacey Calvert has always been an athlete. From snowboarding to surfing to skateboarding, she spent her childhood immersed in the fast-paced world of action sports and took advantage of every athletic opportunity that came her way.
It wasn't until age 17, when she was diagnosed with a heart condition, that she was advised to slow down or face the serious health consequences that could ensue from such vigorous, risky physical activities.
"It was kind of a crazy time—you're trying to figure out where you want to go to college, and it's a time when a lot of people feel uncomfortable in their own skin—and then I heard that news," she recalled. "When the doctor said I needed to cool down with sports, I immediately said no."
Calvert did understand the accompanying risks that went along with her condition, but that only increased her frustration. It was at this time when she was trying to find another outlet for her need to be active that she discovered yoga.
She attended her first class during her senior year of high school, and was so positively impacted by the practice that she chose to continue with it throughout college. "It really did help my entire health situation," she explained. "I believe yoga taught me how to monitor my body, and it brought in this whole idea of holistic healing. I got to the point where I didn't need to be on medicine every day, which was great."
Upon graduating from college with a degree in education, Calvert began teaching first grade at a school in Compton, California. Although the job was rewarding in the fact that she grew close to her students and was passionate about her role as a mentor, it was also stressful.
Many of the students she taught came from broken homes where proper parenting was lacking, if not completely nonexistent. When the school day was over, she found herself upset by the realization that she couldn't take many of her students home with her and provide them with the kind of support system she knew they deserved. And then there was the commute.
The young teacher was spending hours in the car each day traveling from her house to school, which began to have negative effects on her overall health. It cut into the time she needed to relax and recoup at home from long days, specifically decreasing the amount of time she was able to be active.
"It was a great eye opening experience, but it became too stressful," she said. "It wasn't for me anymore."
Yoga, Full Time
To help gain control over her life and eliminate some of the mounting stress, she decided to register for teacher training at CorePower Yoga. While she initially began the training as a means to escape her job, it began to consume her—in a really positive way.
She gained her certification in 2010 and has been captivated by the yoga lifestyle ever since. "I started working with athletes, because that was my strength," she said. "I'm an athlete and I knew athletes' bodies, specifically when it came to action sports."
Now, her full-time job is managing the teacher training programs at eight CorePower Yoga studios, but she also teaches three times a week. "Teacher training was what changed my life, so now it's really cool to be able to give back in that same way," she said. "I didn't even think I wanted to be a teacher at first, but once I went through it, I knew it was what I wanted to do."
In addition to her full-time job is plenty of time on planes—she travels with athletes to help implement yoga into their existing training routines, specializing in strength-training yoga. Along the way, she has become a brand ambassador for Sperry Top-Sider, BOGA Paddleboards, Oakley Women, and ZICO Coconut Water.
In regard to the ambassador programs, she said it can be overwhelming at times because there are a lot of companies that reach out to athletes for sponsorship. But she goes for ones that are very naturally forming, pointing to her relationship with Sperry as an example. "They reached out to me and asked me about my life. They saw me on social media and realized I was living this beach lifestyle, and the whole thing has just been a really great fit," she said. "One of their hashtags is 'passion for the sea.' I immediately thought, 'Woah, that is really the life I'm living.' It was very authentic."
These partnerships only increase the responsibilities on Calvert's to-do list, but she wouldn't change that.
"[My schedule] is a little crazy, but I wouldn't have it any other way," said the San Clemente, California resident. Despite the constant travel and hectic nature of her daily responsibilities, she has incorporated personal time that is essential in establishing stability and peace. "I love the beach, so I make sure to go do something there every morning, whether it's yoga, SUP, surfing, or just walking my dog," she said.
But she did admit constant travel has the ability to leave anyone exhausted. Calvert said she's working on evening out that aspect of her life a bit so she can be closer to home more often. While she admitted she's someone who likes to stay busy, Calvert mentioned how imperative it is that we allow our bodies and minds time to rest. After a lot of traveling, she said she'll take days off to catch up on sleep and just relax.
To add to her non-stop lifestyle, Calvert and her fiancé are in the midst of planning their wedding, which will be next spring. She laughed while explaining how he has a background in event planning, so luckily he's taken the reigns on a lot of the tasks.
"It's kind of this balance—teaching and traveling," she continued. "In the beginning, I was taking every opportunity, but now, I'm realizing I kind of have to pick and choose because of time [constraints]. But really, it's all about outlook. I've always said that I've never had a bad day in my entire life. Everything is an opportunity and we have to take them with excitement, as much as we can."
Girl Get Outside
True to her role as a mentor through teaching—both first graders and yoga students—Calvert launched a social media campaign to encourage women to spend more time outdoors, whether it be doing yoga, going for a hike, or trying out a number of action sports.
"It was about eight months ago when I realized this big intention in my life—I wanted to motivate women to get outside and be active. It's just something a lot of people don't think about. When a friend is in town, we plan to meet up and get lunch or grab drinks, but why don't we go for a hike instead? Bond that way."
Calvert admitted she didn't set high expectations for social media involvement, but when more than 1,000 posts were tagged with #GirlGetOutside on day one of the campaign, she was encouraged. "In the future, I'm going to use it to do contests, challenges, and retreats," she said.
The power of the outdoors is something too many people don't get to experience often enough, which Calvert perfectly explained while telling me about the sense of calm she gets from being on a paddleboard.
"The ocean is such a tranquil, almost soul searching type of place and it's rare that a beginner in water sports can just be on the ocean. You normally have to be a surfer or something, but paddleboarding is great for all levels," she said. "You can just experience the essence of the ocean, even just by sitting there. You have your fingertips in the water, just listening to the birds—to add yoga onto that is just unbelievable."
To learn more about Calvert, check out her website and follow her on Twitter and Instagram.
Images courtesy of Sperry Top-Sider