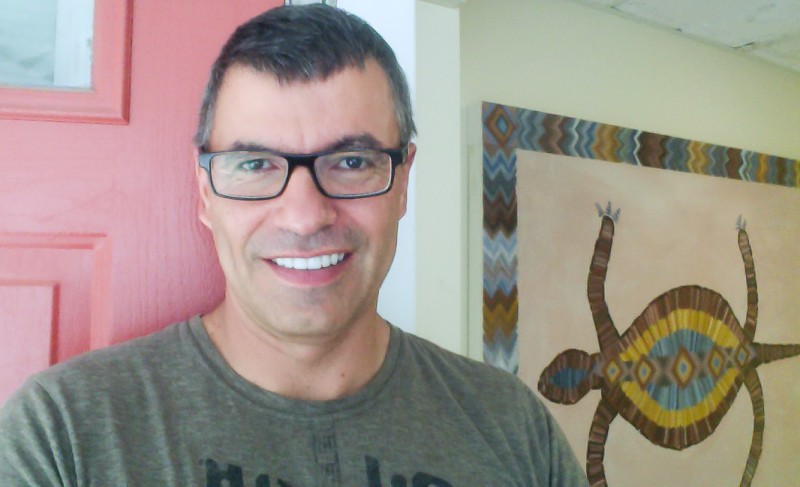 Hostelling brought Tim Westwig home again.
As a kid who loved to hike and fly fish, Westwig grew up in Portland, Maine and spent a lot of time pursuing his passions in the North Conway area of New Hampshire's White Mountains, about an hour's drive away.
Fast forward to Westwig as a young adult in the 90s, scoring a job in Boston as executive director for the Eastern New England Council of Hostelling International.
He was in charge of about a half dozen hostels, including one in Conway.
Life moved on. Westwig worked within the hostelling community, but recently was general manager of a New York boutique hotel, finding himself behind a desk too much for his liking.
Then opportunity struck.
That Conway hostel, then called the Albert B. Lester Memorial Hostel and now called the White Mountains Hostel, went on the market.
Last March, Westwig bought it, moved in, and now spends his time painting, landscaping, and hosting an array of budget travelers and outdoor enthusiasts from all over the world.
"When this [became] available, I had a vision in my head of what this could be," he said. "I wanted to be out of New York City and get back to nature and my Native American roots."
A member of New Brunswick, Canada's Micmac tribe, Westwig is incorporating a Native American art gallery into the hostel with work done by tribal artists.
He still fly fishes a lot, but road bicycling has replaced some of the hiking.
When he first arrived, it was snow sports season and he saw a number of ice climbers stay at the hostel.
"There was still plenty of snow," he said. "I was very impressed by the number of ice climbers who came here, and now the rock climbers. We are so close to Cathedral Ledge. We get a lot of day hikers and backpackers for sure, and the bikers, lots of cyclists."
The hostel is in a white, 10-room farmhouse that sleeps 45 and contains a kitchen, common area, outside grill, and outdoor fire pit.
There are bunk rooms and private rooms.
With its village location, travelers can walk to cafes and restaurants. The five-minute walk to the closest grocery store is unique in that it's reached by going over a wooden, covered bridge.
Budget lodging and the opportunity to cook your own meals are always attractive to those who frequent hostels, but there's also that interaction with fellow travelers.
"Hostels are inexpensive, but there's something about the interaction and sitting at the table with fellow travelers," he said. "The [transferring] of information and friendly advice is amazing. You get to share your daily experiences with people. There are some people who are solitary but they also get a chance to talk with people if they want."
The hostel is located a short distance from climbing spots like Cathedral and White Horse ledges, hiking in the Presidential Range, and both road and mountain biking. The nearby Saco River is also a place for paddlers and those who like being lazy in an inner tube.
For cyclists, he has bike racks and a covered area to keep the rigs sheltered from the weather. There's also a work room where people can do basic maintenance.
Once called American Youth Hostels, when Westwig was an executive director, there were 44 hostels in New England designed to be one day's ride away from another hostel.
Hostelling was promoted as arriving under your own power. A lot of that has been lost as travel has changed.
"We still encourage people to get out and travel under their own steam if possible," he said.
And if you do, you may one day find yourself at a hostel in the White Mountains.
Image courtesy of Tim Westwig