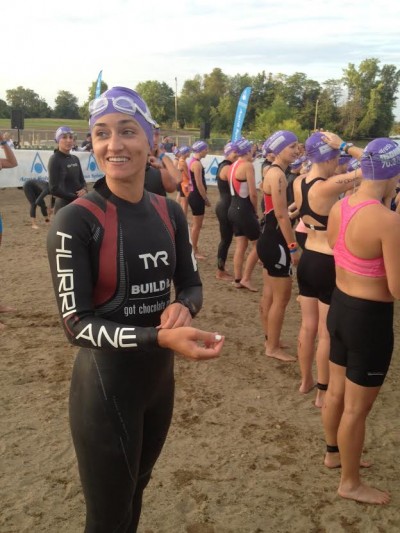 Jen Ator will be the first person to tell you she's relatively new to the world of endurance sports. Having completed several fun runs, half marathons, triathlons, and her first half Ironman fairly recently, Ator is preparing for her biggest challenge yet—competing as part of Team Got Chocolate Milk in the Ironman World Championships this October.
By day, she's the Fitness Director at Women's Health. On nights and weekends, she's an NYC-based athlete trying to get in significant training on a bike, in the water, and on her feet. Although she wasn't always an endurance athlete, Ator said fitness is one of the biggest foundations of her life.
"I've always played sports and I come from a pretty active family, so I got into it at a very young age," she said. "I did swimming, gymnastics, softball, basketball, field hockey, and lacrosse. It was really all I knew, so it became this big piece of my career."
Upon realizing she wanted to be a writer, Ator found the ideal way to merge her two biggest passions through her career at Women's Health. It was through her job that she first came into contact with Team Got Chocolate Milk before last year's Ironman World Championship. Ator commented about how impressive those athletes were, and what an incredible experience the competition must be. Although she admitted she doesn't recall much of that initial conversation, TGCM remembered those comments and asked if she'd like to join the team for the 2014 competition.
Her immediate reaction was shock. Assuming they reached out to her because of her role at the magazine, Ator said she thought TGCM believed her to be an extreme athlete. "They probably think I'm super fit" and "I don't really have any experience" were the thoughts that began to run through her head.
"I mean, I watch that race every year and I'm always the person who is so moved and inspired," she said. "But it was never like I watched it and dreamed of doing that. I never thought I could. It was more about admiration."
In addition, Ator worried about how well she would be able to perform, considering she recently had ACL surgery. But more prominent in her mind than worrying about training and injuries was worrying about failure.
"I think as women, we are so good at being really hard on ourselves," she said. "It's good in some ways—it pushes us and can be extremely motivating. But I also think that if a friend [was in my shoes] and she came to me expressing these doubts, I would be so positive and encouraging to her. And yet to myself, I wasn't.
"I just had a lot of self doubt," she recalled. "But then I started to think a lot about it. I was only going to have seven months to train and I wanted to make sure it was feasible." Ator soon realized all of the reasons she could come up with for not agreeing to compete were simply excuses. "So, I got a lot of information and consulted my doctor, who has done tons of marathons and Ironmans. I very much trusted his perspective, and he was really encouraging."
With a schedule clear of weddings, vacations, and additional work obligations, she knew she needed to say yes. It was a once in a lifetime opportunity and everything was in place.
The Start of Training
Even before she officially agreed to be part of the team, she started training. She laughed while recalling the memory because, although she was still pretending to mull over her options, it was evident she'd already made up her mind.
Following her official agreement, Team Got Chocolate Milk set Ator up with a trainer—Lee Gardner, the head coach at Trismarter in Colorado. Within a matter of days, the two had worked together to form a training plan and set goals.
In the beginning, she was training seven days a week doing low-intensity workouts, therefore eliminating the need to take a day off. Increasing incrementally over the months, she now trains harder but takes one day off each week.
"Coming back from my surgery, running was the thing I needed to get my body used to again, and I had to be careful," she said. She focuses on certain combinations of swimming, running, and biking each day, with longer training sessions on the weekends.
The most challenging aspect of training for Ator is simply finding the time to work out. With a demanding job, she said she was accustomed to running late in the morning and having to skip breakfast, or spending the entire afternoon working on a story only to realize that when 4 p.m. rolled around, she still hadn't had lunch. And late-night editing meant a bag of M&M'S could easily be consumed, she joked. All of those habits translated to signing up for failure in the world of an athlete.
"That was one area that I knew going in that I was going to need a lot of help with," she said. "I knew [nutrition] had to be a priority. Luckily, we have a nutritionist on our team, Wendy, and she has been incredible. I don't have a ton of time to cook, so I need things that are portable and easy. She's been really helpful, making sure I'm getting enough calories and the right kind of calories."
Some days, no matter how carefully she'd planned her meals and workouts, Ator would be exhausted—whether it was a busy time at work or just not being able to get a good night's rest. Luckily, those bumps in the road are eased thanks to having a coach who can provide training adjustments.
"It's been a slow process and sometimes it definitely feels like two steps forward, one step back," she said. "In the beginning, I was constantly getting overwhelmed. Then I started to realize I needed to focus on the present. I would just think about my week of workouts, and not a month or two from now. It became about that day and just tackling a little bit."
It was that readjusted mindset that allowed Ator to see a huge improvement in her training. When the tasks seemed doable and short term, she not only had more confidence, but performed better overall as well.
"I've had a couple of good milestones since," she said. "I did the Seattle Rock 'n' Roll Half Marathon with [teammate] Apolo Ohno, and that was my first half since knee surgery. A month later, I did the Ironman 70.3 in Indiana. Each day leading up to it, I had no idea if I was even going to be able to finish."
There came a point where Ator simply had to let go and trust her system of training. Upon completion, she called the race "hands down one of the best experiences of my life." She was nervous throughout its entirety, and halfway through, her watch malfunctioned, so she wasn't able to keep track of her time. After crossing the finish line and hearing her time of five hours and 25 minutes, she started crying.
"I was in disbelief. It was the first moment I truly felt that I could do more than I thought I could," she recalled. "I had done all of these distances before, but never together. Overall, the race couldn't have gone better. What it did was reaffirm my confidence that the training plan works, the system works."
Fitness Advice from Jen
"A lot of people look at those doing Ironmans and say they couldn't do it themselves. That's me. I feel like I can relate to everyone who feels that way," she said. "But I learned you can have a busy job and still fit in fitness. I think we use that as an out for why we can't do anything. 'Oh, I can't fit in an hour at the gym, so I'm not going to do any kind of work out.' But the little things you do can have an incredible cumulative effect."
To help spread that message of how a few 10-minute workouts each day can have a big impact, Ator looked to her other passion—writing. Her book, Shape-Up Shortcuts gives readers advice on how to fit exercise into busy, daily lives. With everything from quick workouts to recipes, the book provides a well-rounded read that many people can relate to.
"If they're the right type of short workouts, they can be very effective," she said. "From taking the stairs to walking to and from work, it works—I think we all doubt that's possible, but it is."
To learn more, check out Ator's Women's Health stories and follow along with her journey through Team Got Chocolate Milk.
Images courtesy of Jen Ator/Women's Health