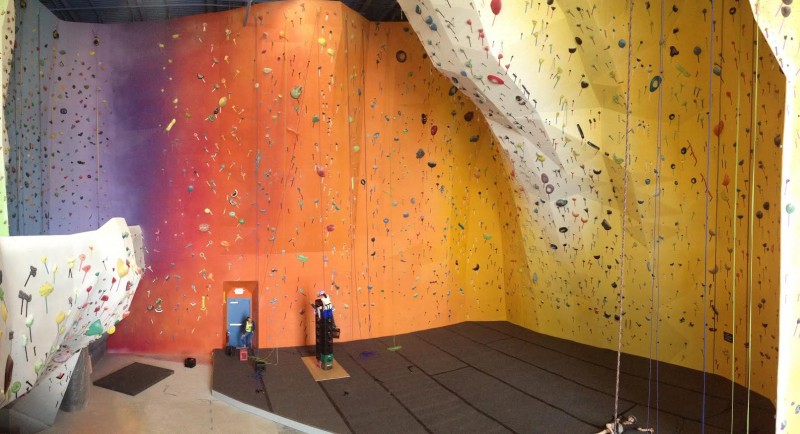 Imagine filling an old warehouse with the things you love most, top to bottom, the walls painted and covered with your passions. It's your space, and maybe you'll share, but you've finally made a living out of your loving. Nick Cacciolone, owner and president of Planet Rock climbing gyms, has two such warehouses, and one is brand new.
The new gym, located at 1103 W. 13 Mile Road in Madison Heights, Michigan is the third of the Planet Rock gyms. The first was built in Pontiac, Michigan in 1994, and two decades later, is being replaced with the Madison Heights gym. The second gym is one that's still standing at 82 Aprill Drive in Ann Arbor, Michigan.
The new gym is 20,000 square feet of possibility, providing many features that neither spaces had. Previously, aerial silk classes were held in the middle of the gym in Pontiac, limbs dangled from a pink silk scarf among climbers and their grit. Now, there's a specific room for the aerial silk classes that are offered.
There are also two new rooms equipped with detailed murals and plenty of space for children's programs and training, located conveniently across from an exercise room for parents to use while their kids are in classes—or for anyone who needs a little extra workout.
The new gym will include a zipline and a course similar to that of the American Ninja Warrior TV show on NBC. It also has an unofficial speed wall in the works, and a place to practice ice climbing as well.
Eventually, an outdoor patio will be added on the second floor, equipped with a climbing wall that will be visible from the highway. As of July, the gym is open but not finished. Tarps still hang from the ceilings and renovations are being made every day. To Cacciolone, the space will never truly be finished, but in the public's eyes he sees it being done by spring 2015.
It's safe to say the new gym is one of a kind with all that it offers, as well as its amenities including plenty of bouldering space, auto-belays, routes that cater to any experience level, and the old gym's employees.
The vibe that was created and maintained at the Pontiac gym is certainly being carried over to the new gym as well, mainly because of the team that is coming with it.
"What the people do in the space, and the people in the space, I think reflects what everybody's about," Cocciolone said. From the faces behind the counter to the colors on the wall, the space reflects the creators and workers at Planet Rock.
Cocciolone started climbing in 1989, and it was when he began competing on a national level that he decided he needed a place to train. After that, it only took a few years for him to manifest the idea of building his own climbing gym.
Before getting involved with Planet Rock, he was a software engineer and was also teaching gymnastics. After two decades, he's stuck with the gym because it's fun.
"When it's not fun anymore, we'll do something else," he said. But it seems unlikely that it will lose its luster, especially with all the changes and interesting people who wander through the door.
"This is the place for people with ADD," Cacciolone continued. He has plenty of distractions, one of which is climber Mark Twight and Game of Thrones actor Jason Momoa knocking on his doors asking to climb.
The people who make up the climbing community are the most fulfilling part of the job for Cacciolone, whether they're famous or not. There's a certain type of person who is attracted to climbing—and sticks with it.
"They're interesting people to me," Cacciolone said. Surely it takes a certain trait or quality to instill a love of being suspended high up in the air, pulling your body toward the top of a rock face, only to come down to the ground and do it again. It's a culture, though, and it's thriving, as made evident by the success and expansion of Planet Rock.
Cacciolone definitely agreed it's not for everybody, and said it draws a certain crowd because of its challenges. Rock climbing in a gym is tough enough, but hiking, climbing, and in some cases battling the beast that is a tyrolean, just to get to a rock face and then climb that—it's even tougher. Often outdoor climbing locations are remote and tough to get to, adding an extra element of challenge.
The sport is a huge step away from soccer mentality, though, as Cacciolone calls it. Although there's nothing wrong with that. He's found that many kids find their niche with climbing, whereas football or soccer might not have resonated as much with them. It's a place for a different kind of activity in a different kind of environment.
Kids have also been a means by which to bring more people in, he's found. Through the many workshops and camps they offer at the gyms, many parents and siblings have found an interest because of the kids who tried it first. He didn't expect to draw people from the bottom of the family tree up initially, but it seems to be working.
He's also seen that as much as climbing brings kids off the ground, it also brings them out of their shells. It brings something different out for adults as well, something Cacciolone calls "off-ground cognition."
"Once you get off the ground, you get really focused on what you're doing and that's really attractive for people," he said. "There [are] studies out there that show climbing enhances part of the brain that makes you focus and think things through."
The new location in Madison Heights is just another part of the constantly-changing atmosphere of Planet Rock. Even though many will miss the space in Pontiac, many of the members live closer to Madison Heights, and a number of people are even able to bike to the gym now.
Planet Rock is a lot more than just a giant space with colored walls and springy floors, it's a place to challenge yourself and be part of a community. When you meet a fellow climber, you meet a new friend, and the new gym in Madison Heights serves as a fresh new gathering place for climbers in the area.
Images by Chelsea Hohn