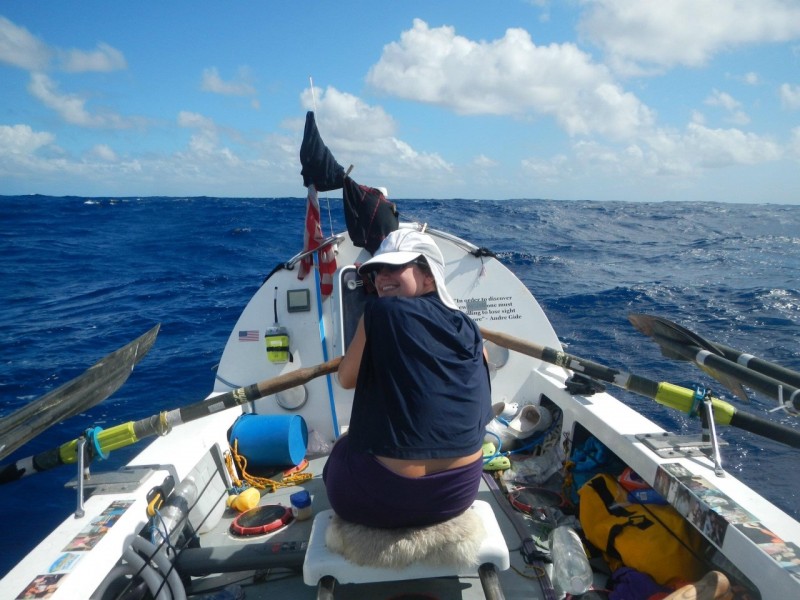 Before 2004, Sonya Baumstein was the definition of a competitive athlete. Growing up in central Florida, her love for the water was endemic, but her love for rowing developed from an innate need to push herself. "I tried every other water sport but nothing compared to the magnitude of rowing," she said. "You work so hard to dissolve into a team, but it's really all in your own head. You don't know how hard everyone else is working, but you know how hard you are pulling and how much you worked to get there."
She excelled in her sport, winning acclaim as the third best high school rower nationally. Her dominance in the Big 10 Championship as a freshman at the University of Wisconsin only secured her future as a lightweight rower.
But her competitive career quickly came to a halt when, at just 19 years old, she was involved in a car accident. Baumstein sustained 13 broken bones and underwent three knee surgeries, making rowing a thing of the past.
To cope, she turned her attention to school, graduating with degrees in both nonprofit management and emerging team management from the University of Wisconsin. She returned home to the University of Central Florida to pursue her masters, and quickly found employment coaching rowers as well as working for local nonprofits. "Helping people really gave me pleasure," she said. "But I felt like my impact was not big enough. I was not using my skills to their fullest potential. It was a stopping point in my life."
Taking to the Ocean
Hoping to refocus on her love of the water as well as create world change, Baumstein quit her job and, using the money she received from her accident, founded Epoch Expeditions. The goal was to reconnect people with the world around them through outreach and adventure travel.
It was in staying true to this mission that Baumstein planned her first ocean row. Though she had never attempted such a feat before, she never saw that as a reason not to try. "It's funny now because the expectations from people on the street when I told them I was going to do this row was that you have to have experience…but experience comes from trying, and sometimes you have to take the leap not knowing what's on the other side."
So she lept.
"It was the most awesomely horrible experience," she said with a laugh. After her first partner dropped out, she worked hard to find other explorers who shared her interest. She eventually found three partners to row with. "None of us had any idea what the hell we were doing," she recalled. "In retrospect, we should have known each other better before because we didn't have the level of respect or trust we should have had."
She had hoped to complete four major treks, but partners continued to drop out, and nature always presented a solid challenge. "It was an exploration into my coping abilities," she said. "A lot of people look at challenges as failure, but it's not. It's a constant test of your patience and adjusting your goals for feasible outcomes. The one trip from Seattle to Juneau was particularly hard because I did it during the summer and had constant headwind.
"The ocean is the most unpredictable, emotionally-draining variable you can throw into anything. It is the most uninviting environment other than the Antarctic—you are surrounded by saltwater you can't drink, with sun and heat you can't escape, you have no control—you can only control the six inches in between your ears and how you approach each day's challenges, which sometimes felt just as uncontrollable."
After completing the last leg of her journey alone, Baumstein returned home physically and emotionally drained.
Making an Impact
Her crazy adventure on the Atlantic kept her land bound for a while, but soon her explorer spirit began to win out. This time, she set her sights on the Pacific, with high hopes of reaching a greater audience.
"[For the Atlantic row] I was unable to find a U.S. organization that wanted to partner with us," she said. "Fundraising for an environmental organization is still a massive challenge."
But this time, Baumstein found the ultimate partners. Through the nonprofit Earth and Space Research, which monitors ocean currents, NASA will be funding Baumstein's expedition as she attempts to become the first woman the row across the Pacific Ocean. During her row, she will collect samples and data that will provide vital insight into how the ocean affects climate change.
"People don't realize how connected we are," she said. "Seventy percent of air we breathe comes from the ocean. A 1 percent change in ocean currents can help predict the amount of wildfires that year. The Polar Vortex that prevented good snowboarding in California this year is because of the ocean currents changing. We have to start a discussion and get people involved."
Learning from her previous trip, Baumstein reached out and secured a number of partners, including Carbon Craft, which is helping her create a custom vessel for her voyage. "It's not as easy as going out and getting a kayak—your life depends on that design," she explained.
After two years of frequenting boat shows and reaching out to industry contacts, Baumstein was able to connect with an architect, and together they began building her boat from the ground up. The boat, which is designed to draw only a foot of water, will make it possible for Baumstein to collect samples and surface data that NASA's bigger vessels are unable to retrieve.
While collecting this data, Baumstein will also be virtually teaching students about the ocean, hoping to spark their interest in a subject that is so near and dear to her heart. "It's not about forcing awareness, it's about helping them find their own story. That's all I really do, I'm a story teller," she said.
South Carolina's Hammond School will be the pilot school for the project, though Baumstein is optimistic about adding other schools before the program's kick-off in October. To add even more value, participating students will collectively donate 6,000 hours of service to environmental cleanup, a number chosen to symbolize the miles Baumstein will row.
"It's called our Ocean Ambassadors program. The goal is over 30,000 hours. I'm hoping to create a revolution," she said. "As I see it, people are interested and invested in different areas of the environment. They don't have to do ocean work, they can help test water, or clean up a trail. Each person can create their own individual story and, even if it seems minimal, if we work together we can make a collective impact."
Back to the Sea
As for the row itself, "this is my Everest—circa early 20th century," Baumstein joked.
"Only four other people have done this route successfully—all men. It would be cool to be the first female to complete it because not as many eyes are on female expedition athletes.
"On a bigger scale, it feels like living a fulfilled life to be out there doing this. If someone changes their usage habits and becomes more environmentally conscious, and I had a hand in that, that would be the ultimate dream."
The trip begins in 2015, but Baumstein will attempt a test row from Florida to New England later this summer to ensure she is fully prepared for the hardships she will encounter. "I've always been a problem solver, so I take well to the lifestyle of an expedition athlete," she said. "You can only plan so far—a lot changes when you are on the water." A staff of medics, builders, technicians, and friends will all provide support from land. But, Baumstein will journey into the unknown unaccompanied.
Though the expedition will likely take around 180 days, Baumstein isn't promising anything. She has packed 180 days worth of food and is confident she will be able to ration it in case the trip takes longer than expected. "The longest successful crossing so far has been 189 days. I'm hoping it takes less, but for mental stability purposes I try not to fixate on a specific number," she said. When asked what she is most looking forward to, Baumstein simply replied, "For my own mental well-being. I don't commit myself to something specific. Let's just say I'm very excited for that first stroke leaving Japan, and then I'll be excited for the second."
To follow Baumstein's journey, visit her website.
Images courtesy of Sonya Baumstein