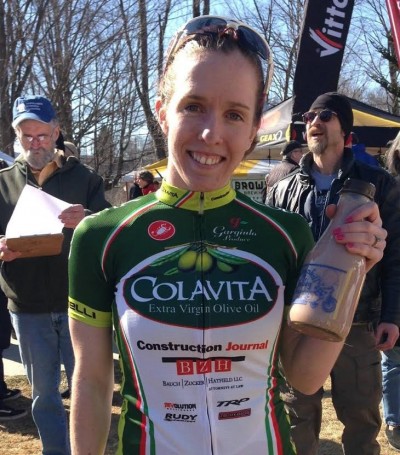 Thanks to a first date of cycling in a downpour, Stephanie Wetzel is a professional racer.
The western Maine math teacher is spending the summer on the race circuit, pedaling in the Northeast, Minnesota, and Ireland in fall.
Her favorite discipline is road racing, followed by time trials.
"Really I like any event that has lots of hills," she said.
Wetzel is 27 and grew up in Lovell near Fryeburg Academy where she now teaches. She graduated from the academy in 2005.
An exceptional student athlete, she's always had a passion for running. At FA, she excelled at cross country, track (both indoors and out), and cross-country skiing.
After graduation, she attended the University of Maine at Orono and did cross country, and indoor and outdoor track.
Wetzel discovered bicycling following a stress fracture while in college. She bought a road bike and initially used it sparingly.
It wasn't until the summer of 2010 when she moved to Vermont for a teaching job that she discovered her competitive cycling career. Though she continued her passion for running—she also coached high school cross country and track—it was a conversation with the cyclocross-centric owner of Paradise Sports in Windsor that led her to some group rides.
Love soon found her. That fall she met Jon, the man who was to become her husband, and for their first date, they rode cyclocross bikes…in the pouring rain.
A bike mechanic, he enjoyed racing and encouraged her that spring to try the Sterling Classic Road race.
"I sometimes joke and remind him that he is the one that started this whole journey, especially when he's grumbling about having to do countless hours of work on my bike—the perks of being married to a mechanic," Wetzel said.
Jon even proposed to her following a bike race.
She started racing professionally in 2011.
"It's been a really very fast progression," she said. "The lack of experience has been a bit of a challenge, but I'm trying to take it all in."
Though primarily racing in New England, she's competed in upstate New York, Philadelphia, and most recently a six-day stage race in Minnesota's Twin Cities area. A fall Ireland race is planned.
She's on the Midatlantic Colavita Women's Racing Team.
"I got connected with Colavita through the team director, Rich Bausch," she said. "He pretty heavily recruited me after following my results last season. To be honest, I was hopeful I would make a pro squad and gave him my word that I [would] join his regional team if that didn't pan out for me."
She finished third in the April Tour of the Battenkill. At the May Killington Stage race, she had two second place finishes (stage race, road race), a fourth, (time trial) and ninth (road race).
The Parx Philly Cycling Classic ended with her in a 52nd place finish while the North Star Grand Prix in Minnesota saw her with finishes between 28th and 84th.
Wetzel and her husband live in a campus apartment with bicycles and parts galore. Jon keeps the bike in shape.
"And in turn, I don't know much more about my bike beyond it has two wheels and a good set of brakes!," she said.
Wetzel typically rides six days a week, but there is also a trainer in the apartment that she uses, particularly from November through April.
In winter, she does some cross training, mostly cross-country skiing, but she also does some snowshoe running, finishing a solid 10th at the 2014 U.S. National Snowshoe Championships. She also does some weight lifting.
While at FA, she and her husband have helped out with the mountain bike team, and she would welcome a road riding club at the school.
"I think after racing I'll do some coaching," she said. "We'll see what happens after this journey."
Image courtesy of Rich Bauch