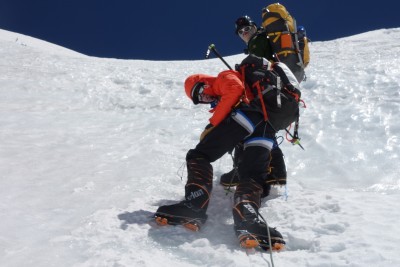 At just 16 years old, Matt Moniz has traveled across the globe, climbing some of the world's highest peaks and making a name for himself among his fellow adventurers. Luckily, his biggest supporter and climbing companion is his father, Mike Moniz.
"I am a co-conspirator," Mike joked. "We both love the high altitude and the traveling adventure, so encouraging him to continue climbing comes naturally. We enjoy doing it with the whole family and with friends as well."
Mike's love for climbing began after college when he first moved to Colorado to work in the adventure sports field. When Matt was born, Mike immediately acclimated his son to the mountains, passing on his love of skiing and the outdoors. "I basically learned to ski before I learned to walk," Matt said. "But I think my love for climbing began when I went to Nepal for the first time and I saw the Himalayas."
It was that trip to the base camp of Mount Everest in 2007 that would shape Matt's love for the sport, and consequently inspire them both to scale unbelievable heights in record time.
Reasons to Climb
"We really like multi-peak expeditions," Mike said simply. That is an understatement.
After their trip to Nepal, the father-son duo decided to tackle a local challenge, climbing 14 of Colorado's 14ers in 14 days. As an added incentive, Matt used the climb as a platform to raise money and awareness for Pulmonary Arterial Hypertension, a heart and lung disease that his best friend, Iain Hess, was diagnosed with a few years earlier.
"Some of the symptoms he experiences are similar to the ones you feel when climbing," Matt said. "The difficulty of breathing, shortness of breath, and dizziness all are similar to what I feel when I get altitude sickness."
When the climbers were able to complete the challenge in just eight days, they decided to expand the project even further, hoping to increase awareness for Pulmonary Arterial Hypertension from a local to a national platform. "It really means a lot to me," Matt said of his continued involvement with the community of PAH patients. "I love speaking and hanging out with them; getting to understand their daily struggle. And our friendship [he and Hayes] has grown through climbing and discovering his disease."
So the Moniz duo decided to tackle the highest peaks in all 50 states in just 43 days. To ensure success, they planned meticulously. "When Matt and I attempted to reach the highest peaks in 50 states in just 43 days, we set a new speed record, but there was a ton of planning involved," Mike said. "The complex logistics of moving around the country by either driving, flying, or sometimes biking was a huge undertaking. You have to consider people movement, car, boarders, visas, permits. Climbing is just one aspect of the challenge."
Both Matt and Mike agreed the planning was well worth it. "There were so many beautiful peaks in the United States—some truly unbelievable climbs," Matt recounted. But when asked about his favorites, he could name two. "Alaska's Denali really stood out, but I also loved the peak in Texas. I was shocked by its beauty; it was just an amazing rocky, grassy peak," he said.
When they successfully returned home, Matt and Mike had made a name for themselves in the climbing community. In further recognition of their extraordinary feat, Matt was named one of National Geographic's Adventurers of the Year in 2010. "What is really cool about the award is that about 10 people are named, so you create a kind of community," Matt explained. "I got to hang out and get to know all the other adventurers; some truly amazing climbers and explorers. It was a really cool experience."
Finding the Next Peak
Since then, Matt and Mike have attempted to climb amazing peaks all over the globe.
Their most recent expedition took them back to the Himalayas, where exotic wind patterns and jet streams were an intense challenge. "This year has been a lighter summit year in general because of the different winds and the smaller climbing windows," Mike said. "Weather is a huge factor in our planning. In fact, I'd say we've become semi-pros at evaluating weather models and predicting weather windows."
Though they had originally intended to summit three peaks in the area, after completing the first climb to the summit of Cho Oyo, the tragic accident on Everest changed their plans drastically. "It sent everything reeling," Matt said. "We decided to call off the peak."
Determined to reach another summit before heading home, friends alerted the Monizs of a nearby peak that might be of interest—Makalu. "That is the cool thing about climbing," Matt said, "everyone thinks of the famous ones, like Everest, but there are hundreds of beautiful unclimbed peaks." Even though the trip to Makalu had been unplanned, the climbing experience in the Himalayas ranks as one of Matt's favorites.
The Future of a Family
"Climbing is a metaphor for life, not a way of life," Mike said when asked about the future he hopes for his son. "We want Matt to make a positive impact on people's lives and to love with a purpose."
Aside from climbing, Matt also excels in the classroom, maintaining a better than 4.0 average as he heads into his senior year in high school. "Patience is a huge aspect of climbing, and it's helped me in other parts of life, especially right now in school," Matt explained. "When I am doing homework at 1 a.m. and I just want to give up and go to bed, I have learned to persevere, to just push through. It's a great lesson."
Though Matt hopes to continue climbing with his father, he has plans to attend college and possibly pursue a career in the biology field. He takes summer school and college courses at the nearby University of Colorado-Boulder in order to keep himself on track.
Because of Matt's education, the duo probably won't tackle another big expedition for a year or two, but they both said they hope to return to the Himalayas at some point. "This last expedition I was sent on with a purpose," Matt said. "Patients at the Pulminary [Arterial] Hypertension Conference had given me their purple wristbands so that I could take them to the top of Everest. I am going to try my best to complete that task. It means a lot to me."
Follow Mike and Matt's adventures online. 

Images courtesy of Mike Moniz