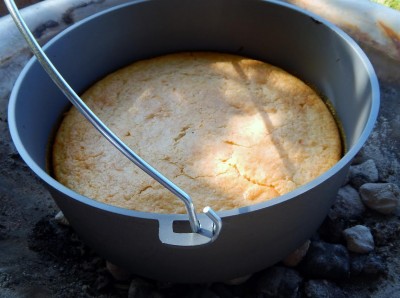 School is out and Father's Day is just around the corner. What a perfect time to go camping! This camping guide features a few products we believe will greatly enhance your destination and/or car camping experiences this summer. Any item in this guide would make a nice gift and an excellent addition to someone's camping gear. We hope you find something that will become part of a great adventure for you and your loved ones and in turn, a wonderful summer memory.
GSI 14" Hard Anodized Dutch Oven (MSRP: $139.95)
This 14-inch Dutch oven simplifies the work of cooking outdoor meals for small groups or large families. The cast aluminum is lightweight, rust-free, and easy to clean. The lid boasts a flanged lip that hold coals and charcoal and can also be flipped for use as a griddle. Tripod legs provide for placement in a campfire. The eight-quart capacity is perfect for our growing family; however, GSI also makes 10-inch and 12-inch ovens if you have a small crew or if you are like us and want more cookware simply because you love to cook in the outdoors.
GSI Gourmet Kitchen Set 11 (MSRP: $39.95)
One of the reasons we love GSI kitchen sets and tools is because the folks at GSI think of all the small things that most would otherwise forget to pack, and then they organize the items. Consider this set: a collapsible whisk, pivot spoon, pivot spatula, spice holder, two condiment containers, cutting board, scrubber, scraper, and camp towel, all efficiently packed in a nylon case. Not only is the set convenient, but each item is practical and durable. The spoon and spatula feature handles that pivot. The spoon includes gradations for measuring and the spatula features tapered edges and a serrated cutting edge. The spice holder is waterproof and features four compartments. The rubber scraper, scrubber, and camp towel make clean-up a cinch. We're believers that the best, most memorable outdoor excursions include culinary adventures.
Glacier Stainless 28 Cup PERC (MSRP: $99.95)
Mmmm, nothing smells quite like fresh coffee percolating over a campfire. While it may be faster to make, drip coffee doesn't match the taste or aroma of percolated coffee. This rugged campfire percolator is made from Glacier Stainless steel to provide years of great-tasting coffee. It features a glass PercView knob for viewing the strength of the coffee, a hinged lid for ease of pouring, and is dishwasher safe. You'll love this pot. If you're not sure what to get Dad, a percolator would make a great gift. Imagine you, your dad, coffee, a sunrise…
Zippo Rugged LED Lantern (MSRP: $89.95)
Illuminate your car camping adventures with the Zippo Rugged LED Lantern. True to its name, the lantern can withstand being dropped, tossed, or soaked. A metal support cage and rubber corners cushion the blow from drops and everyday use. A built-in lithium battery provides up to 12 hours of use on high, 18 hours of use on medium, and a whopping 59 hours of use on low. When used on high, the lantern shines as bright as any LED lantern on the market, and an extra-long light tube with soft glow diffuser gives off pleasant light. A 120V AC wall charger is included for recharging the lithium-ion battery. In addition, the lantern floats in water and has an IPX7 water-resistance rating. For added peace of mind, the lantern also includes an emergency SOS setting.
Mountainsmith Loveland 30 Degree Doublewide Sleeping Bag (MSRP: $189.95)
This three-season sleeping bag is ideal for car camping and perfect for couples. The relaxed double mummy shape provides a cozy cocoon for snuggling; the dual side zippers make it a snap to get out when nature calls in the middle of the night; and adjustable hoods provide for added warmth and protection for your head and shoulders. In addition, the sleeping bag features a foot-length, two-way locking zipper; anti-snag zipper reinforcement; and 60/40 insulation differential. The bag dimensions are 80 inches long by 68 inches wide, which will accommodate users up to 6'4″. The bag can also be completely opened up and used as a quilt. Comfy, roomy, and warm, the Mountainsmith Loveland 30 Degree Doublewide Sleeping Bag is a great choice for couples.
Images courtesy Andy and Tami McDaniels