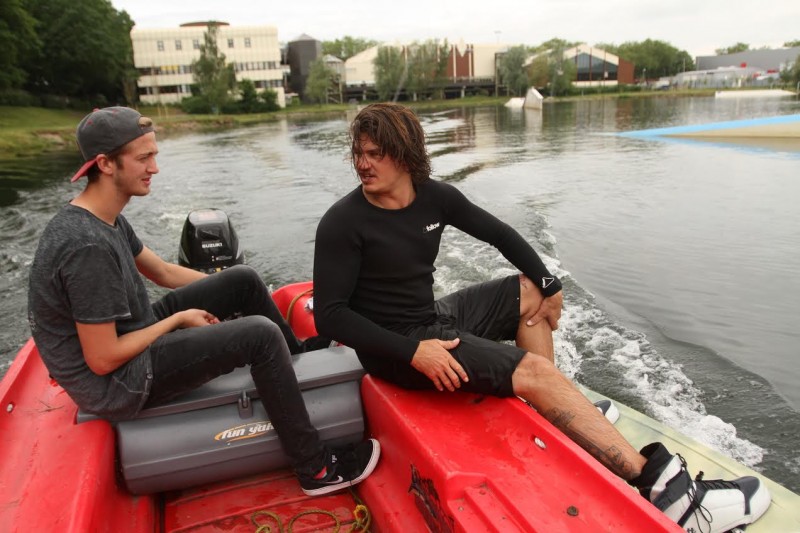 Discovering wakeboarders with true talent. Determining a definite focus of style and technique of riding to be portrayed. Traveling between the United Kingdom, Australia, Israel, Germany, France, and Thailand. These tasks were all on filmmaker Ben Howells' to-do list for a year while in the process of creating a wakeboarding movie, Wafflehouse.
What began as simply a small web edit featuring accomplished athletes riding in Australia soon grew into a larger film.
"I've been producing this kind of content for some time now, mostly shorter three- to four-minute edits but with the occasional longer project," Howells said. "The longer projects always take more energy, but this is where I usually progress the most in my filmmaking, as I put more time, effort, and thought into them."
The 28-year-old filmmaker who hails from Yeovil, England completed the project for Pilchard Productions, and said filming took place loosely over the course of a year and was balanced among other projects and jobs. He said there was a combination of riders coming to visit wherever he was at the time in order to complete filming, and vice versa. On occasion, they were in the same place at the same time, as happened often with contests, which made working on the film quite a bit easier.
Other than all people involved in the project being together at the same time, the film was also heavily reliant upon temperature.
"Filming in October in the UK with Nick Davies, for example, was generally much shorter days due to cold water and less daylight," Howells said. "Israel on the other hand did not have these restrictions. Wakeboarding is quite physically demanding, so there is only so much shooting we could do each given day before riders get tired."
Atop all these requirements sit the unexpected—and injuries, in particular.
"Injuries are always difficult as well," he said. "No rider enjoys sitting on the sofa doing nothing against their will, and if they end up in that situation, we have to find ways to work around it to get the footage we need as well."
The three main riders in the film were Mitch Langfield, Lior Sofor, and Aaron Gunn. Also featured was Sophie Hogben. The initial idea was to have Hogben play a larger role, but because of limited filming sessions, she didn't end up in as much footage as Howells had originally planned for.
In total, about 12 riders were featured.
"Wakeboarding (and action sports as a whole) have no shortage of video content nowadays with the popularity and accessibility of smaller, cheaper cameras and social media making it very easy to get the finished result out there," he said. "Unfortunately, while the quantity is up, the quality is often not and many videos are basically just showing the same thing, a bit of riding with no insight."
Howells sought quality in the project.
"The aim with Wafflehouse was to give a little more insight into the riders and their personalities, style, and approach to riding," he continued. "Not only through their riding but through interviews that probe a little more than the standard answers that have been heard a thousand times before and offer no real insight."
That fact, in addition to a definite focus on style and technique in the riding shown, was what Howells aimed for. He said he hoped to "make it more memorable than just another of the Internet's wakeboard videos we see popping up on a daily basis."
As a project that Howells endeavored upon on his own, it was just him on the production side.
"And there's always friends helping out along the way—driving boats and running the wakeboard cable, helping out with places to stay, taking you cool places to film, making the film so much more varied, interesting, and exciting than it would be otherwise," he continued. "It's awesome to have that kind of support and assistance from friends."
But challenges come along with the job as well. Howells said it's imperative to have a good handle on how to balance times and budgets, as well as how that affects getting as much as possible out of each trip. This requires a lot of attention and careful planning, he said, but also allows for the excitement of travel and discovery. While the wakeboard locations themselves are characterized by much of the same landscapes, it's the surrounding cities, people, languages, and cultures that provide the sense of wonder while traveling to these far-away places.
Along with the enjoyment of traveling and being on the water comes a fair amount of additional work.
"Of course every day there's the standard process of logging and backing up footage, charging batteries and so [on]. At the end of a few weeks of shooting, it's always nice to be able to finish up the day without this little chore," he said.
Now that filming has come to an end and the edits have been finalized, Wafflehouse is in the promotional stage.
"The promotion for the film will be going on throughout the summer, as I will be producing bonus web features to accompany the full release, with a little more insight into the travel and background of the production," he said.
In addition to filmmaking, Howells is also a snowpark designer in Norway. While his home is definitely one that changes based on what project he's working on, he doesn't seem to mind the movement.
"I am currently about halfway though shooting a snowboarding project here in Norway, to be released at the end of the season, as we will be shooting late into spring," he said. "Plans are already coming together for a lot of wakeboard shooting in autumn."
He plans to feature riders from Wafflehouse as well as others he didn't have the opportunity to film, with the focus placed on each individual rider per film rather than encompassing their stories into one single production. 
"As mentioned before, there is so much action sports content readily available these days to the viewer," Howells said. "It's important to attempt to make something that is different to what people have seen before—that will actually hold their attention and focus for 20 minutes when they have become accustomed to switching off in less than one minute if the content isn't inspiring enough."
The film can be rented on Vimeo On Demand for $3.75 or purchased for $8. Check out the Wafflehouse trailer below:
Images courtesy of Ben Howells/Pilchard Productions