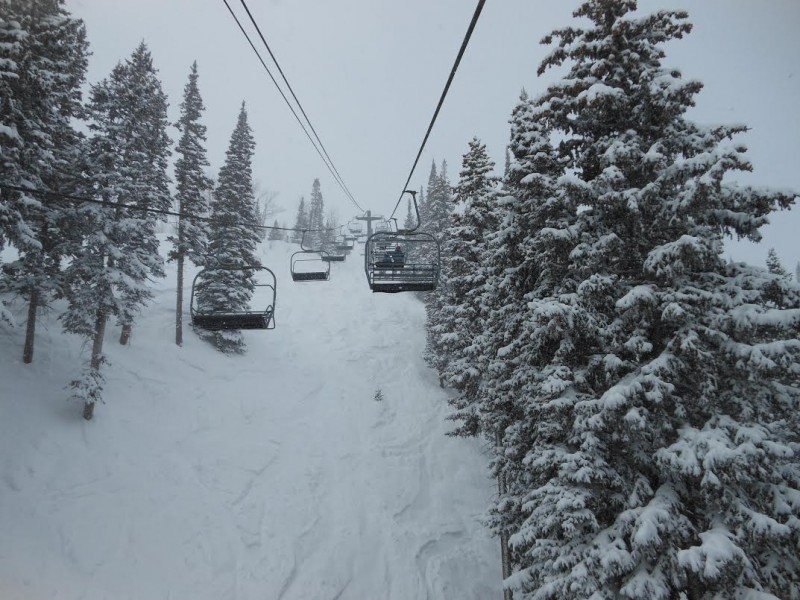 It's the first day of April and I can't see my skis.
The snow is fluffy, definitely more champagne than dreaded Sierra cement. There's maybe six inches of it and it's not stopping.
I am plunging down the trail, edging near the trees, and the snow is first ankle-deep, then to my shin, and finally graces my knees.
It was in Utah's Wasatch where the snowpack is deep and the morning blasts from avalanche control hush up any song bird trying to hum a spring tune.
Pow replaced the sun as the lifts turned at Park City on a day when many locals continued an area tradition of combining costumes and adult beverages on April Fool's Day called Clown Day.
From loud-colored, one-piece ski suits to butterfly wings, ballerina tutus, and sombrero-wearing skiers, locals and those from far away caught glorious turns during the bountiful snows of spring that seemed more like winter.
As the day wore on, everyone loosened up on the slopes and in watering holes like Main Street's No Name Saloon, where a Polygamy Porter seemed an appropriate libation. But a sip of the smokey Campfire whiskey made at the popular High West Distillery was also a good way to go.
Clown Day, according to a display at the informative downtown Park City Museum, started in the mid-1970s when 50 spirited Parkites wore costumes down Main Street before going to the ski area to schuss down Claim Jumper.
By 1983, the day swelled to some 80 percent of festively clothed skiers hitting the slopes in something of a Mardi Gras atmosphere. Skiers mixed drugs and booze, while the event also disrupted the high school population as many students came down with the "Clown Flu."
Somewhat mysteriously, Clown Day stopped for a spell, but is once again enjoyed by those in town on April 1.
Though skiers and riders are focused on the snow, there is much underfoot that helped get Park City to where it is today. From mines to moguls, and silver to snow are among the buzz phrases you'll hear about town. The silver craze of the late 1860s brought the masses to town. As boom eventually went bust, new opportunities were sought and the idea of a ski area surfaced. Initially called Treasure Mountain, the ski area opened in 1963. With some 1,000 miles of mine tunnels under the slopes, trails, and neighborhoods of the area, the ski area had an early unique lift—an underground ski lift.
With miners bulldozing the early trails, it seemed fitting that the old Spiro mine drain tunnel be used to carry skiers some three miles into the mountain on a tracked car that resembled something of a subway. The skiers would then use a hoist to carry them 1,800 feet to the surface.
No heated gondola, skiers likened it to riding the New York subway. But it was an uncomfortable experience, with dripping water making one ski area employee say, "They were instantly frozen like a popsicle" when they reached the outside again.
That lift lasted three years.
Now the convenient Town Lift ferries skiers from Main Street to the mountain, much to their delight.
Of course, Park City, located about a half-hour drive from Salt Lake City, is known for much in the winter sports world. It hosted the 2002 Winter Olympic Games where the men's snowboard team swept the halfpipe event. Visitors can get a close-up look at the luge and bobsled runs, ski jumps, and pool where freestylers train in summer at the Utah Olympic Park. Many snowsports athletes call the place home, like Ted Ligety and the US Ski and Snowboard Association. Heck, Tiger Woods even had his back surgery there the other day.
Though Park City has its history, Park City Mountain Resort, which turned 50 this season, does a fine job offering modern luxury while raising a glass to yesterday.
Gracious groomers and bountiful bowls are found among its 3,300 acres of terrain, including progressive terrain parks nurturing some of the best in the business. They've got some nine bowls, four terrain parks, and two halfpipes.
The lion's share of the 16 chairlifts have a beginner run from them including the three-mile-plus Homerun trail that starts from the top of the Bonanza chair at 9,200 feet.
The backcountry feel of Jupiter Bowl keeps skiers and riders inbounds. On those powder days, the Pioneer and McConkey's chairs lift powder hounds to the steeps and trees. The Black Forest off McConkey's (named for Jim McConkey, the father of the late freeskier Shane McConkey) serves up some tasty tree skiing.
As the snow continues to fall, I bust by groves of trees, following a couple of locals kind enough to show off their home mountain to an Eastern skier carving like a jester more attuned to boilerplate than powder.
They stop. They offer advice—stay forward, don't lean back. It's all about balance.
It works that day as some 12 inches of snow fell in 24 hours.
No joke.
Images by Marty Basch