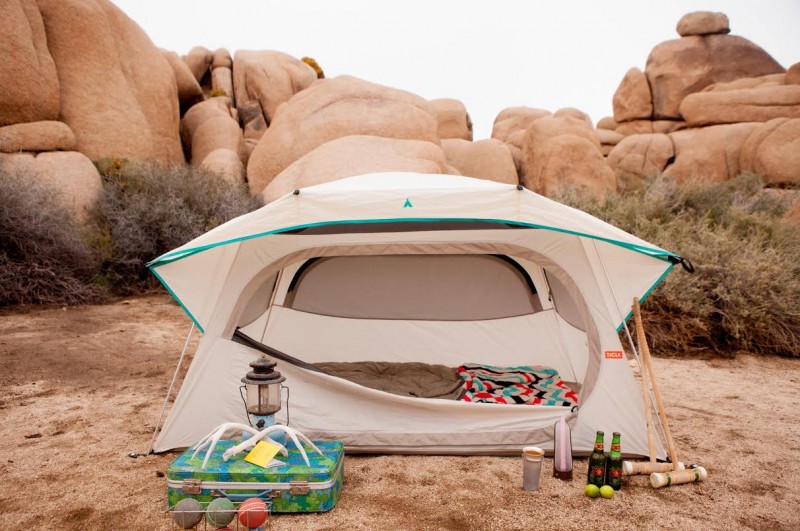 Recall the last time you went on a brief camping trip—this can be anything from camping in the woods near your car to a one-night stay while attending a music festival. Now, try to remember what the tent and sleeping bag you were using looked like, and how difficult it was to pack everything back up into the tiny stuff sacks.
The truth about car camping is that everyone from the beginner camper to the expert does it at some point, yet there isn't gear made specifically for this kind of camping.
Ticla is changing that.
With everything from ease of packing up to the patterns on the gear in mind, camping company Ticla is new to the outdoor industry and prepared to offer something that currently doesn't exist. With tents, shade structures, sleeping bags, and pads coming on the market this month, car campers can redefine how they camp and start using specialized equipment for the first time.
"We have so much respect for what's already out there, but we felt there was a big hole," said Rich Hill, founder and CEO of Ticla. "The whole thing was that there was this big divide between car campers and extreme athlete camping."
Director of Marketing and Operations Meghan McCarthy Kearns said Ticla set out to create products that were more high quality than those sold at places like Walmart and Target, but not as technical as what is currently sold at specialty stores.
"We wanted something that has the attributes of a really well-made, high-quality product, but that's more fun and totally suited to car campers," she said. 
"Now, two years later, we're laughing," Hill said. "Back then, we just said, 'Ok, let's start a company.' We didn't even have a name—just a concept and some funding."
It was a family camping trip to Guatemala that first sparked the idea. Hill's family was camping every day and began to craft this idea of reinventing the camping industry.
"But then we got home, went back to work, and let the idea sit on a shelf for four years," he explained.
It wasn't until Hill met some investors who were interested in funding the idea that the company and its purpose really came to fruition.
"Ticla is a surf spot in Mexico, and that's where the name came from," Hill said. "We wanted to bring color and fashion into a market that, what we felt, has been so consistent for so many years."
Hill, who has worked at companies like Patagonia, Marmot, and prAna, used his expertise in the outdoor industry to help build Ticla in a way that would be fresh and marketable.
"I've been in this business a long time, and all the professionals I know are car campers too," he said. "With professionals who are car camping and beginners who are car camping, the need is the same."
He said a lot of the reason why no one has tapped into this market before is that the engineers who create these all-weather-proof tents are not interested in building something for car campers, but rather the most intense, indestructible product possible.
"They design tents for the top of Everest—they hate designing something for car campers," he said. "They're really worried about the most extreme weather conditions."
But Hill said they soon discovered the need for Ticla products was in warmer climates, such as the southwest. Designing to protect against elements such as rain and snow slipped lower on the list while designing to protect against heat increased. The obvious thing to do was take the tents to one of the hottest places they could think of, Death Valley, to see how it performed.
Hill recalled how miserable the camping trip was in regard to temperature, but despite the adventure lacking the comforts that accompany a cooler environment, the product worked. That was the most important discovery.
"We want the breeze to blow through the tents and we want comfort in the pads," he said.
To help support the movement toward fun gear to car camp with, Ticla came up with the GOOD System, Get Out Of Dodge, which relies on easy-pack tote bags rather than stuff sacks.
"That bag is how it sits on the shelf at home, it's easy to pack and unpack," Hill said. "We really thought about how the bag goes from your house to the car to camp. No one ever gives you tear-down directions. Packing up is the worst. We really tried to think about the tear down process."
While doing research with specialty stores he wanted Ticla to be sold in, Hill revealed that most of the owners were hesitant to bring in the product at first.
"A lot of the owners only relate to the climber, backpacker, etc.," he said. "We're asking them to broaden the appeal of their store and saying 'Do you want this customer?' It's the employees who work on the store floor and have to send car campers elsewhere when they ask for equipment like this. They're the ones who realize it's needed." 
Hill recalled his years working for other companies in the outdoor industry, and how remarkable products aren't things that come around too often. Attending trade shows and simply repeating "Our tent fabric is 10 percent lighter than it was last year!" became tiring.
"It got really old for the people who have been in the industry for a while," he said. "I think now, with Ticla, appealing to people from almost a fashion standpoint is [refreshing], and there's nothing wrong with that statement. Fashion is part of our goal."
Sales Manager Holly Morissette agreed that fashion has a huge role in the company.
"We believe in color and print and bringing the same lifestyle vibe that defines apparel brands into hard goods," she said. "I'd like to think we're creating a brand that feels friendly to everyone from your average weekend warrior to [a] family with three kids in tow to the hip young couple driving across the country in their VW Van."
Hill mentioned several other companies who are brainstorming in a similar way as Ticla, and thinking outside the box when it comes to the design and creation of new products—Alite, Snow Peak, and Poler are some of the brands he named. There's an opportunity to refresh the entire category of camping equipment, and they're all doing it but in different ways, he said.
"From day one, we've seen furniture and camping equipment in the brand," he said. "But we're only trying to produce things we don't already see on the market."
One area Ticla is placing focus on is lighting.
"All the lighting in the industry is based on specs," Hill said. "The industry thinks the best lantern is the brightest. Ticla thinks those are so bright that you can't see—you could do open heart surgery on the camp table. Instead, we're asking things like, 'How warm and romantic is the light?' and 'What does the lantern look like?' We want to draw inspiration from home lighting and we feel like there's a big opportunity there."
But asking those in the camp lighting industry, "How low does this light go?" rather than "How bright is it?" does tend to produce some confused expressions on the faces of professionals. Nobody ever asks those questions, Hill said with a laugh.
"We have a long way to go, but lighting is an example of things we're working on for the future," he said.
As for Hill's feelings about launching Ticla on the consumer market next month, "I'm super excited and crushingly nervous at the same time," he admitted.
Launching a brand new company is intimidating, but judging by the mass of positive responses it has received so far, we don't think Ticla will have anything to worry about come February.
Look out for the products this spring at REI and 50 specialty retailers across the country. For more information, check out the Ticla website.
Images courtesy of Rich Hill/Ticla