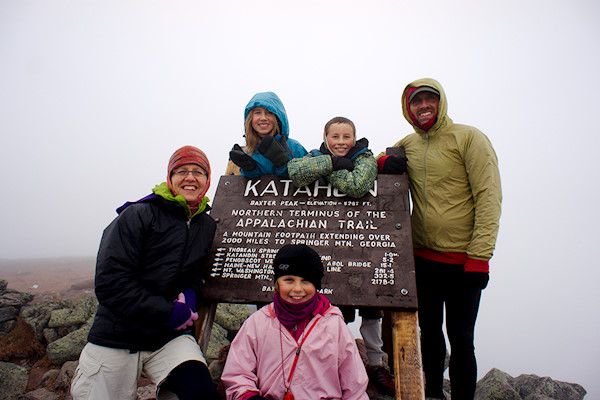 Damien and Renee Tougas established a weekly routine of hiking with their children early on. The family transformed their schedule in order to cater to a short hike once a week. That hike gradually turned into a full-day hike, which then became multi-day trips where the group of five was able to explore the outdoors together.
With the tradition maintained over the years, the family is now aiming higher with their goals.
A plan is in place to thru-hike the 2,200-mile Appalachian Trail, which runs from Springer Mountain in Georgia to Mount Katahdin in Maine.
Damien said this trip has been a long time in the making.
"We've been doing hiking and backpacking for many years, and while I don't remember when I got the idea, it was sometime within the last five years," he said. "I approached my wife and she warmed up to it. One thing led to another and here we are."
He related his goal of hiking the AT with his family to a runner finishing a marathon or ultramarathon—eventually you just want to do something that will push your limits.
So far, Damien said his kids have gone along with all of the hiking and camping adventures he and his wife have planned.
"They've never dug in their heels and said no," he explained. "But they're young and they don't understand fully what is involved [in hiking the AT]—none of us do. They recognize it's going to be difficult, but they're excited."
The Tougas kids—Celine, Laurent, and Brienne—range in age from middle school to high school years.
What helped make planning this trip a reality was a different approach to discussing its finer details. Damien said he adopted a method of talking about the trip as something that could be carried out in the distance future, so that it almost seemed hypothetical.
"You feel more free talking about things when you know they're not going to happen tomorrow," he said. "Your guard goes down."
But now that a plan is formally in place, the family is looking to Kickstarter to host their fundraising effort. The money donated will be used to create a video series of the trip, which will bring into play Damien's other skills evident through the creation of his website.

"My website started out as an outdoors site, where we just wanted to start writing about our hiking and backpacking. It was chronicling our adventures and progress. And then what happened along the way is I had some health issues to solve with my knees and feet, [and] I discovered the whole barefoot/minimalist thing, so I started writing about it," he said. "That part of my writing really took off, then the whole barefoot running fad happened."
Inspired by the attention his first website received from the articles he wrote about taking a minimalist footwear approach when interacting with the outdoors, Damien created another site solely focused on the topic, called Toe Salad.
While his initial website went by the wayside, he began to focus all work on Toe Salad, as well as writing articles for more publications such as Backpacking Light.
While on the trail, Tougas plans to still write for Toe Salad occasionally, while relying on guest writers to fill in while he's gone. His focus while hiking the AT will be the video series about the trip, which will publish three episodes per month during the six-month journey. He said he plans to publish at least one episode before and after the trip as well. The Kickstarter campaign is off to a good start, with almost 50 percent of the $16,000 goal achieved so far, with 22 days remaining. The series will be subscription only.
"We want to make the series interesting, so we're outlining different segments for each episode," Damien said. "We will give an update on our lives, but we also want other segments like a how-to, product reviews, and question-and-answers."
The departure date is scheduled for April 1, but he said how extensive the video series will be is contingent upon the amount of money raised. 
Although the family is rooted in the Gaspe Peninsula of Quebec, they are location independent in both careers and educations, as the children are homeschooled by Renee. In additional to the traditional curriculum the kids would study at home, there are endless learning possibilities on the trail, from exploring nature to meeting new people and hearing their stories.
"We have built a strong support network. We are bloggers and writers, through which over the years we have made a lot of friends and contacts in the outdoors and homeschooling communities. Many people have stepped forward offering to help us out in any way they can," the Kickstarter page reads. "Whether it be by providing us a place to stay for the night while we are on the trail, help with logistics, or trail advice, etc. We don't feel like we are going into this alone, and really appreciate how so many people we have never met are reaching out to lend a hand however they can."
Several footwear companies have even offered to sponsor members of the family, such as New Balance, Skora, and Vivo Barefoot.
Aside from the video project, Damien said he sees this long hike as a way for his family to grow together, compared to the internal growth someone experiences while hiking alone. Another goal for him and Renee is to continue pushing their income earning in an outdoors direction, where they are able to share their knowledge in a way that can financially support their family.
"I'm a tech person, so I can use that as well to help us do interesting things online," he said. "This is kind of the next step for us, and we'll see where it launches us."
For more information about the Tougas' hike, visit the Kickstarter page and check out the video below.
Image courtesy of Damien Tougas