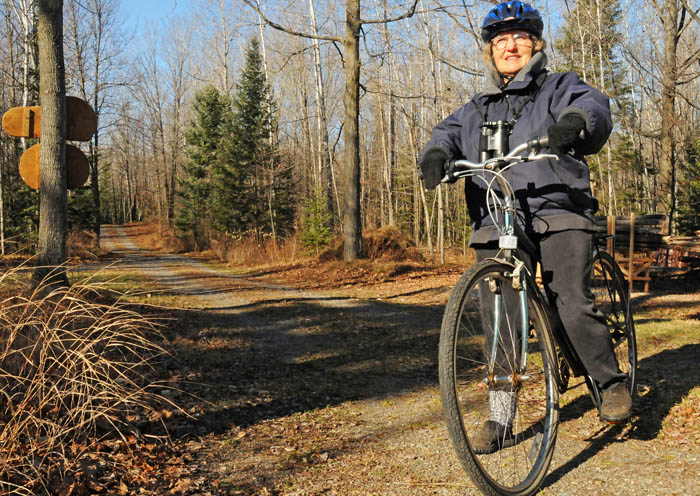 When talking to Kay "The Bird Lady" Kavanagh, don't be hurt that she's more interested in the chirps, tweets, and songs of nearby birds than anything you might have to say.
Kavanagh, 72, means no disrespect. Once her eyes and ears pop open each morning, she's birding. That means identifying every bird within sight or sound by their calls, plumage, or "giz," i.e., their size, shape, and posture.
But don't take my word for it. Her husband, Bob, said he knew birds were Kay's true love when they married 10 years ago.
"He accepts that birds are my life," Kay said with a laugh. "Birding is my avocation; my unpaid job. When we go for walks or bike rides, Bob stays behind and watches me because I'm always braking or stopping to listen."
Kavanagh's birding skills and obsessive list-keeping are legendary in Wisconsin's birding community. She's mentioned in the same sentences as Daryl Tessen of Appleton, Bob Domagalski of St. Nazianz, the late Sam Robbins of Madison, and Noel Cutright of West Bend.
Since taking an introductory birdwatching course in 1980, Kavanagh has "birded" in 41 states, Canada, France, and Cyprus. She spends most of her effort in Wisconsin, where she has identified 374 bird species the past 33-plus years. That places her sixth all-time on Wisconsin's "life list," that is, the number of birds she has identified throughout her life in the Badger State. Tessen is number-one with more than 400.
Kavanagh said she took University of Wisconsin-Extension's birdwatching course, taught by Jim Harris, when realizing she would soon be an empty-nester. She remembered hearing meadowlark music as a child, and doing basic birdwatching with her father, Carl Schaefer, on the family farm near Middleton.
Harris, however, opened her ears further during a class trip to Cherokee Marsh.
"Jim was pointing to all these voices and identifying the birds without seeing them," Kavanagh said. "I didn't realize people could do that. I wanted to do that someday."
Soon after, while birdwatching atop a hill on her family's 13-acre farm, she saw a chickadee-sized bird with an orange throat.
"I finally identified it as a blackburnian warbler," Kavanagh said. "I couldn't believe I was 40 years old and didn't know that bird was in our woods. That bird hooked me on birding."
She took a hiatus from birdwatching in the late 1980s, but then became forever hooked in 1991 during a Wisconsin Society of Ornithology trip to Cadiz Springs in Green County. That's when Domagalski asked her how many birds she had on her Wisconsin life list.
"I didn't have a list," Kavanagh said. "He looked at me and said, 'Everyone has a life list!' He got me listing everything. I became the lister of the century. Almost every birder has a life list, a month list, a county list, a state list, and a year list. I keep about 120 active lists, and I have a list for all 72 Wisconsin counties."
Kavanagh has identified at least 125 birds on each of her county lists except Menominee. Further, she has more than 200 birds on 18 county lists, and 295 species on her Dane County list.
Although Kavanagh lived most of her life on farms west of Madison, she and Bob moved to the Michigan-Wisconsin border in Florence County in 2003 to escape Dane County's congested roads and traffic noise.
That meant making sacrifices. Birds associate strongly with water, and Florence County has little water compared to Dane County. In fact, other than Lake Michigan's shoreline, Dane County is the next most popular destination for serious birdwatching because of its chain of lakes.
"Big water is the big deal for birders," Kavanagh said. "That's where you see the numbers and the rare species because storms push birds toward the shorelines of big lakes. That's where they concentrate."
Even so, Florence County's quiet, remote roads and diverse habitats provide the peace and solitude Kavanagh craves for birding. That's especially true since she's added a "green list" to her records. A green list includes only birds identified without the aid of fossil fuels.
For many years, she relentlessly crisscrossed Wisconsin on birdwatching trips. Even after moving to Florence County, she usually drove to key locations around the region before hiking or cross-country skiing woodland trails in search of birds.
Starting in 2010, Kavanagh turned to bicycling as her preferred birdwatching transportation. She's quick to credit her husband for making it possible. His duties include serving as chief mechanic and one-man pit crew for her Vantara bicycle.
"I couldn't do any of this without Bob," she said. "He keeps everything going for me."
And with the help of online bird-information sources like eBird, Facebook, and email, Kavanagh has become a more efficient birder. In 1992, for example, she and Domagalski decided to do a "big year" in birding, which means a personal best for total bird identifications in one year.
She and Domagalski broke records by seeing the most bird species in Wisconsin. She ID'd 313 birds and Domagalski 311. It wasn't cheap or easy. They logged 3,300 hours of birding, and covered 56,147 miles, including more than 1,000 miles on foot.
This past year Kavanagh tried for another "big year" while going as green as possible. She ID'd 304 birds before Thanksgiving while putting less than 10,000 miles on her car. She thinks she could have reached 313 birds again, but it would have meant "chasing" rare birds around the state and burning gasoline.
"Being green is very important to me," she said. "If there's snow or ice on the roads, I won't ride my bike, so that means no riding in January and February. But when the roads are clear I'm usually on my bike at dawn, riding, watching and listening. I'm always birding. I'm never not birding. Even when I read in winter, I sit near a window so I can look outside for birds.
"And if it's warm enough, I'll open the windows," Kavanagh continued. "I don't listen to the radio. I'm listening to bird music. Bob can attest to that. He doesn't always know that I'm listening to the birds, not him."
Images by Patrick Durkin