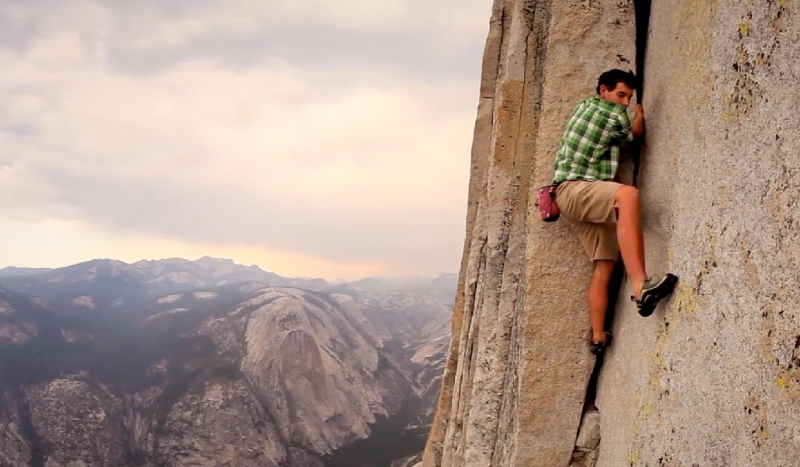 Last year, Carlos Alcos wrote a brief article for Matador about a video he watched of Alex Honnold climbing—without any equipment. Free solo climbing is what Honnold does for a living, so the dangerous climbs with no safety gear is nothing new. 

The 28-year-old professional climber was made famous by his his free solo climbs of big walls as well as his speed record of the Yosemite Triple Crown, which took him 19 hours and 50 minutes to climb Mount Watkins, The Nose, and the northwest face of Half Dome. This achievement was considered a 90-percent free solo climb.
In the article, Alcos wrote, "WATCH CLOSELY. Now watch again. There, see it? At around the 1.18 mark, just as he's about to clip himself to the bolt, he almost slips. After he does make the clip and pulls himself over, the look on his face describes his feeling perfectly."
A simple slip, which many of us beginner rock climbers have done often on a climbing wall or small rock face, could end not only Honnold's career, but most likely his life. Despite this harsh fact, Honnold and a number of other free solo climbers keep going, but what's the reason when there is so much risk associated with the extreme sport?
In an interview with his friend Jimmy Chin when asked "Why soloing?" Honnold answered, "Why anything? I like it. I find it rewarding. I think those are pretty much the same reasons that anyone takes up any hobby. I really enjoy it and I like to push myself and improve."
As for what inspires him to climb, he said, "The challenge, the beauty of the line, the history of the route, lots of different things. For the really big solos it takes a combination of all those factors; I have to get really psyched. For easier things I could just be a matter of boredom or lack of partners or whatever else. But to do something truly hard I have to get really inspired."
But for other free solo climbers, the rock face is not the climbing surface of choice.
Alain Robert is a rock and urban climber from Digoin, Saône-et-Loire, Bourgogne, France. He is often called "the French Spiderman" because of his stunts scaling skyscrapers that always end up attracting a large crowd. The only equipment he uses is a bag of chalk and a pair of climbing shoes.
Because climbing these buildings with no safety equipment, let alone climbing them with equipment, is rarely granted permission, Robert typically arrives at dawn to begin his climb, avoiding the authorities because of the early hours. But his effective planning isn't to say he's always been successful at avoiding them—Robert has been arrested a number of times in a number of countries.
In 2005, Robert told a London Daily Telegraph reporter, "It's a great feeling to know that 100 cops want to stop you doing something and they can't. When I climb a building, I've been there already, and carefully planned how to start the climb as well as how to do it. Maybe if there were 1,000 of them, they could stop me."
The list of his climbs seems endless, but some of the most noteworthy are the Eiffel Tower, the Sydney Opera House, the Sears Tower, Taiwan's Taipei 101, the Marriot Hotel in Warsaw, and the Burj Khalifa in Dubai.
Robert uses the small projections of the building walls and windows to complete the climbs, and because of this, he has become so accustomed to wedging his fingers into these small spaces that they no longer straighten fully.
Rather than climbing rock faces, Robert told Buildering in 2006 that he prefers buildings because "With buildering, I get to keep that element of danger. Plus, I very much like the feeling of height, and buildings have even more of a feeling of height than rock faces."
Check out the video below of Robert's climb of the GDF Suez Tower that stands at 607 feet in the La Défense business district of Paris.
An article posted by The Adrenalist also named John Bachar, Katie Brown, and Dan Osman on its list of "Best Free Solo Climbers of All Time."
The death of Osman in 1998 and Bachar in 2009 showed the climbing community the dangers of the sport. While climbing at Dike Wall near Mammoth Lakes, California, Bachar fell. The exact cause was never determined, but some theorize a loose rock fell from above and struck him. Osman died at age 35 when his rope failed during a "controlled free-fall" jump from the Leaning Tower rock formation in Yosemite National Park. An investigation showed the ropes had been worn by weather, even though Osman and others had used them during the days leading up to his death.
Although free solo climbing is clearly a dangerous sport, people keep at it.
"Generally, when I'm really ready for a solo I don't need to deal with much fear. I know I can do it so it's just a matter of execution. Of course things happen sometimes and I get scared, but I just have to deal with it. Same as everyone else, I take a deep breath, calm myself down, and carry on. There isn't anything too magical about it," Honnold told Chin. He rather named his biggest fears in life as, "Pretty girls? Utter failure? Dying in a terrible accident? All the normal stuff that everyone worries about."
Image is a screenshot from video by National Park Foundation on Vimeo