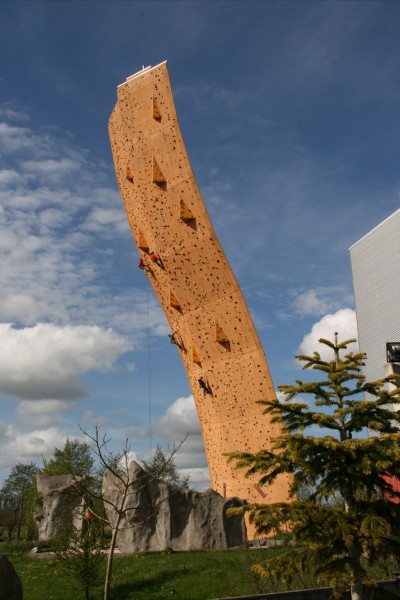 Some rock climbers don't understand the draw of artificial rock walls. In fact, purists are dead set against them, believing that only natural rocks and outdoor scenes can be considered true climbing. But the great thing about the creation of artificial rock walls by U.K. physicist Don Robinson in the 1960s was that it brought the climbing sport to the masses. Faux climbing walls made rock climbing not only accessible, but novice climbers were now able to hone their skills in a controlled environment before attempting on real rocks. As climbing's popularity has grown, taller and more complex structures continue to be built. Check out these five man-made rock walls that prove indoor climbing is nothing to scoff at.
Built in 2004 by Jert Canderceen and once known as the world's highest climbing wall, Excalibur towers 121 feet over the Netherland's town of Groningen. In order to ensure this massive architectural beauty remains upright, Excalibur is built on a 500-ton foundation, with 36 beams reaching nine meters into the ground that keep it in place. Besides the height challenge, climbers must brave the sleek 36-foot curve that creates a more than 90 degree overhang. The Bjoeks Climb Center, which owns and operates the tower, claims that even though the structure was built for the experienced, independent climber, it can also accommodate rookie climbers, depending on the route they choose.
Reno, Nevada is a location known to classic climbers for its real rocks, but it also boasts the Basecamp Outdoor Climbing Wall. Basecamp's Outdoor Wall, which rises 164 feet above downtown Reno, recently claimed the title of world's tallest climbing wall from the Guinness World Records. The wall is a modern marvel, occupying an entire side of the CommRow building, and offering multi-pitch climbing with a belay ledge. Pitches at various levels, 70 feet and 94 feet, as well as climbs that vary in difficulty, allow all types of climbers to experience Reno's breathtaking views. BaseCamp also offers a 7,000-square-foot indoor bouldering park with more than 2,900 square feet of climbable space for those not ready to venture outdoors.
England's Manchester City Climbing Center is perhaps the most unbelievable climbing location on the list. True to the majesty of English history, the wall occupies the inside of St. Benedict's church, a 19th century cathedral complete with stained glass windows and vaulted ceilings. Though its highest routes only reach about 60 feet, it still is one of the highest climbs in Europe, and offers more than 75 climbing lines. The staff also continuously resets the routes in order to offer unparalleled variety for all skill levels as they enjoy the classic background.
Originally built as a nuclear power plant that was never used, the Cooling Tower in Kalar, Germany was re-purposed by a Dutch investor in 1991 and now houses the famous amusement park, Wunderland. With a total of 40 attractions, the most noteworthy is its climbing wall. The wall rises 130 feet, with numerous climbing routes that pepper a whimsical mountain range mural painted on the outside of the power plant. Those who make it to the top of the plant will find a large aerial swing awaiting them. Though it cannot boast being the tallest or the most challenging, the Cooling Tower climb does offer a truly unique climbing experience with after-climb amusements that everyone can enjoy.
More than 50 tons of ice and snow are used to construct the Ice Factor's climbing walls. Located in Kinlochleven, Scotland, this facility offers a distinctive opportunity to those who want to practice with picks and other cold weather climbing equipment. Unlike any other indoor climbing wall, athletes can attempt to scale 50 feet of vertical ice along a range of routes that vary in difficulty. The facility strives to create an authentic experience by keeping temperatures below zero, but also emulating the natural freezing and thawing cycle that occurs on outdoor ice climbs.
Image courtesy of Bjoeks Climb Center