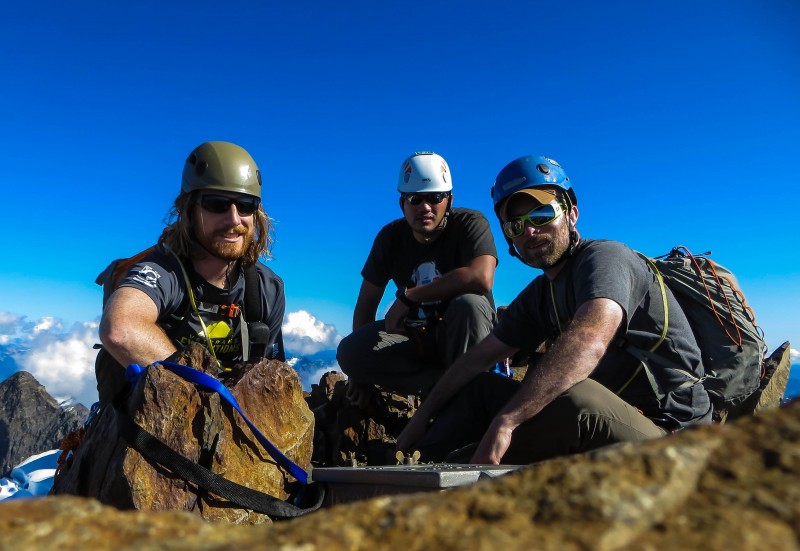 People climb for many reasons. For Joshua Brandon, a military veteran and member of the Sierra Club, climbing is about a lot more than just the physical challenge. Last week, Brandon and climbing partners Dan Wiwczar and Derek Quintanilla spent five days traveling more than 48 miles, enduring the challenges of 11,000 feet of elevation change and scaling five peaks of Mount Olympus in honor of those affected by the September 11, 2001 attacks.
As someone who spent 10 years on active army duty, including three trips to Iraq, Brandon is no stranger to the effects of that disastrous day.
"It marks the time when lives changed forever," he said. "I went from a college student to being thrown into two different wars. We all had friends and family who were hurt or killed. It really affected a whole generation of people."
Joshua started climbing in 2008 when he moved from his hometown of Cleveland, Ohio to Washington State to begin his military training. He was immediately captivated by Washington's mountains, which provided a drastic contrast to the environment he had grown up in. He decided to channel this fascination by teaching himself to climb. In 2009, he joined the Hound Summit Team of military climbers and began learning about the therapeutic benefits climbing presents to injured veterans. Post Traumatic Stress Disorder and brain injuries were the most common ailments among the vets, but even those with physical injuries, like Dan Shoemaker who suffered from eye, back, and arm trauma caused by a car bomb, sought refuge in sport.
"I think climbing was helpful because it focused our minds on a positive goal and on trying to achieve something bigger than ourselves, not just on trying to be normal again," Brandon said.
His work with the Sierra Club began about a year ago, after spending many hours climbing and wandering outdoors.
"I sought personal therapy in the wilderness," he said. "Then I began taking others along with me. The more time I spent outside, the more I fell in love with it, and the more I wanted to protect it. I guess it was accidental conservationism."
It's this type of activism that the Sierra Club seeks to promote. Through their "Veterans Climbing Series," for example, the Sierra Club strives to help the military community, whether they are active duty soldiers, veterans, or families, get outside and enjoy the lands they defended. It is the Sierra Club's belief that once people experience the beauty and awe of the outdoors and see the health and mood benefits of being active, they will want to protect the lands they love for future generations.
The Sierra Club's "Veteran Climbing Series" has sponsored 9/11 climbs since 2010. This year, Mount Olympus, the site of the climb, was selected because of the current battle led by local Wild Olympics Wilderness Campaign to preserve the lands. According to Brandon, these lands are some of the most beautiful and varied he's seen.
"The cool thing about Olympus is the change in terrain," he said. "We started in the rainforest, but we also encountered sub-alpine, wild coastline and even glaciated terrain. It was a really awesome environment to be in."
Over the course of the 9/11 trip, Brandon, Wiwczar, and Quintanilla achieved personal firsts and overcame extreme challenges. Brandon considered the experience an important monument in his life, but also in the lives of others.
"Our wildest places define America itself, and it is in these wildest places that we will define our legacy for generations to come," he said. "We spilled our blood on foreign soil to preserve them, and now we must once again lead our countrymen in fighting to protect them."
Visit Brandon's blog to learn more about this year's 9/11 Veteran's Climb.
Images courtesy Dan Wiwczar/The Sierra Club