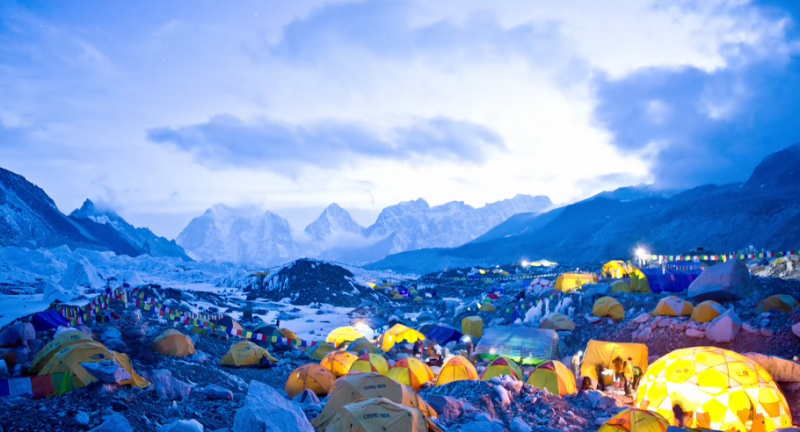 This past May, Elia Saikaly climbed Mount Everest. Unlike many before him who have either attempted or completed the trek, Saikaly was working his day-job during his ascent.
"I was hired to shoot a television series called Arabs on Top of the World—the story of the first Saudi Arabian woman, Qatari [man], and Palestinian [man] to stand on top of the world. In parallel, I was partnered with www.epals.com and shared the journey in real-time with 800 classrooms across the world," he said in a post on his website.
He said transitioning basic camera skills to a place like Everest changes the whole game. Because the camera is his priority, everything else needed to become a reflex—including all that goes into staying alive. Your mind and body must adapt to the challenges affiliated with high altitude cinematography, he said.
"In the death-zone, your body is deteriorating faster than it can recover and a simple mistake can mean the difference between life and death. It may sound overly-dramatic, but it's the nature of the environment," he said in a post on his website. "Exposing your hands for too long leads to frostbite, failing to monitor and manage your energy can lead to inability to descend, failure to properly clip into a safety line while taking a shot can send you plummeting down the mountain to your death."
This was not his first time on Everest, as he accepted the challenge before to honor a friend and mentor, Sean Egan, who died during a previous attempt to document the climb. Saikaly was asked by Egan to film a documentary in the Himalayas, focused on his quest to become the oldest Canadian to summit the world's highest mountain. During this time, the filmmaker was running a small video production company that mostly worked on corporate, wedding, and training videos. Egan presented him with a great opportunity. Even though Egan's death scarred his first trip, Saikaly said the adventurer inspired him to move forward. Now Saikaly has more than 16 expeditions under his belt, several of which include Mount Everest.
He said it wasn't until he climbed Everest that he understood why very few people came back with good images. The higher you climb on an 8,000-meter peak (29,029 feet), the more difficult it becomes to think, sleep, eat, function, and survive, he said. This leaves most cinematographers without the necessary fuel to practice their craft. Despite this, Saikaly not only completed his work, but created the time lapse short film that is shown below.
Saikaly said the amount of energy he was expending was enormous.
"If I get sick, I put everyone else at risk. As a precaution, I hired three Sherpas to assist me with oxygen, personal equipment, and some of my camera gear. Without their help, this would not have been possible," he said. "What also made it all so incredibly challenging was the fact that I could not slow anyone down or interfere with anyone's expedition, including my own team. I didn't have the luxury of asking anyone to stop or wait or to repeat an action as you often do when shooting television. I needed to be 20 steps ahead of everyone else at any given moment at all all times which is a near-impossible task at 8,000-plus meters."
The most challenging aspect of the expedition was the lack of sleep, he said. The views at night were unlike anything he had ever seen, and Saikaly said he would rather go without the rest than pass them up. He said all he kept thinking about was how he needed to share them with the rest of the world.
"The magic of today's technology is that we can all create films like this with very minimal technology. An affordable Canon t3i with a remote purchased from eBay and a Mac is all you need," he said. "And then of course what's required is the willingness to travel outside of your comfort zone into these kinds of beautiful environments. Eight years ago I had never even slept in a tent and look where I ended up."
To learn more about Saikaly, check out his website or watch more of his short films.
Image is a screenshot from video by Elia Saikaly on Vimeo