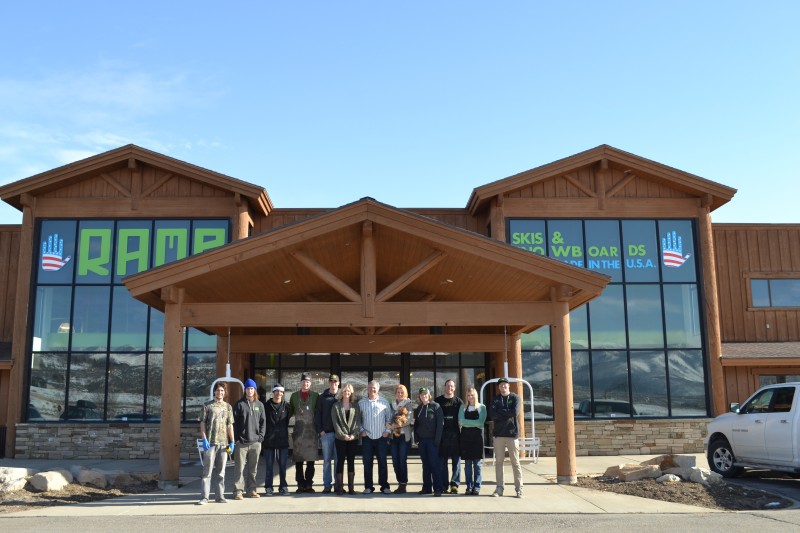 After opening a large-scale manufacturing facility in May 2012 to create skis, Riders Artists Musicians Project (RAMP) Sports is utilizing unique methods that produce high-quality skis and snowboards, has experienced a 300 percent increase in sales, and is setting high goals for the future.
RAMP was launched back in December 2010 by a group of athletes who wanted to create a company that was energetic, had a passion for skiing and snowboarding, and knew what was needed in the market. Athletes associated with the brand have won numerous X Games, Grand Prix, and Dew Tour Medals using the line's equipment, and it has received attention from multiple magazines with Editor's Pick awards as well.
"We started our company because we felt skiers and riders wanted better value on equipment and a closer relationship with the brand they are buying from—with RAMP you can have both," a news release stated.
While the company was manufacturing solely skis in its new Park City, Utah facility last year, it is now expanding to the creation of both skis and snowboards for the upcoming season.
"Last summer when we built our new factory we transferred the ski production from Asia to here and this summer we are doing the same thing with snowboards," said RAMP Founder and CESnow Mike Kilchenstein. "So this means adapting all the materials we use. We have had at least four formal tests this summer with all kinds of variations on structures and flexes. At Mount Hood a couple of weeks ago we were getting close to excellent product. The flexes and shapes were great. The boards felt rock-solid but were a bit heavy. The bamboo cores we use are much more expensive and provide a solid feel you don't get from the normal poplar or aspen cores."
The Park City facility is dedicated to creating American-made and Earth-friendly products that are also some of the most technically advanced pieces of equipment on the market.
"Many popular skis and snowboards are manufactured by people in Asia making $200 per month, using less expensive materials with no environmental constraints," the website stated. "At RAMP, we feel certain that Americans would rather buy products using new technology, materials and processes that offset said cheap labor, clean best practices, and are made by people who love skiing and riding."
To further this attitude of buying American, RAMP has teamed up with 14 others to create USA Colab, a group dedicated to supporting American-made ski and snowboard companies.
In an effort to stay green, RAMP ships products in a padded ski or snowboard bag that eliminates the need for boxes. For those looking to sell old skis or boards, check out the company's buyback program where buyers can receive a $50 credit toward new gear while their old equipment is being made into something useful such as furniture, wine racks, and coat racks.
RAMP uses a unique patent-pending process that provides flexibility in testing out new products. The company's Product Manager, Christian Alary, developed a system whereby they are able to change the shapes and designs of their equipment by adjusting computer DXF files rather than making an entirely new mold.
"In layman's terms, we can make a ski on a whim, test it on the fly—without buying new tooling," a news release stated. "That means we constantly invest in making our skis and snowboards the best they can be. It's called rapid prototyping."
Because of this model, RAMP is able to express creativity and innovation in a short amount of time and save roughly $8,000 to $10,000 per model and size.
Rather than using the traditional industrial presses that have been molding skis since the 1960s, RAMP has implemented a modern vacuum-molding process modeled after aerospace manufacturing methods. The old industrial press method used four atmospheres of pressure to force the ski layers against camber plates, which molds the layers into the unnatural shapes of skis. With the new vacuum bag, one atmosphere of pressure is used to distribute forces evenly, ensuring the materials retain natural shapes. This creates what RAMP calls an "expanded sweet spot" that increases quality and makes a ski that performs better.
In addition to the new vacuum-molding process, RAMP uses Forestry Stewardship Certified bamboo wood cores. Most skis and snowboards are made with poplar, which is a cheap, light, and durable wood. While the bamboo wood cores the company uses are three times the cost of poplar, they are three times as hard, providing a durability that is mostly unknown in the industry.
"RAMP's cores are so hard they actually make the ski feel like it has layers of metal but without the bending problems usually found with metal in freeskiing skis," the website stated. "Another great thing about bamboo is how renewable it is. We don't know of another company using full bamboo cores, especially at the level of quality and best practices."
Also in production is a new ultra-light alpine touring ski for a company in France, with the goal being to have the lightest touring ski in the world.
"We are also beginning work on a new, more extensive demo program, which will provide consumer demos in all the important regions," Kilchenstein said. "Our goals this year are very ambitious. We are working on tripling our production and sales. This has allowed us to hire more factory workers, which is great. Busy times here at RAMP right now."
Images courtesy of Jamie Storrs/Terra Public Relations