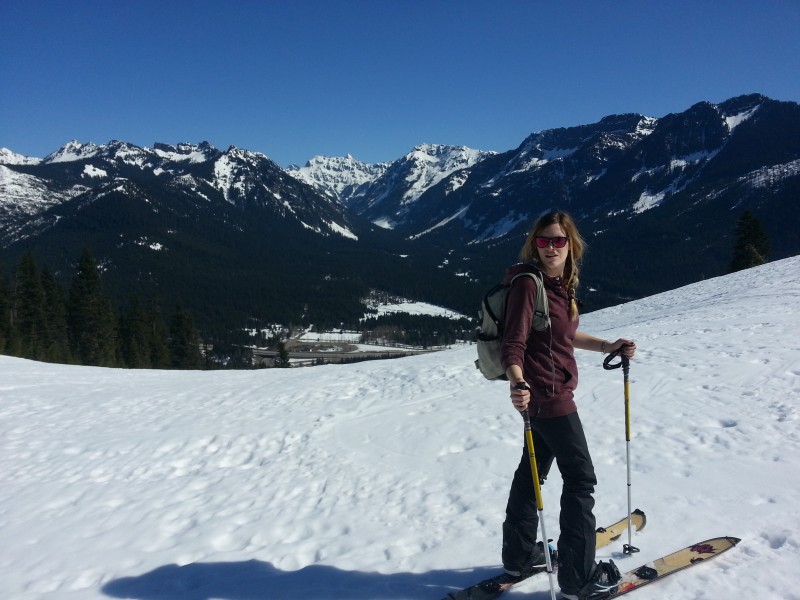 For the last 20 years splitboards have been lurking in snow sports' shadows. Far off in the deep woods, splitboarders have been designing, testing, innovating, and perfecting gear to make the backcountry more accessible, and their time to shine is now here. Long gone are the days of boot packing through waist deep powder.
Before I go too far, I should probably explain what a splitboard actually is. Imagine a snowboard that has been cut in half vertically to create two skis. Don't get scared off, snowboarders; these skis act as giant, fast-ascension skis with the help of adhesive climbing skins that attach to the bottom of the split skis. Pairing the climbing skins and a set of collapsible poles, these splitboard skis are ready to give the user the ability to traverse far out into the backcountry and up any snow-covered mountain.
After hiking for hours through the snow and reaching your desired peak, take a moment and enjoy your hard work and the view below—a hopefully-untouched powder run just for you to paint your masterpiece.
It wouldn't be much fun to shred this pristine piste with a jankety pair of skis made out of a snowboard. Simply remove the climbing skins and bindings, reassemble the board with the split clips, and reattach the bindings. Now your splitboard is ready to slash, float, and cruise like never before. You're free of the crowds, the lift lines, and the tamed in-bounds terrain.
Splitboarding has evolved a great deal since the days when dudes used Skilsaws to cut up old snowboards and weld together primitive splitboard bindings. While your average Joe isn't quite as handy at building his own splitboard, large snowboard manufactures like Burton, K2, and Mervin have started to produce splitboards. With an inside metal edge and factory inserts, these boards are ready to go as soon as you leave your local board shop. Binding technology is not far behind either. Industry leaders Karakoram and Spark R&D are developing bindings that are lighter, stronger, and more efficient. Gear is evolving at a fast pace and bringing the idea of splitboarding to every snowboarder's attention.
Leading the charge of backcountry adventure is big mountain snowboarder Jeremy Jones. Through his films Deeper and Further, Jones explores terrain beyond the reach of snowmobiles and helicopters on his splitboard. Taking his love for snowboarding and mountaineering to the next level, Jones is now producing his own line of splitboards and snowboards. With boards and splits designed for all terrain and conditions, Jones Snowboards makes five different models for both men and women. His products are made by the Swiss-based snowboard manufacturer Nidecker.
As more and more gear becomes readily available to the public, it is wise to remember the dangers of backcountry travel. With nearly 150 avalanche-related deaths each year, it is important to practice proper avalanche safety. While expensive backcountry gear is good to own, it is virtually useless without the correct education. Organizations like the American Institute for Avalanche Research and Education teach backcountry-goers not only how to properly use a beacon and other gear in avalanche rescue but also the safest travel techniques and decision making skills.
After countless powder days of battling fellow snowboarders and skiers for fresh turns at the resort, splitboarding was calling me to the backcountry. Without the crowd, the mountain feels more alive, more real, and more sublime. With my Charlie Splitter (my own custom split) under my feet, my gear in my pack, and my knowledge of backcountry terrain, I find myself at home in the mountains. You will hear no noise except for the wildlife calling and the snow crunching under your feet. Stride after stride, splitboarding brings a new meaning to "earning your turns".
Images by Stewart Langner