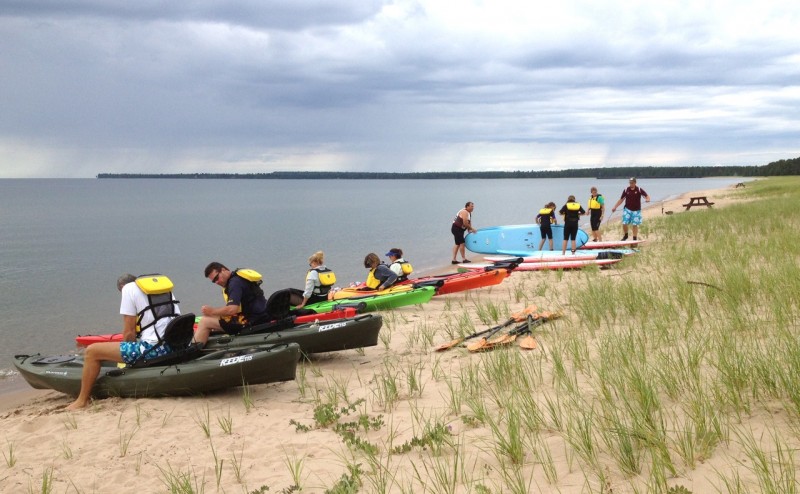 Trying to plan your family's next summer vacation? What's most important to you?
You have to go somewhere where everyone will be entertained. You want to go some place new and exciting. You don't want to travel too far if you don't have a lot of time. You would love to stay out of the big city. But above all, you want a great deal.
Does this sound like your checklist? If so, Mount Bohemia Adventure Resort is your answer. Tucked on the shore of the world's largest freshwater lake, you'll reside on the side of a 900-vertical-foot mountain.
Boasting the nation's purest air, the Keweenaw of Michigan's Upper Peninsula is truly your chance to get away from it all. And at Mount Bohemia's Adventure Resort, you can indulge yourself in sheer wilderness without sacrificing the conveniences of the modern world.
How is this possible? Here's the scoop.
At Bohemia Resort, you pay one low price per person, per day. This includes three meals prepared for you, lodging and all the equipment you'll need for fantastic outdoor adventures like kayaking, mountain biking, hiking, fishing, and paddleboarding. And it only costs $95 a day! You can hardly get a hotel room for that these days, and now all your meals and activities are included? Sounds like the deal of the summer to me!
No matter which adventure your family chooses for the day, you are bound to learn something from and about each other. I've seen daughters out-paddle Dad on the paddleboard. I've seen Mom step out of her comfort zone and into Lake Superior for the first time. I heard Dad tell the kids, "I'll teach you how to ride a wheelie!" How fun is that? Getting out and experiencing the great outdoors is a wonderful way for your family to learn and grow together.
But what if you're too tired from the previous day's activities to possibly paddle one more stroke or hike one more hill? What if little sister just doesn't feel like biking? Don't worry! Beautiful Bete Grise Beach is only minutes away from the resort. Bring your bikini and towel, and spend a day catching some rays on this sandy beach. It's kind of like Florida. Without all the people–or salt in the water.
On lazy days, you can cruise around looking for waterfalls. The Keweenaw is home to 10 different falls. Maybe you like lighthouses. Twelve different towers line the shores of Lake Superior. With gardens to wander, boat tours to take, beaches to lay on, berries to pick, birds to watch, rocks to find and scenic roads to drive, tired bodies don't have to mean boring days. Check out www.keweenaw.info for more information on the area's most popular attractions.
Heaven forbid you wake up one day and it's raining. If you are hard-core, you'll have a blast in your kayak or on a hike up the mountain in the rain. Good for you. But if wet pants are not your style, you still have plenty of options.
Bohemia resort offers a commons building where you can watch TV and movies, play board games, read a book, or just sprawl out on the couch. No shame in hanging out inside for the day. But if someone starts to get a little antsy, you've got several remedies for cabin fever.
Drive 15 miles north to Copper Harbor. This historic little town offers gift shops of all flavors, ice cream parlors, restaurants, a lighthouse tour, and scenic Brockway Mountain Drive. Or drive south to take a tour of the old Delaware Mine; it doesn't rain underground! If you need to see some traffic lights, drive a bit further south to Calumet where you can shop their local gifts, buy groceries, visit museums and check out this old mining boomtown. Lots of history there!
Take note that you won't be the only family at the resort. Last time I visited, two families met for the first time, and they live only 14 miles away from each other back in southern Indiana! Small world, indeed. The kids can make new friends at breakfast. Mom and Dad can make new friends while sipping a local microbrew or a glass of wine in the evening at The North Pole bar. You might just want to get together for a lively game of cards in the commons building too!
Looks like Bohemia has your whole family covered within a small radius of their resort. You will all find something of interest each day of your stay–no matter what the weather is like.
Check them out right now at www.mtbohemia.com for more info on activities and lodging. See you next summer, if not sooner!
Image by Amanda Wais