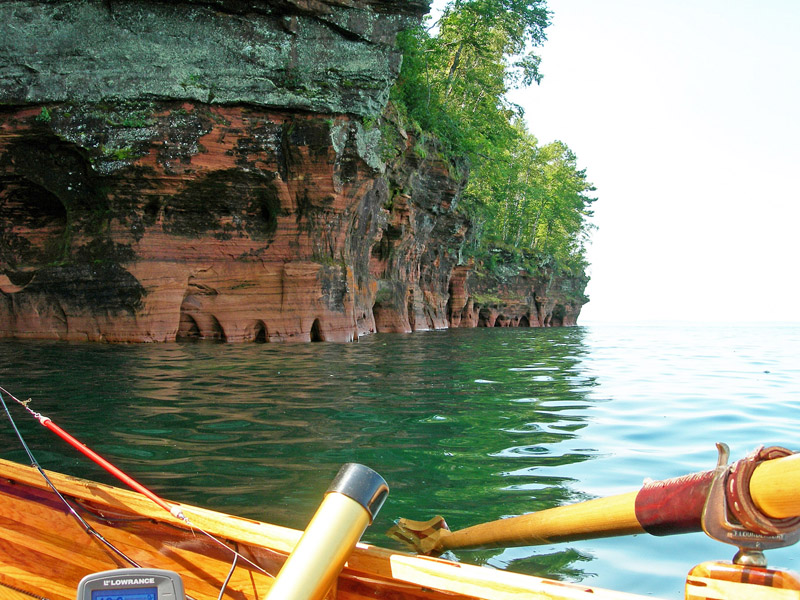 On the morning of our scheduled rowboat trip to the Bayfield Peninsula's sea caves on Lake Superior, I read online forecasts by the Weather Channel, AccuWeather, and the National Oceanic and Atmospheric Administration (NOAA).
They all forecast light easterly winds, calm to two-foot waves, and a slight chance of isolated afternoon thunderstorms. Next I checked the latest data from two NOAA buoys on mighty Superior, the greatest of the Great Lakes. Things looked good. The waves varied from 0.4 to 0.7 feet high. And because both buoys are far offshore and more exposed to winds than we would be, I figured the lake's nearshore waters should be calm.
"It looks like we'll have easy rowing," I told my wife, Penny, as she packed our lunch. I then went outside the bed-and-breakfast near Ashland, Wisconsin and hitched on the trailer carrying our cedar-strip rowboat. About 30 minutes later we glimpsed Lake Superior in the distance from a hilltop on the western side of the Bayfield Peninsula.
"Hmm. That doesn't look calm," I muttered. Instead of the smooth, shimmering surface we expected, the lake looked slate-blue, indicating waves. Sure enough, when we reached the tiny port town of Cornucopia, choppy waves pushed by steady westerly winds pounded the harbor's jetty.
The forecasts had been wrong. Imagine that. And judging by the strengthening winds, the waves would soon carry whitecaps. I don't mess with whitecaps, especially on a lake like Superior. I mean, who hasn't heard of deadly gales, the SS Edmund Fitzgerald and the lake that doesn't give up its dead?
Not knowing what else to do, we drove north a few miles to Meyers Beach for another look. Our slim hopes of visiting the sea caves vanished when we parked at this well-known carry-in launch for cave-visiting kayakers. As we studied the western horizon, we saw a long, black line growing wider in the sky. Something bad was heading our way.
I try not to complain when weather forecasts crumble, figuring it's folly to think humans can predict nature's moods when we can't even predict our own. Still, I groused a bit before driving back east across the peninsula. We decided to regroup at Red Cliff, thinking the surrounding Apostle Islands might better shelter us from wind and waves once the storm blew past.
Before long that gray-black line in the sky–once so distant–now darkened our minivan's rearview mirrors. When reaching Red Cliff, we studied satellite photos with a friendly kayak outfitter and discussed updated forecasts. We agreed the storm would slide south or pass quickly, so I paid the launch fees and slid our rowboat off the trailer.
Minutes later Penny and I were bobbing in our homemade boat, eyes skyward, oars at rest. We stayed within three strokes of the pier as I babbled about isolated thunderstorms and how they usually work fast and disappear.
Seconds later, heavy rains isolated their wrath on us. I pulled hard on the oars, swung the boat's bow toward the beach and drove it onto the sand. After anchoring the boat and retreating to our van, we drove through the gale to Bayfield for an early lunch.
Two hours later, and three hours since launching, we watched the storm disappear as we rowed out between the peninsula and Basswood Island. When we were about a half-mile out, we rigged our fishing rods and tried row-trolling for salmon and lake trout. We hoped to reach the waters between Oak and Hermit islands farther north, but whitecaps turned us back as we neared the peninsula's tip.
We fished a couple of more hours and quit when conceding winds and waves wouldn't allow a longer trip. We hoped things would change overnight so we could try again the next morning.
Though frustrated a bit, I didn't second guess our prudent decision-making. When in doubt, stay ashore. That's the best advice when planning kayak, canoe, or boat trips to the Apostle Islands' sea caves. That's especially true if taking longer sea cave trips to Sand Island, or a multiple-day trip to Devil's Island.
I'm never surprised when reading that a drowned kayaker on Lake Superior was "experienced" and "familiar with the waters." So are skippers of most doomed ships, whether it's Ernest McSorley on the Fitzgerald or Edward John Smith on the Titanic. Familiarity can breed overconfidence, which kills just as surely as inexperience if it breeds complacency.
Fortunately for Penny and me, the online forecasts for day two looked more promising. Still, we kept our fingers crossed when leaving the B&B. We were relieved and excited to see Superior at rest when reaching Cornucopia's marina. We paid our fee and launched.
It took about an hour to row the four miles to the first sea caves. We knew we were getting close when kayaks appeared ahead and beside us near Meyers Beach on Squaw Bay. The caves are a popular destination for guided and do-it-yourself kayak trips, and we welcomed the kayakers' company.
The lake's gentle rollers allowed us to navigate within a few feet of the red sandstone cliffs and their wave-carved caves. Although the waves were subtle that day, they made distinct, muffled "whumps" when striking the caves' interior walls. As the water rebounded off rock, it pushed our boat against incoming waves, creating a steady whipsaw action on our boat's keel.
Still, we pulled along without great effort. When we rounded a sharp bend in the shoreline we flushed a covey of eight kayaks from the inside corner. The kayakers paddled away to the northeast without looking back. They had been resting in a pocket between the cliffs where currents couldn't swish them around like toys in a bathtub.
We considered rowing into the caves, resting our oars, and pushing our boat along by "walking" our hands against the sandstone ceilings. Kayakers and canoeists often use that technique inside the caves, but we decided against it. Never having been inside these caves, we didn't want to risk getting trapped or pushed into the walls.
Soon after, we paused for water, pretzels, and fruit. As we snacked, another pod of kayaks approached, pausing long enough for small talk and fishing tips before continuing their day-trip.
Our handheld GPS unit indicated we were 5.3 miles from Cornucopia, so we began the return trip. We first rowed westward for deeper water, and then rigged our fishing rods and row-trolled toward our distant landing.
No fish hit our lures but we didn't complain. After all, we know even less about the feeding habits of Lake Superior's fish than we do about the forecasting skills of its meteorologists.
If you go…
To learn more about kayaking the sea caves and the Apostle Islands, contact the National Parks Service–(715) 779-3397–to obtain its "Paddling the Apostles" pamphlet. It's also available online at www.nps.gov/apis/planyourvisit/upload/Paddling.pdf. Also visit www.nps.gov/apis/parkmgmt/partners.htm for more information about guided trips, kayak rentals, and other services.
Images by Patrick Durkin