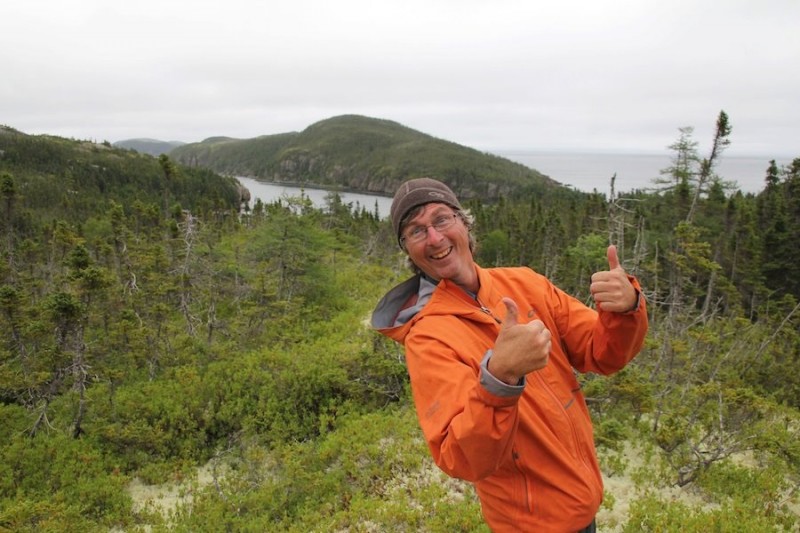 Kevin Callan said his introduction into a career based around experiencing the wilderness was somewhat of a fluke.
Callan, also known as the Happy Camper, has been canoeing consistently since his childhood. He has turned that passion into writing a number of books, documenting his trips via blog posts and videos, and speaking at events, gaining a large following along the way.
"I don't go out there to be a professional," he said. "When I film and things go bad, that's me. I'm a goof up and it's normal stuff."
He said he was 19 or 20 when he passed by a newspaper's building, decided to walk inside, and suggested out of the blue that they should let him write a nature column. During this time, he was volunteering at a nature camp on the weekends.
"I created a following–by accident," he said, now at almost 50 years old. "I've written 15 books now. My publisher laughed and said I came into the office and knew nothing, but that I had the gift of the story."
Callan's humor, along with outdoor skills he has gained through a lifetime of adventure, are no doubt what keeps his followers coming back for more. From learning the basics of packing to recording his personal trips for others to enjoy, his website and corresponding YouTube channel provide his audience with everything they need to not only gain an understanding of canoeing, but to learn along with him.
Callan said his love for the water sport began at an early age.
"My parents took me camping. I came from a big family–so it's what we could afford," he said. "My dad would take me out fishing a lot to lodges up north. When I was 12, I used a canoe, and I wrote a journal at that time. I said it was the best vessel to get in to the wilderness with.
"It calms me down–I'm a really hyper person," he said. "You are who you are out there. There's no facade. You kind of reconnect with things."
Callan said that in the 1970s, the average canoe trip was 10-17 days long. He explained how people have lost touch with nature, and now use these shorter, weekend trips as vacation time or to simply cross something off their bucket list.
"They will never really connect and get comfortable," he said. "My philosophy is that day five [of a trip] is when you start feeling at home."
After his spring book tours are completed almost every year, Callan said he has a strict rule to keep his summers open for time to relax in the wild.
He told a story of a trip he was on with his daughter, where at one point he was being interviewed over the phone. Callan passed the phone to his daughter and the interviewer asked her how long they had been on the trip. After he heard her response that it had been longer than the average modern trip spanning only several days, he said, "Wow, that's a long time!" The six-year-old's response: "You must not get out a lot."
Callan's family also loves the outdoors, so canoeing trips are commonplace in their lives. He said their dog usually accompanies them on these longer trips, but the animal is aging and having a harder time getting around. One night Callan found his daughter in her bedroom around midnight, covers pulled tightly over her head, with only the glow of a flashlight and slight movement visible. When he asked her what she was doing, she showed him the maps of Lake Superior she had been researching that were hidden under the blankets. She said they required less portaging (carrying the canoe) than their previous trips, making it something that was realistic for the dog to tag along on. She didn't want to leave the family's companion behind. They have the trip planned for this summer.
In addition to his Lake Superior trip, he said he has a number of others planned. Callan also took on a part-time job that involves taking at-risk students out into nature, which he said can be stressful at times, but can tell in the long run that it really helps to change their lives.
He recently returned from a 20-day canoeing trip around Algonquin Park, which he described as one of the only pieces of wilderness left in south central Ontario. Algonquin Outfitters (AO) created a canoe route called The Meanest Link, which was named after Bill Swift Sr., who was one of AO's founders.
According to AO's website, "'The Link' was dreamed up by Alex Hurley and Gordon Baker in the summer of 2004. The trip consists of four challenging canoe routes connecting the four Algonquin Outfitters stores serving Algonquin Park: Oxtongue Lake, Huntsville, Brent, on Cedar Lake, and Lake Opeongo. Meanest's (Swift's nickname) love of canoe tripping and numerous feats of endurance on the trail were legendary, so Gord and Alex felt that a canoe route linking Algonquin Park and Algonquin Outfitters would be an appropriate way to honor him."
Callan said overall it was a great trip, but there was a record number of bugs, which drove him and his canoeing partner crazy. Another demanding task was that more than half of the trip incorporated upstream paddling, as well as the huge amount of portaging that was required.
"My buddy was about to kill me because I failed to tell him how difficult it would be," he said.
Callan documents his trips through blogging and recording videos, preparing his followers with a video upload of how he packed for the Algonquin trip. His friend who joined him was on vacation for work and informed Callan he was only able to stay for 16 days instead of the 20 that were planned. Rather than continue alone for the remaining days, he chose to cheat a little by hitchhiking, which he clearly told his followers about. He came home to find comments on his blog from some of the people who had canoed The Link in a record seven days, criticizing how he chose to cheat. He said he found it somewhat funny, because he never set out to break any records, and was honest in what he was doing.
"I tell the truth all the time, so I don't get caught in a lie," he said.
Callan said he more so sets out to get the everyday person into the wilderness rather that simply appeal to a small group of experts. He questioned how we're supposed to protect the environment if we can't get the everyday person out there to witness its beauty and understand how it should be respected.
He said that before one of the events he was speaking at a little boy approached him and asked, "Are you going to be funny like you were last year?" Callan said that was when he realized he had created something.
"When I first started, the elite people of the outdoor world would make fun of me…that I was the Red Green of the outdoor world," he said. "It's not easy getting little kids interested (in the outdoors), so if it's through comedy, then so what?"
Callan said his favorite part about his job is the freedom of it.
"I have a friend who I go canoeing with and he works at a factory and hates his job," he said. "There's no money to be made in the outdoors, which is a positive and a negative. There are days when I look at my bank account and think, 'Well, I'm rich in spirit.' It's so cliche, but I do what I like."
Images courtesy of Kevin Callan