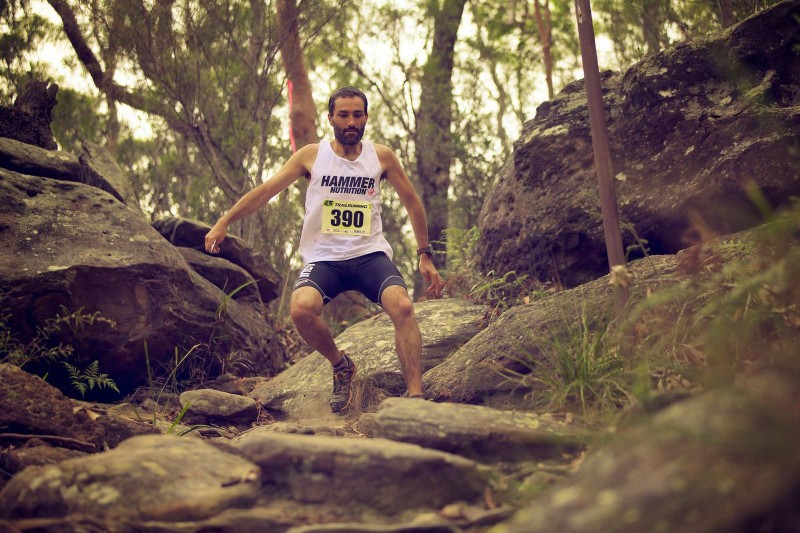 Brendan Davies said he first became a runner to lose the excess weight he gained while in the start of his career as a teacher. He spent his early twenties involved in team sports such as soccer, touch football, and cricket, but when his focus transitioned to his career, fitness was not his first priority.
"The result was a widening waistline and a rather unhealthy lifestyle. When I turned 30 I had a good look at myself and decided that enough was enough and I started jogging. At the time I was playing squash quite competitively and started running to lose some weight and get fitter," he said. "However, I soon found that running was much more enjoyable and I got hooked pretty quickly. Within a year I had joined a running club, ran my first marathon and was looking for new challenges. It took me another year to run my first ultra, a 100-kilometer [62-mile] road run. It took me a couple more years to run trail ultras. The rest is now history."
Davies, who was named Australia's Male Ultra Runner of the Year in 2012, has now made the sport an instrumental part of his life.
"I've probably competed in 25 marathons; a mixture of road and trail marathons," he said. "I've also competed in over 20 ultra marathons, most of these on trail. Last year I came in 11th in the World 100K Road Championship, but I feel much more comfortable on the trails."
With his first marathon completed at age 30, Davies said the length of the races have only increased over time. He said running longer distances was simply a natural progression.
Training is ongoing for the year-round athlete, who is primarily an ultra runner. Davies said although he is always running, he will begin training in earnest about three months before a bigger event.
"My training routine includes the staples; a weekend long run of 40-60 km [24-37 miles], mid-week long run of 25 km [15.5 miles] and then two tempo runs per week. I also do two track sessions (intervals or similar); one long track session (mile repeats, etc.) and one short where I really focus on the speed," he said. "Depending where I am in my cycle and what event I'm training for, I'll also incorporate hill work (important for trail running). There is also sessions on treadmills and easy running sessions (on double days) to make up the miles."
Another imperative aspect of training is nutrition, which Davies said he pays attention to by gradually increasing his input of complex carbohydrates such as quinoa, brown rice, and pasta as well as topping off his glycogen storage.
He said on race mornings he will eat a bowl of oats, and during marathons he makes sure to have a steady fuel source, which is where he incorporates a carbohydrate and protein mix called Hammer Perpetuem.
In just a few days Davies will compete in the Mont-Blanc Marathon and a couple of other Skyrunning Series races, in addition to a fully-packed year of events in Australia. To prepare, he is running about 150 kilometers (93 miles) a week.
"I am currently the Australian Ultra Runner of the Year, and part of the Inov-8 International Trail Running Team," he said. "I just won The North Face 100 here where I live in the Blue Mountains in New South Wales, beating the course record held by Kilian Jornet, which he set in 2011. I came fifth at the Ultra Trail Mt. Fuji this year. I put my name in for Western States but didn't get through the lottery, unfortunately. I think I am much more suited for American trails, rather than European trails. I am planning on coming over for the UROC this year in Colorado and also next year for Western States."
Davies said one of the most important things to remember in a longer race is to set a realistic time goal.
"Work yourself into the race slowly and build up gradually to your race pace," he said. "If you feel great at 35 kilometers, then you can go beyond your pace bands."
He said his wife, Nadine, has been one of the biggest supporters along the way, providing constant encouragement, as well as his friends, both runners and non-runners.
As for the feeling he gets while running, Davies described it as something he is dependent on.
"A bit clinical, but the pleasure receptors in the brain have made running a form of addiction," he said. "Oh well, it's a better habit than a drug addiction! I love the endorphin hit I get from running and it also helps me de-stress after a tough day at work. I also love the social support I get from running."
In his life outside of running, the runner has a masters degree in special education.
"I went to school in Sydney, Australia. I decided to go into special education as I always have had an interest in inclusive education and helping the not so fortunate children in our community," Davies said. "I love the challenges and diversity the job offers."
Davies said the most rewarding part of his career as a teacher is seeing the children achieve and enjoy school life.
"These are often very small things, but these small steps mean a great deal in these children's lives," he said.
In addition to teaching, Davies also began relaying his running skills through coaching, which he began about five years ago.
While he started with leading a track session with his running club every week, he has built up to working one-on-one with those who are interested in trail and ultra running.
"What a journey it's been so far too. I've been to some wonderful places and met hundreds of special people through running," he said on his website.
"I guess I do these things as I love pushing my mind and body to the limits and being rewarded with fitness, health, and friendships that have positive impacts on all aspects of my life," he said in regard to having a love for a variety of sports. "It also gives me the quiet time I need to process all the garbage that life throws at you."