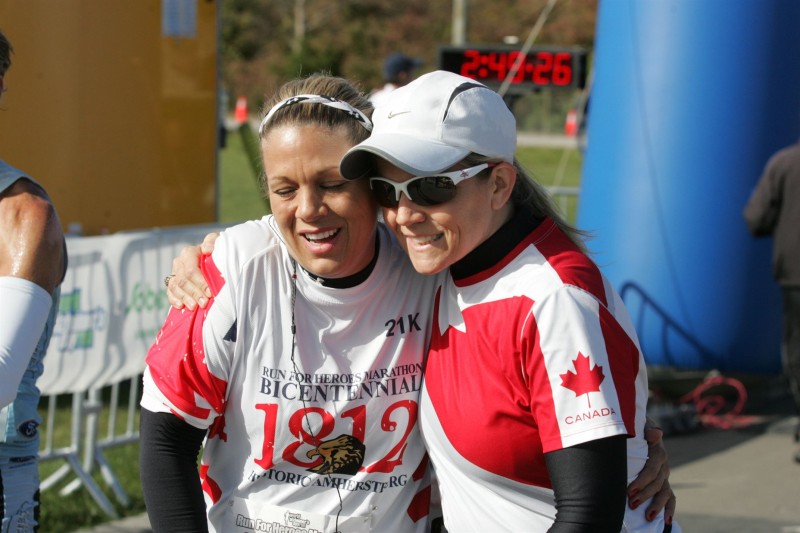 The year of 2011 marked the first ever Run for Heroes Marathon, which brought in 633 runners. A year later, there were almost 2,000 participants and one-fifth of them went on to Boston.
The marathon, held in Amherstburg, Ontario, will be held on September 22, with a 5K the day prior.
In iRun Magazine's Great Canadian Marathon Guide for 2013 it was called "the place to Boston qualify."
According to the website, "The Amherstburg topography is one of the most beautiful and eclectic places to run. With views of Big Creek, the course travels along the Detroit River on the County Road 20, down through Dalhousie into the heart of Amherstburg, through Historic Fort Malden, and through the scenic view of County Road 20 out of Amherstburg. This course is not only beautiful to run, but flat, and fast. It features a mere 38-foot elevation difference from highest to lowest points, with 148-feet of elevation change over 42K. This is one of the flattest and fastest Boston Qualifier courses in the world."
This marathon has donated more than $150,000 to the Alzheimer's Society of Windsor and Essex County since 2007.
Race Director, Runner, and Coordinator Chris Uszynski, began his work back in 2007 with the World Alzheimer's Day Run UltraMarathon, which was created to honor his mother. Over time, the race has transitioned into the current Run for Heroes Marathon. Chris' father, who passed away this year, had Alzheimer's for more than 22 years, the majority of which he was cared for by Chris' mother. The organizations supported by the marathon focus on thanking primary caregivers for their dedication by giving them a necessary break from caring for family members or friends on a 24/7 basis.
"It all starts way back. A run–sort of a challenge between a couples friends, which grew into an ultra marathon," Uszynski said. "Frankly, I got asthma and stopped running but really wanted to continue working on the cause."
He said several of the runners who were participating in the first years of the race had grandfathers who were suffering from Alzheimer's, so the idea sprouted from there.
"It's the caregiver, typically elderly themselves," said Uszynski, referring to who cares for those with Alzheimer's. "It's like taking care of a two-year-old again. You don't know if tonight is the night they're going to wander off."
He said the event is extremely personal, unlike many of the other Boston qualifier marathons. Part of the registration process is each person deciding who the hero is they will run for, and because of this factor, many become highly connected to the whole event.
Uszynski said his goal is to register 3,000 runners, but he would be pleased with any step up from last year, as it represents growth. In addition to providing a more intimate experience for runners looking to get away from the marathon crowds, Uszynski is helping to pioneer new technology that can assist runners, such as a cardio phone and equipment that provides a full cardiac assessment to people before they cross the starting line.
On top of organizing Run for Heroes, Uszynski helps coordinate a number of races in Canada under the company name Running Flat.
There is no race-day registration available for Run for Heroes, so make sure to sign up beforehand. Informational race packets can be picked up from 3 p.m. to 8 p.m. on Friday or from 10 a.m. to 7 p.m. on Saturday at the Health and Fitness Expo, located at the United Communities Credit Union Recreation Center, 3295 Meloche Road. There is space available for 4,000 runners total. Late registration is only permitted at the Health and Fitness Expo.
The 5K will begin at 10 a.m. at Ford Malden National Historic Site, 100 Laird Avenue, Amherstburg, with the marathon beginning the next day at 7:20 a.m. at the UCCURC, 3295 Meloche Road, Amherstburg.
"It's just a coincidence that we're a last-chance Boston qualifier," said Uszynski, referring to the marathon's date that coincides close to the UN-sanctioned World Alzheimer's Day. "We're going to continue to prove to people that our weather is better, our course is flatter, and we're less expensive."
Images courtesy Chris Uszynski