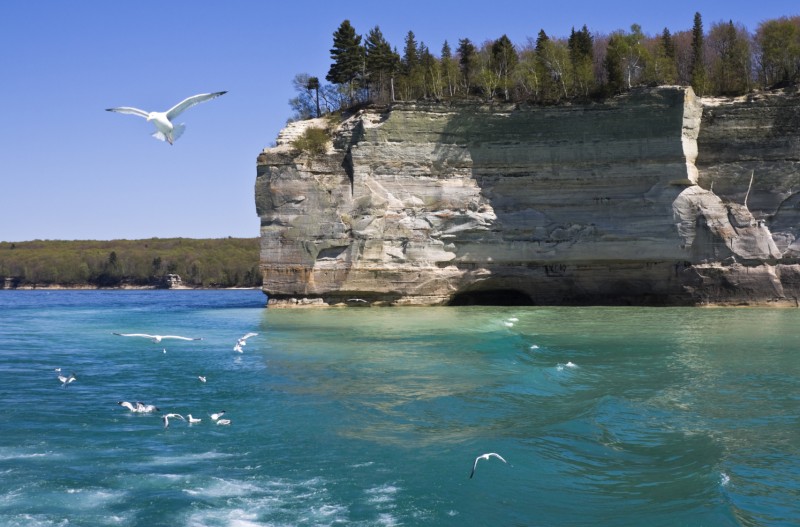 Even from outer space, it's clear that Michigan is defined by water. In fact, almost half of the Wolverine State is water and, except for Alaska, we have more shoreline than any other state.
The miles add up quickly as we're outlined by four of the five Great Lakes: Lake Superior, Lake Michigan, Lake Huron, and Lake Erie. Factor in island shoreline, and the number grows to 3,288 miles of Great Lakes waterfront. For comparison, that number's close to the distance from Detroit to Juneau.
Minnesota boasts "The Land of 10,000 Lakes," but we've got the Red Pine State beat by 10 percent, with 11,000 inland lakes. Plus, we're home to 36,000 miles of rivers and streams. In fact, I've heard tell that no point in Michigan is more than six miles from water.
With so much shoreline it's easy to see why we lead the nation with a million registered boaters. And no telling how many canoes, kayaks, and stand up paddleboards are laced to the top of cars cruising our picturesque peninsulas. Bottom line, when it comes to having fun, we don't head for the hills, we head for the water, even if it's with a backpack.
Lynn Moon has traveled the world with her backpack, but she and husband Don Snowdon still rank the National Parks on Lake Superior as their all-time favorite camping destinations. The Marquette couple will head to Isle Royale for the fifth time in mid-June.
"We're taking the sea plane to Windigo and hiking to Rock Harbor," says Lynn. "And to make it more fun, we're taking our nephew Carson. He's 12 and strong and so excited to be out on Lake Superior at Isle Royale for ten days."
Since Carson was six, his Aunt Lynn and Uncle Don have been taking the Milwaukee lad camping at another of Lake Superior's spectacular shoreline National Parks, Pictured Rocks. Although Pictured Rocks offers three drive-in campgrounds (Little Beaver, Twelvemile Beach and Hurricane River), Lynn and Don prefer the backcountry sites.
"Pictured Rocks is a great place to introduce children to wilderness camping because there are so many accessible campgrounds without trekking a long distance," explains Lynn, who has been guiding Girl Scouts to Pictured Rocks for a dozen years. "That's perfect for children who can hike but can't carry a big load yet."
Lynn loves wild places. Her enthusiasm is contagious, particularly with young people. "Getting youth involved with our National Parks is one of the reasons I joined the National Parks of Lake Superior Foundation (NPLSF)."
Founded in 2005, the NPLSF is a non-profit organization aimed at enriching a visitor's experience to the lake's five National Parks: Grand Portage in Minnesota, Apostle Islands in Wisconsin, as well as Isle Royale, Keweenaw Historical, and Pictured Rocks in Michigan.
"We've raised over a million dollars in donations and grants for park projects and programs," explains Carol Brady, chairman of the board. "Everything from providing Junior Ranger handbooks, bear-proof food storage lockers for campgrounds, class trips for school children, interpretive display development, and trail repair projects, to funding park documentary videos and research/development of ballast water treatment systems for Great Lakes ships."
Since March 1, when sequestration forced a five percent cut in the National Parks' budget, the NPLSF's mission has become even more focused.
For Tim Good, Interim Superintendent at Pictured Rocks, the cutback equals $131,000. But more than money, his chief challenge is staffing.
"Employees are our most important resource at the Park," says Tim. "Because of retirements, we lost two full-time people with decades of experience. In all we have six vacancies, 25 percent of our permanent staff." Tim anticipates another five percent cut could be coming in 2014.
"Although we don't provide funds for staffing, we know the needs of the parks, and we're stepping up to the task," says Carol, a Marquette area native who lives west of Big Bay in the Huron Mountains.
Today, June 6, Lynn and the NPLSF board will host a "Party for the Parks" fundraiser cruise setting sail from Mattson Park at 6 pm.
"Thanks to the generosity of Molly Carmody and the Marquette Harbor Cruise Company, we'll be telling our story and raising awareness of the five Lake Superior national parks we serve," says Carol, adding, "and what better venue than a two hour party cruise on the Isle Royale Queen III."
Tickets are available through Down Wind Sports in Marquette or by calling 906-360-9765.
Featured image © iStockPhoto/Henryk Sadura, second image courtesy Lynn Moon and Don Snowdon