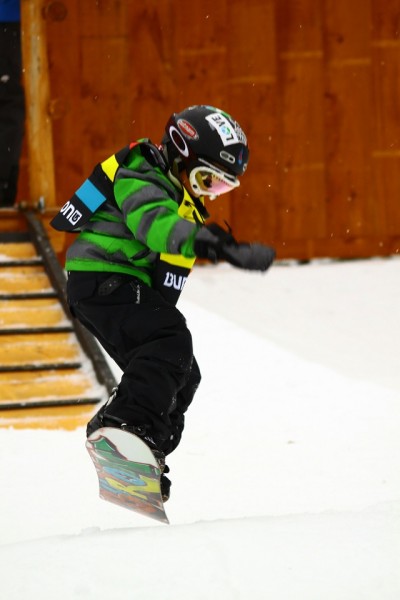 They jump up and down, grabbing the board's nose or tail in a game called "Popcorn" while learning balance.
Edging skills are applied when they apply pressure to the toe-side and their "little piggies" and then heel side on their "hogs."
And if their attention span makes them drift elsewhere, they can go down a slide, and later do it with their snowboard.
Welcome to the pint-sized Burton Riglet Park at Loon Mountain in Lincoln, New Hampshire for tiny riders aged 3 to 6 as they progress through a Paul Bunyan-themed park (Loon's history is linked to logging) with features like a micro halfpipe, ground level box, rolls, and berms. It even sports a train they can play in or on, a large mural of Babe the Blue Ox and even Mr. Bunyan with a snowboard. But that board is a twist on carnival rides where kids have to be so tall to ride. In the Riglet Park, children must be smaller than the snowboard to get in.
"The park is self-contained," said terrain park manager Brian Norton. "We show them how to make a turn, what gravity feels like on a snowboard, how to go across a box and it's all in one area. If they have a short attention span, they can go play in the playground. It is all contained and fun."
In a move to attract young snowboarders to snow sports and to breath life into a stagnant learn-to-ride program, Loon partnered with snowboarding giant Burton and unveiled Riglet Park and the Lil' Stash beginner terrain park for older children.
Burton's progressive global partnerships are designed to grow snowboarding at all levels.
"This is the future of the industry," says Norton. "Not just us but every ski area should be on board. This is a way of selling tickets and season passes for a lifetime."
The colorful Riglet Park is easy to spot, next to the Kissin' Cousin chairlift outside the Governor's Pavilion.
"These parks get kids more involved in snowboarding," said children's center manager Kim Pinkham, at Loon for 13 years. "It makes for a fun learning environment."
Lil' Stash is fun too, and there are also some interesting features to play on. The small park is in a gladed area near the Little Sister chairlift with its logs, bonks, rollers, a Paul Bunyan carving to jib, and a wall ride incorporating Babe the Blue Ox, all under one of the rope's courses.
The park isn't as visible as Riglet but it's easy to find along the Lower Bear Claw train in the slow-skiing family zone. While Riglet is strictly for snowboarders, Lil' Stash is open to skiers too.
Plans call for expanding the park next summer.
Loon's known for its terrain parks—and PEEPS safety program— including a massive 425-foot long superpipe with huge 18-foot high walls. Going big draws older teens and the twenty-something college crowd to Loon which received accolades recently for its parks from Transworld Snowboarding and Freeskier magazines.
Building terrain parks takes a serious commitment of manpower, equipment, and money. Terrain park users are going to come to the mountain anyway. The key is to start snowboarders at a young age and introduce them to the various methods of riding using a teaching method that is right for them instead of taking them down trails like instructors use for young skiers.
Plus parents of a certain age grew up skiing and naturally want their children to continue that pursuit. A vivid park with cartoon-like characters is not only eye candy for kids but could have parents thinking they want their kids in something like that instead of ski school.
Putting a focus on going bigger is easier—bigger jumps, wilder rails, crazier stairs, more impressive halfpipes. But emphasizing learning is perhaps an even larger commitment. Done right, it won't be long before those tiny tykes embrace snowsports over their lifetime.
And if helps to hang out with Paul Bunyan and Babe the Blue Ox, why not.
Image courtesy Loon Mountain