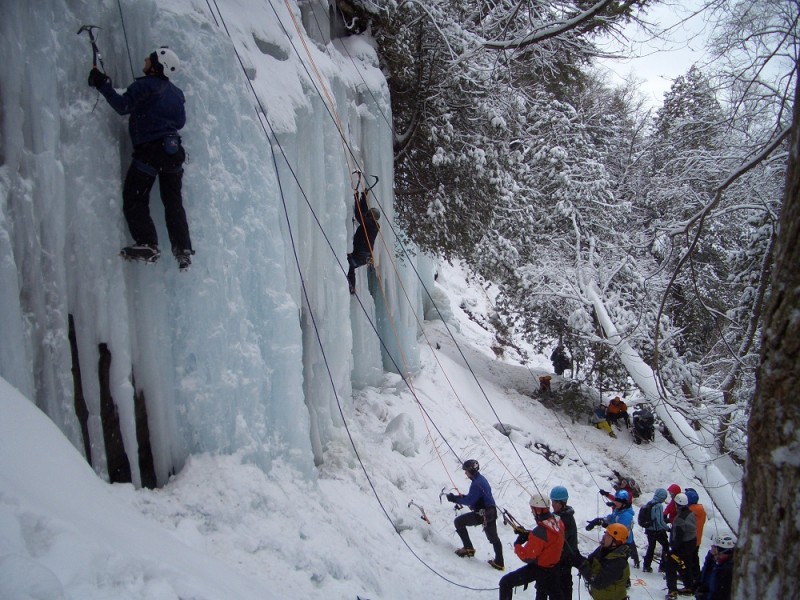 When temperatures dip below freezing, some folks batten down the hatches, add a layer of fleece, and toss another log on the fire. Not ice climbers. They wake up early, put on helmets and head to remote areas dressed like gladiators wielding sharp objects.
You think I'm kidding? Go find Bill Thompson. Chances are you'll catch him this weekend wearing crampons, a helmet and hanging in a harness off a rope at The Curtains in Munising where he's hosting the annual Michigan Ice Fest.
Like most ice climbers, Bill first started scaling rocks, but back in the 1980s, he and a group of friends were searching something to do in the winter, and that's when they discovered a whole new playground at Pictured Rocks.
Now, collaborating with Jon Jungenheimer of Madison, Wisconsin, Bill, co-owner of Down Wind Sports in Marquette, has released an updated version of An Ice Climber's Guide to Munising Michigan. The full color book details over 90 routes in Alger County complete with GPS coordinates and ratings.
"As a destination, Pictured Rocks National Lakeshore has become a rite of passage for midwestern ice climbers," says Bill, and for him Ice Fest is like a family reunion. "We get to practice and then party," he says with a laugh.
He can't tell you exactly when Michigan Ice Fest began, but best guess it was 1994, the year before the famed Ouray Ice Festival started in the Rockies. And although Michigan doesn't attract the thousands that flock to Colorado, it does lure 300-500 participants because Ice Fest is not just for veterans to climb the legendary 200 foot sandstone cliffs of Superior's south shore, it's a chance for newcomers to give it a go too.
After 27 years of climbing, Bill confesses, "people can't do this sport on their own."  The instruction and specialized equipment–not to mention the unique landscape to form the ice–takes a combination of people, place and product.
With the support of sponsors like Patagonia, Grivel, Salewa, Black Diamond, Arc'teryx, FITS, Sterling, and Petzl, Bill and his crew from Down Wind Sports stock the gear barn for demo and rental.
Classes are priced at $120 per day and they are taught by some of the biggest names in ice climbing.
"I'm as big a fan of these athletes as anyone," says Bill. "You're seeing people at the top of their game and you get them for a whole day at a fraction of what it would cost to hire them as a private guide."
Sharing their skills and stories will be Zoe Hart, Joe Josephson, Fabrizio Zangilli, Will Gadd, Mark Wilford, and Benjamin Erdman, who Bill took ice climbing for the first time when he was just 15.
"I've been absolutely hooked every since," says Benjamin who now calls Alaska's Matanuska Valley home. To fund his far fetched climbing adventures he works as an Industrial Rope Access Technician. "I have rappelled hydro electric dams, wind turbines, the Space Needle, and pipelines in the North Slope oil fields," says Ben who will be sharing his experiences with a slideshow at Munising's Sydney's Restaurant, the long standing Ice Fest headquarters.
"Age is not an ice climbing prerequisite, nor is upper body strength," according to Bill. "Some time in our lives we have all done some sort of climbing. As an adult, the challenge is to re-learn what came natural as a kid."
The youngest Michigan Ice Fest participant on record is Abigail Sevenski. She was just nine when neighbors Jeff and Donna Budnick brought her to Munising. She had just started climbing the summer before at the Budnick's three-story backyard climbing wall. "We watched how quickly she learned and decided if she got all As and Bs on her first quarter report card, we would buy her shoes and a harness," says Jeff.
In the back of their mind they also felt she could easily transfer her growing skills to ice. So once she earned her harness and shoes, they promised if she repeated top grades on her second quarter report card, they would bring her to Ice Fest. The reward paid off when in half an hour at The Curtains, Abby easily progressed from the 10-foot to the 20-foot climb.
"You don't think you can do it when you are at the bottom," admitted the bright-eyed adventurous youngster, "But then once you get the hang of it, before you know it, you're at the top."
Details on Michigan Ice Fest are at http://www.michiganicefest.com.
Images by Frida Waara