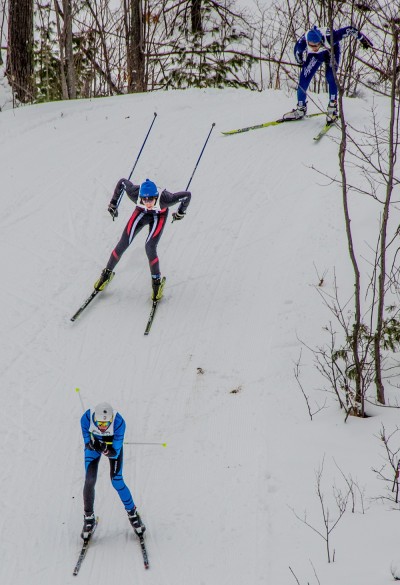 For over 125 years skiers have been coming to Marquette County to compete and this year the 15th annual Noquemanon Ski Marathon drew the largest crowd of racers ever.
"We had 1,625 competitors," according to Nikki DeWald, Noquemanon Race Coordinator. "Starting with 130 racers in the Junior Noque on Friday and winding up with the 'Wild Side of the Noque' on Sunday, we were well over last year's record of 1,500."
Add the army of 600 volunteers–some who work year round on the event, as well as around the clock the week before–Noque weekend ranks one of Marquette County's biggest draws.
"I counted 1,200 out-of-town registrations," says Pat Black, Executive Director of Marquette Country Visitor Bureau. "Without a doubt, that event, stretching over the whole weekend, brings huge benefits to our winter economy."
"Benefits shared by three communities," adds Nikki, "Marquette, Negaunee, and Ishpeming."
Snow first lured skiers to the area, but trail is the hook that keeps them coming back.
January 1998 is remembered for three things: the Packers lost the Super Bowl, President Clinton denied he had sex with Monica Lewinsky, and the first Noquemanon was held in Marquette County. What football and politics can't sustain, cross-country skiing can.
The Noque developed from the Red Earth Loppet, a point-to-point race started in 1984, that by 1988 attracted over 700 participants. But trail issues plagued the course and by 1989 the contest became a looped event at Blueberry Ridge, ski trails owned by the Department of Natural Resources.Once the race moved, numbers declined.
"People got tired of  making loops at Blueberry," confesses Dr. Don Hurst, a lifelong skier and retired Marquette dentist who served eight years as Red Earth Race Director. It wasn't only racers who were losing interest, volunteers were waning too.
"We had a solid but small group," remembers Don, "but we were running out of gas."
The last Red Earth Loppet was held in 1997. By then numbers had dwindled to just a couple hundred.
That was when Jon Mommaerts got involved. Jon, another lifelong skier and former Northern Michigan University Nordic Team racer, wanted a point-to-point marathon from Ishpeming to Marquette, but admits, "I couldn't figure it out."
His business partner could. Bob Mahaney started building ski trails as a kid in downstate Grayling. He owned land north of the Dead River Basin and had already scouted a backcountry route along the old Holyoke Mine trail.
"Bob convinced me we could create the trail," says Jon.
In May 1997, plans took shape. Ishpeming's mayor, John Korhonen organized a meeting with major landowners along the proposed route: Cleveland Cliffs, Mead, Longyear, UPPCO and Benson Forest. The work ahead could have crushed the spirit of most volunteers, but with approval from the landowners a core of woodsmen got started clearing brush.
It took thousands of hours because the challenge wasn't just cutting a 33-mile trail, remembers Bob, "it was making a trail that people could ski."
Snow came and so did the racers. Jon was hoping for 30 skiers at the starting line in January 1998, but he got over 700.
Steve Kuhl remembers registration was a little chaotic that inaugural year. When he and his Michigan Tech team showed up for packet pick-up they found out they weren't in the line up.
"We begged Jon to let us race and he did, but they were out of the hats and bibs," he says.
True to the "can-do" spirit of race volunteers, they scrambled…Steve chuckles about his win and the picture on the front of the Mining Journal that year. "I was wearing an old Red Earth Loppet bib turned inside out with my number written in black magic marker."
Steve has been back, and so have thousands of others including Ernie Brumbaugh and his wife Carole from downtstate Rockford.
"It's a marathon like we used to ski when ski racing began here some 30 plus years ago," says Ernie, now in the 65-69 year old bracket. "Point-to-point makes you feel like you went somewhere."And that somewhere is spectacular.
Winding through lowlands arched with cedar trees from Mozart's time, or climbing under the lacy canopy of towering hemlocks, to poke out overlooking vistas that frame the Dead River Basin or Lake Superior didn't happen by accident.
"We could have gone an easier route, but then you wouldn't get that view," says Bob, who believes the pleasure of the experience will feed the future of the sport, a future that has never looked more promising.
What started as a ski trail has become a path for other silent winter sports. Last year launched the "Wild Side of the Noque," adding Sunday and snowbiking as well as skijoring to the schedule.
"It's my favorite day of the weekend," beams Nikki, a two-time Noquemanon skijor finisher. Nikki works full-time for the Noquemanon, not only as Race Coordinator, but also as executive director for the Noquemanon Trail Network (NTN), which now grooms 75 kilometers (46.6 miles) of ski trail in Marquette County.
Since 2001 the non-profit NTN has worked year round to secure some 60 miles of non-motorized trails including 120 miles of Lake Superior shoreline–from Big Bay to Grand Marais–esignated as the Hiawatha Water Trail.
"We envision a community with trails leading from schools, downtowns, and neighborhoods to each other and out into our beautiful wilderness areas," explains Nikki. "We see the network as an important asset to the health of our residents and our local economy."
The next race on the Noquemanon Trail will be the Honey Bear, Saturday February 16. Registration starts at 8 am at the Forestville trailhead with all events beginning at 10 am.
The next point-to-point race on the Noquemanon Trail will be Saturday, August 10, the annual Ore to Shore Mountain Bike Epic, Michigan's longest and largest mass start bike race. To register visit http://oretoshore.com/registration.
To learn more about the Noquemanon Trail Network visit www.noquetrails.org.
Images copyright Andy Gregg/MQTphoto.com, used with permission