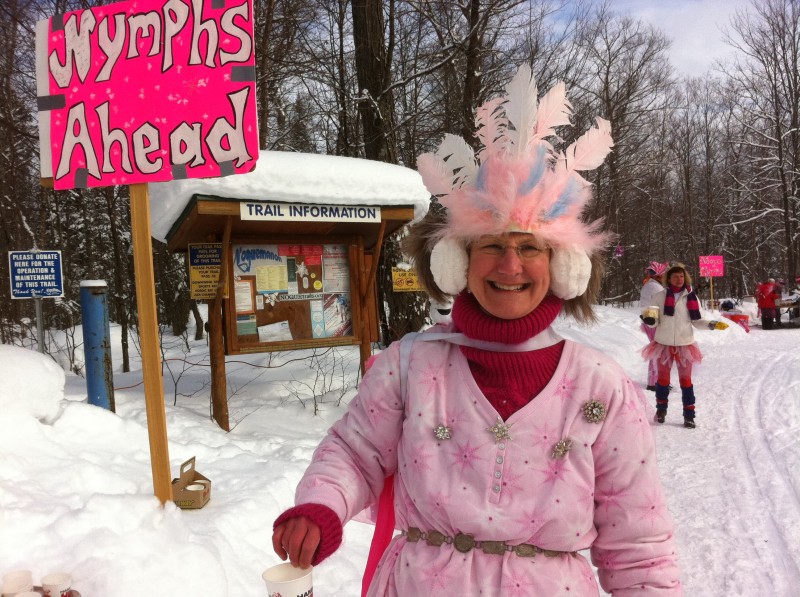 A Prairie Home Companion's Garrison Keillor once remarked on his radio show that, "Cold makes good neighbors." Following up the theme with storytelling he shared, "When the kids in Lake Wobegon are playing ball in June and run over your rose bushes,  you don't get upset and tear after them with a rake. And if their dog does his business on your freshly mowed lawn in August, you don't march over to their front door with a shovel." Why are the people of his fictional Minnesota small town so forgiving? "Because come January you know you'll need their jumper cables."
Today in Marquette when my van read -9 degrees–in the garage–I smiled remembering the truth to that story. Cold sets up good glue in a community and nothing is more telling than the army of volunteers who will spend this weekend on the sidelines of the 15th running of the Noquemanon Ski Marathon.
Most towns don't have much trouble fielding a team of aid station volunteers when it's 70 and sunny; but will you pass out Hammer Gel and bananas when it's single digits or colder? The Noque Nymphs will, and they have been for over a decade.
"We have 'snow' much fun," says Marquette's Mona Jean Rose, designated "Queen Mother" of the Noque Nymphs. "It's exhausting," she adds with her trademark laugh, "I think we run as many miles as the racers."Stationed at the mid-point on the 50-kilometer course that runs from Ishpeming to Marquette, these women in pink add a certain touch of wonder to the traditional fuel stop.
"I came down the hill and didn't have a clue what I was in for," said one wide-eyed first-time racer. "But whatever it was they were handing out, I needed it."
Another racer thought he was hallucinating when he saw a blur of pink wearing a tiara and angel wings running at him with bite of banana, "all that pink got me going again."
And that's the whole reason these women, layered artfully in Marabou feather boas and pink tutus over sorels and snowmobile suits spend four hours, from 10AM 'til 2PM, chasing after weary racers to deliver paper cups of sports drink.
"I looked up 'nymph' and it means woodland spirit," adds Mona Jean, "and that's what we are, cheering and encouraging these racers in every way we can."
Mona Jean and her "Women Shifting Gears" biking girlfriends started the costumed aid station in the early days of the Ore to Shore Mountain Bike Race.A racer herself, Mona Jean knows the drag of fatigue and how it can cause a chain reaction between mind and body to shut down.
"In August for the Ore to Shore, we like to be stationed with watermelon near the end of the course at the top of Kirby's Hill. It's a killer," adds Mona Jean, "By that time those racers really need a boost and we know how to keep 'em going."
But the second Saturday in August is a far cry from the last Saturday in January in Michigan's Upper Peninsula (U.P.). Still, these women, a couple dozen strong, don't seem to be phased by the fact that they have to dress like a Vollerth Sausage and sprint in heavy boots to hand out slushy water to skiers who barely have the breath to say "Thanks."
"I just love being outdoors," says Lynn Moon, adding, "No matter what the weather."
Lynn, a die-hard volunteer who also camps out with a tent in mid-February at a wilderness checkpoint for the weekend long U.P. 200 Sled Dog race, is leading the Noque Nymph brigade this year. She has all the signs and costumes, and takes delivery of all the aid station supplies at County Road 510, in Negaunee Township, also where the Noquemanon half-marathon begins.
"All you have to do to be a Noque Nymph is show up," says this grown-up girl scout. "Its's so rewarding to see all the skiers whoosh by, and this year we get to cheer on the 50k snowbikers too. I wouldn't miss it."
If you want to join the fun this Saturday at the Noquemanon, contact Lynn Moon at [email protected].
Images courtesy Frida Waara