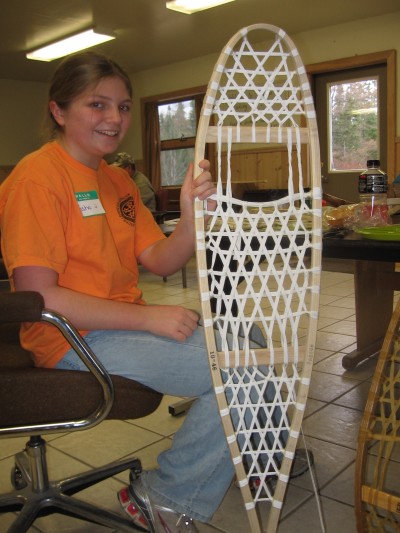 For trappers and traders, loggers and landlookers, winter travel over the snows of the Upper Peninsula required special equipment. Like many survival techniques, the native Ojibwa taught the early settlers how to make snowshoes. Now, centuries later, you can learn to make a pair of snowshoes too.
Troy Henderson will lead a snowshoe-making two-day workshop February 2-3, at the Michigan Iron Industry Museum in Neqaunee Township.
"I got the idea last December," says Troy.  "I went downstate to Hartwick Pines Park in Grayling to learn how to build a pair from from Rob Burg. He's probably made a dozen pairs of snowshoes."  Rob, a fellow historian,  runs the Hartwick Pines Logging Museum. "He also agreed to come to Negaunee to help launch our first-ever snowshoe workshop too," adds Troy.
The class is open to 10 students and the $175 fee covers all materials and tools you'll need to make a pair of Green Mountain Bearpaw snowshoes: wooden frames already bent, nylon laces and bindings.  According to Troy, "All you need to bring is your lunch."
The oval shaped Bearpaw snowshoes hold up to 200 pounds. Later in the winter, Troy aims to hold another class to make a larger and longer Ojibwa style shoe that can hold more weight.
Regardless of the size or shape, the trick to making snowshoes is the lacing.
"
It takes time to lace," says Troy, "you not only have to get the technique down–pulling tight and knotting–but you also have to know the rules about which direction to work the nylon." Like anything worthwhile, it takes practice, but in the end you've not only learned a timeless skill but you get to go home with your own pair of snowshoes.
Troy expects all participants to be able to complete one shoe after the first day and go home from the  weekend workshop with a pair ready for varnishing and bindings. Once the shoes are laced, the nylon webbing gets coated with a polyurethane or marine varnish to waterproof and strengthen the laces. Then the bindings can be mounted.
Then comes the best part of the class: recess. A chance to actually get out and test your handmade snowshoes on the museum grounds.
"We have two interpretive loops," says Troy. "One starts off the back deck and it's about a quarter mile long. The other is a half mile and it leaves from the parking lot with signs explaining the geology and land formation."
The Michigan Iron Industry Museum–one of 11 nationally accredited museums administered by the Michigan Historical Center–sits down in the rolling hardwoods off the south side of US 41 in Negaunee Township. It's not an easy place to find, at first anyway. But after you visit you realize the significance of the site because it overlooks the Carp River Forge, Michigan's first iron mine and now a pioneer industrial site listed on the National Register of Historic Places.
"This summer we'll also connect to a spur off the 48-mile Iron Ore Heritage Trail that runs from Lake Superior in Chocolay to more
historic mining sites in Republic," says Troy. "You'll be able to take those snowshoes and really explore this hidden gem."
If you can walk you can snowshoe.
If you don't make your own pair, they're easy to rent and inexpensive (compared to other winter recreational equipment) to buy.  Shoes are sized based on weight and a variety of youth snowshoes can even accommodate preschoolers which makes it an activity for the whole family, particularly if you add ski poles to help balance on uneven terrain.
For all these reasons, it's no wonder that snowshoeing ranks the fastest growing winter sport in the world. An estimated 4 million Americans snowshoe at least once a season which has fueled a need for new trails to explore. and when they include historic elements along the path, all the more to encourage friends and families to get outside.
The Michigan Iron Industry Museum is now open year-round, Monday through Friday, 9:30 am to 4 pm, as well as the first Saturday of each month.
To register for the class call 906-475-7857 or email Troy at  [email protected]. For details on the trails visit online at www.michigan.gov/ironindustrymuseum.
Images Courtesy Theresa Neal,Frida Waara, and Troy Henderson