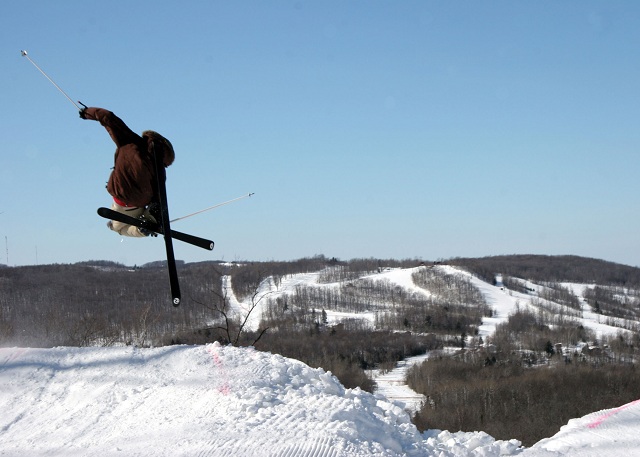 Woods and water are the grist of myth and legend in Michigan's western Upper Peninsula (U.P.). It's the former stomping grounds of doughty French-Canadian fur traders, who first explored this rugged region and left every portage with a tale to tell. When the fur trade diminished, the area's wealth was measured in the tons of iron ore and copper it produced.
Today its wealth is derived from its natural beauty and pristine environment that define the terrain of this corner of the U.P. Snow sports enthusiasts love its craggy peaks, endless forests and abundant snowfall. Fueled by a Lake Superior snow machine that annually covers the area with normally over 200 inches of snow, three U.P. ski and snowboard resorts have carved out a reputation for Western-style skiing and riding on a surprisingly grand scale.
Located within minutes of each other, they constitute the Midwest version of Colorado's Summit County, with top-flight facilities, expansive terrain spread over more than 100 runs, hefty Heartland vertical drops, and a tradition of winter fun dating back to the 1940s. Big Powderhorn, Blackjack, and Indianhead share the unparalleled beauty of the region, encompassing the Gogebic and Penokee mountain ranges, which supposedly reached over 16,000 feet prior to three ice ages grinding them down to around present day 600-foot verticals. The world's largest freshwater lake, Superior, can be seen from many of the peaks.
The resorts all offer slopeside lodging, and nearby Ironwood also offers lots of lodging options for those that might want to visit more than one resort during their stay. The resorts do not exchange lift privileges, unfortunately.
Big Powderhorn offers 33 ski trails, two terrain parks, nine lifts and an impressive 622-foot vertical drop. It has a "big" mountain feel. The base area isn't visible from many of the runs, which isn't common in this region. It's one of the few Midwest areas where a trail map really comes in handy. From the top of the mountain, high peaks stretch up across the valley, providing an alpine view unequaled around the Midwest.
Powderhorn's trails are wide, long and impeccably groomed on a daily basis, but you can often find a powder stash along the edges of more difficult runs. The toughest runs are in the center of the mountain where experts can take on black diamond runs like Cannonball, Double Barrel, Chute, and Blunder, one of my favorites. Intermediate skiers and boarders can enjoy long runs on beautiful blue Smoke or drift over to green Alpen. Beginners have their own novice area complete with a chairlift. Runs stretch up to a mile in length.
The resort can sleep up to 2,000 with a mix of hotel-like rooms, condos and chalets, many trailside. It feels more like a Western-style community spread out around the mountain than a Midwest resort. They even offer a shuttle service to connect it all with the ski area. A beautiful new day-lodge was erected last season. For lunch check out the slopeside Alpen Inn or the Caribou Lodge. For more information you can click on www.bigpowderhorn.net.
Blackjack is what you might call a "find." It's not quite as large as the two other Big Snow ski areas. The vertical drop is 465 feet with 22 runs serviced by six lifts, but it may offer the most variety and some of the best black diamond runs in the region. Expert runs account for 40 percent of the resort's terrain, and the full slope Broad Ax Terrain Park features jump lines with medium to large features top to bottom. There's also Just Cuz Park with small features for those just starting out, and Lower Park full of large rails, boxes, and jibs.
My favorite runs are on the western slopes, which are out of sight from the base area. There's a quintet of advanced runs serviced by two chairs and three long cruisers on the outside. It's great skiing and riding and often less crowded than all the runs on the base area side.
They have a Midweek Madness Ticket, good Monday through Friday, for $75 all season long. Check out the daily specials and lodging offers at www.skiblackjack.com.
Indianhead Mountain, the upside-down resort with its base village and lodging on top of the ski hill, has some of the best cruising runs around the Great Lakes. Long, boulevard-like runs cut a wide, mile-long, weternesque swath from top to bottom, and half of them are rated expert terrain. Big by Midwestern standards, Indianhead offers a 638-foot vertical drop with 30 runs and two terrain parks serviced by nine lifts. This is one U.P. ski area where you will feel that delicious thigh burn you experience out west after a great day of skiing.
An added bonus, with its proximity to Lake Superior, is that you often wake up to some fresh powder in the morning that's fallen during the night after grooming was done. The scenic views from the top of the mountain look out over endless forests that stretch to the horizon. Enjoy the view from the appropriately named Sky Bar Mountaintop Grille, located in the hilltop day-lodge; great food and drink and great views, especially at sunset.
They offer lodging and lift ticket specials all season long. Check them out at www.indianheadmtn.com.
The dramatic vistas, rich tradition of snowsports, and tremendous variety that can be found on area slopes and trails always make this block of ski resorts a viable entity for Midwest skiers and riders. Big Snow Country lives up to its name.
All images courtesy respective resorts