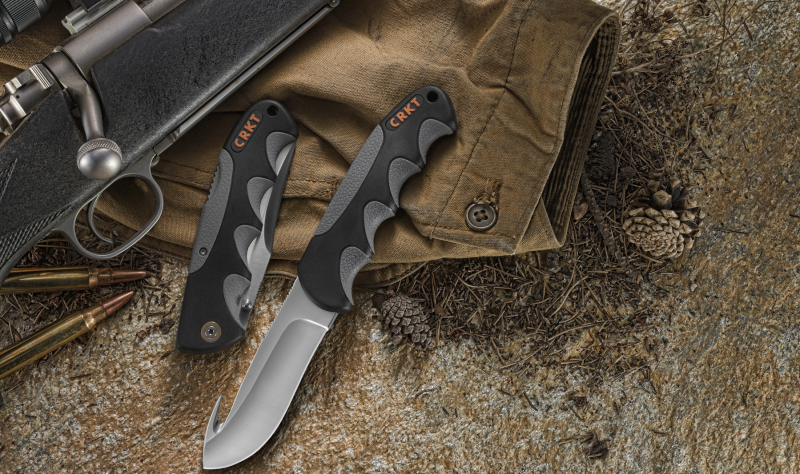 A good knife is a wise investment for the outdoor enthusiast. It is a handy, practical tool that pays for itself many times over. Whether you are a devotee of hunting, angling, hiking or any other great outdoor activity, the right knife will never let you down.
But with so many brands and types to choose from, picking the right blade will more often than not give you a headache, especially if you're in unfamiliar territory. I'm writing this guide so that you don't resort to getting the outdoors lover in your life the same 16 pack of knitted black socks again this year.
You'll be getting them the world's oldest and most distinguished tool, and here are seven to get you thinking.
CRKT Free Range Hunter Series ($50)
Columbia River Knife and Tool makes a upstanding knife, and the Free Range Hunter series is no exception. Designed by Alaskan hunting and fishing guide Russ Kommer, these knives were meant to be used and not displayed. The Free Range Series comes in both fixed and folding formats with extremely sharp hollow grind 8Cr13MoV blades. The finger groves provide great grip whether field dressing game or cutting a wheel of fine Taleggio cheese back home. Just be sure to give the knife a wash first.
Details:
8Cr13MoV steel construction
Comes in clip point or gut hook, with folding or fixed blade variants of each
Benchmade 375 Fixed Adamas ($140)
httpv://youtu.be/_NBe23ANnis
Benchmade quality. Designed with input from seasoned Army Rangers. 5.60 ounces of solid D2 Air Hardened Steel, which scores a 60-62 on the Rockwell scale of hardness, this knife is ready for the job, any job. Sporting spine serrations and a lanyard grip, the Adamas was designed to handle a multitude of applications. There are no fancy gimmicks here, but the simplicity of this skeletonized knife holds a certain beauty of its own.
If that wasn't enough to complete your holidays, Benchmade has announced that a portion of all sales will go to the Ranger Assistance Program so you can give some veterans a nice holiday too. I'm sure they'll appreciate the gesture.
Details:
Blade length: 4.20″
Blade material: D2 Tool Steel
Blade style: Drop-Point
Weight: 5.60oz.
Lock mechanism: Fixed
Overall length: 9.03″
Sheath material: Injection Molded
Sog Tactical Tomahawk ($64)
httpv://youtu.be/oIQif1b7K3g
The Sog Tactical is a great example of what a modern tomahawk brings to the table: a tool that can both save your life and make it easier.
Being essentially a lightweight axe, the tomahawk has seen use on the battlefield for a very long time, and was basic issue in some units up until after the Vietnam War. However, its non-tactical uses are not to be underestimated. Weighing 24 ounces, it makes for a great camping tool to include in your pack. Having one of these is like carrying a knife, axe, spade and hammer all at once. In a pinch, the tomahawk can also act as a last resort against dangerous or wounded game. Don't forget, tomahawks can be thrown.
Details:
Blade length: 2.75″ x .26″
Overall length: 15.75″
Weight:24 oz.
Edge: Straight
Steel: 420
HRC: 51-53
Handle: Fiberglass/Nylon
Finish: Hardcased Black
Sheath: Nylon or Hard Nylon (optional)
Gerber Myth Field Dress Kit (Knives: $27-84, kit: $84)
What you see is what you get here. Gerber's Myth series offers an affordable, yet high quality set of hunting knives. I like them for their compact nature, value, and the integrated sharpener that comes nearly standard on Gerber hunting knives. These are tools designed specifically to field dress game and it shows. The Myth Field Dress Kit is an especially attractive offer.
Details (Myth Field Dress Kit):
Small Fixed Knife:

Overall length: 7.25″
Blade length: 3.25″
Weight: 1.0 oz.

Fixed Gut Hook Knife:

Overall length: 8.5″
Blade length: 3.75″
Weight: 4.9 oz.

Once used by Bear Grylls to fight off twenty predatory cougars at the bottom of a ravine surrounded by deadly pit vipers. Afterwards he made stew.
Warthog V-Sharp XE Knife Sharpener ($70)
httpv://youtu.be/PIrwm17dYxA
The Xtreme Edge from Warthog Sharpeners is wonderfully easy to use. This intuitive and adjustable system is great for the novice knife sharpener or for those that have an irrational hatred of sharpening stones. The V-Sharp XE's proprietary sharpening method fits almost any blade and if properly bolted down, is one of the few sharpeners that can handle larger machetes and even swords. If you're feeling feisty, throw a halberd in there as well.
You can read my review of the XE Sharpner here.
Details:
Durable, High-Impact ABS plastic frame only weighs 10 oz.
Four Quick-Snap Angles (17°, 20°, 25°, 30°)
325 Grit Diamond Rods
Spyderco Junior ($220)
A great little knife with a great little feature, the Spyderco Junior features a choil (guard) built into its design. Very few folding knives of this size have an effective guard, and the Spyderco Junior was conceived as a safe training tool for children being introduced to outdoor activities.
For adult use, the Junior fits snugly in the palm of most hand sizes and is an ideal self defense weapon. Its small size makes it unobtrusive and easy to deploy stealthily in tense situations.
Details:
Length overall: 7.25 " (184 mm)
Blade length: 3.218 " (82 mm)
Blade steel: VG-10
Weight: 2.9 oz (82 g)
Blade thickness: .125 " (3 mm)
Handle material: G-10
Coldsteel Kukri Machete ($30)
httpv://youtu.be/uaTbOGcsXoE
What can you expect from a $30 machete? If you're talking about the Coldsteel Kukri Machete, you expect it to do everything and do everything flawlessly. That might be setting the bar a bit high but consider this: the Kukri is the most inexpensive blade on this list, the largest, and has the most cutting power due to its carbon steel, kukri design, and sheer size. When the inevitable zombie apocalypse comes, expect these to be worth their weight in gold.
You can read Outdoorpros.com's review of the Coldsteel Kukri here.
Details:
Blade length: 13″
Overall length: 18″
Steel: 1055 Carbon Steel w/ Black Baked on Anti Rust Matte Finish
Weight: 16 oz
Blade thickness: 2 mm
Handle: 5″ Long Polypropylene
Sheath: Cor-Ex
Images courtesy Columbia River Knife and Tool, and Spyderco