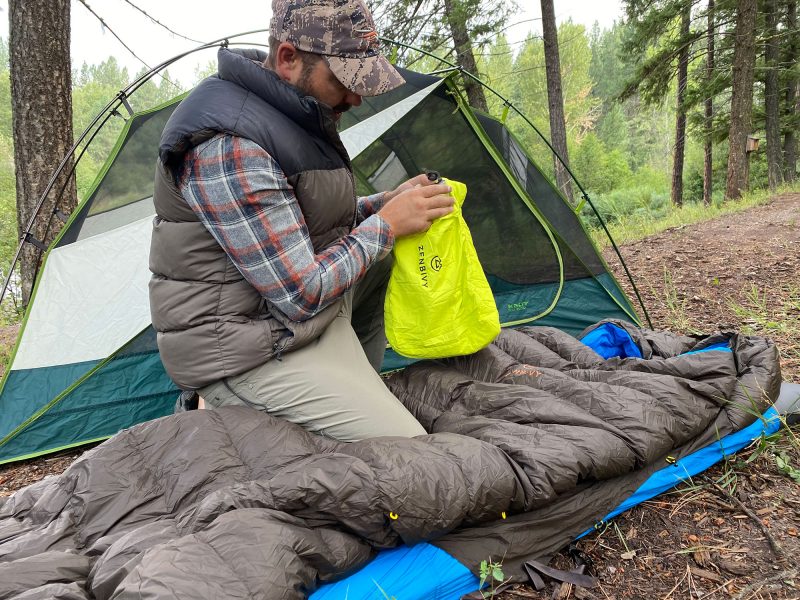 If you've ever spent a winter night under the stars in a mummy-style sleeping bag, you probably had one of two reactions. You either loved it or hated it. For some people, the snug cocoon fit of a mummy-style sleeping bag means warmth and comfort while camping — especially for back sleepers. For others (like myself) a mummy-style sleeping bag feels tight and restrictive –especially if you're a stomach or side sleeper.
And for years, campers had to choose between a rectangular (often less warm) sleeping bag and a mummy-style sleeping bag. But technology has come a long way.
You now have more options, like a unique Zenbivy bed that gives you the warmth of a mummy bag (including the cozy hood to keep cold drafts at bay) and the freedom of movement from a traditional sleeping bag. To go inside the brand and see what they're all about, we get Unpacked with Zenbivy.
Zenbivy's Roots
As an avid backpacker — paired with two decades of experience working in the outdoor gear industry — Zenbivy founder Michael Glavin is passionate about helping people get the best sleep possible in the backcountry.
Glavin officially founded Zenbivy in 2017 as a niche company focused on designing innovative backcountry beds and related outdoor bedding products — a company in the business of making beds, not bags.
"The goal is to sleep as comfortably in the backcountry as you do in your bed at home, at the lightest possible weight," Glavin said. "So, if you already sleep comfortably in the backcountry, and look forward to crawling into your existing sleeping bag at the end of the day, then you don't really need a Zenbivy bed.
"But, if you sleep poorly in the backcountry for any reason, it will prevent you from going out as much as you would like, and it also makes the trips exhausting and sometimes miserable."
He added that a good night's sleep is the best investment you can make in your enjoyment of the backcountry. Knowing you will be warm and comfortable at night gives you the peace of mind to push yourself throughout the day, knowing you will recover in warmth and comfort.
Design Innovation
Glavin began designing a backcountry bed in 2016. The fifth design iteration (known as P5, for "prototype 5") became the concept that developed into the Zenbivy bed.
"I had a small team of testers to validate my work, but largely just made it the way I thought it should be to feel and sleep like a bed at home," Glavin said. "If there was an 'ah-ha' moment, it was the arrival of P5. That bed has hundreds of nights of testing on it, and it smells like it."
The first time I saw a Zenbivy bed was on a Facebook ad while scrolling through my days' feed a couple of years ago. The ad showed a woman snuggled in a camping blanket with a fluffy hood. And it wasn't a mummy bag! She was sleeping on her side with one leg outside of a quilted blanket, but still had a fluffy hood in place beneath her. I was intrigued. Could a sleeping bag let me sleep on my side and still be warm while camping during the cold months in my home state of Montana? The answer turned out to be yes.
"There's no reason with today's technology to live in fear of discomfort," Glavin said. "And there's also no reason you have to carry a ton of stuff to be able to do it. That's what the industry tells us, so I feel like I want to rebel against it."
Glavin added that you can hike all day long with a lightweight comfortable pack and then stop and camp in an idyllic spot and be equally as comfortable. "Zen" and "Bivy" is just sort of fighting against this pre-conceived notion that you must choose between a lightweight pack and an uncomfortable camp. Or a comfortable camp and a heavy pack.
"Zenbivy is really about breaking down those pre-conceived barriers and proving that there is a method and gear choices that allows you to do both. And that is way more attainable than people believe that it is," he added"
Whether you like to sleep on your back, side, or stomach, whether you toss and turn or sleep like a rock, the Zenbivy team believes that a sleeping bag should conform to your sleeping habits rather than you having to conform to its limitations.
Try sleeping in an ultralight mummy bag on your stomach or tossing and turning from side to side — the results are always the same; bags twist, bags constrict, bags lead to a less than comfortable night of sleep.
Zenbivy Product Lineup
There are three main styles of Zenbiby beds: the Zenbivy Bed, Zenbivy Light Bed and the Zenbivy Moto Bed.
The Zenbivy Bed is built just like your bed at home with a sheet below you and a blanket above you. 
The Zenbivy Bed 10º is similar to your bedding at home. It has a sheet below you (that goes on like a fitted sheet) and a blanket above you. It's great for colder sleepers or anyone pushing the limits of "3-season." This bed is very warm! If you are looking for maximum comfort and warmth in your backcountry sleep system, this bed is ideal.
The newest 2022 Zenbivy Bed 10°is a favorite of mine. It's warm, cozy and I love the teal color. Here in Montana, mountain temperatures can drop at night during all seasons. This bed is like sleeping wrapped in a cloud and I can toss and turn without getting stuck.
There's also enough room to move without sacrificing those heat pockets since the blanket can connect to the sheet in a way that keeps drafts from forming underneath. The entire system is easy to carry and throw in the back of my car for tent camping.
The Zenbivy Bed 25º is designed for sleeping in 35 degrees and up and has the same bed style — a sheet with a hood and a separate top sheet.
The Zenbivy Light Bed is ideal for backpacking with a full set up under 4 pounds. This one is my husband's favorite sleep system. A game-changer for him as a side sleeper. When you attach the separate convertible top quilt to the hinged "wings" of the fitted sheet, you can make it wider where you need it to, allowing you to change your sleep position with ease. It also has a nice minimalist design.
The Zenbiby Moto Bed is ideal for tent camping from your car. It's an entire sleep system rolled into one bag. This is a great option if you like a thicker mattress. And it's incredibly easy to set up. You just roll out the bed and the mattress self-inflates. You can top it off with more air by blowing into the mattress if you like a firmer mattress.
And just like Zenbivy's other beds, this bed system has a built-in hood to hold your pillow and insulate your head and arms at night — great for stomach and side sleepers.
Zenbivy: A Unique Direction
Over the past four years, Glavin still believes that you don't need a garage to start a business, or any physical location.
"This is just one of the 'known' pieces of conventional wisdom that Zenbivy is challenging successfully," he said. "You don't need a physical location, or a computer system, or retailers, or any of the other 'stuff' that prevented entrepreneurship in the past. All you need is a great product and a way to efficiently communicate with customers. Everything else is largely irrelevant."
Glavin believes that having the discipline and focus to be able to grow a successful business by engaging customers one at a time, rather than resorting to retail middlemen to try to grow quickly has been a major key to Zenbivy's success.
"It took patience to grow this way, and risk," he said. "But it has been worth the investment many times over because now we have a direct, authentic relationship and conversation directly with our consumers. That value outweighs our small size many times over."
Financially, it is very rare for self-funded start-up businesses to be able to both grow quickly while continuously maintaining profitability. "Our focus on building a sustainable business for the long run has allowed us to do both," he added.
"Our biggest accomplishment has been assembling a winning team. We are not hampered by a physical location or antiquated rules about how businesses should operate, so our team is empowered to live and work in a way that takes best advantage of each team members style and personality," Glavin said.
---
Unpacked is a regular feature on ActionHub to help people discover new performance and lifestyle items that will amplify their adventures and outdoor experiences. This article was not sponsored by the brand or any PR/marketing agency, and all opinions are that of the ActionHub writer.