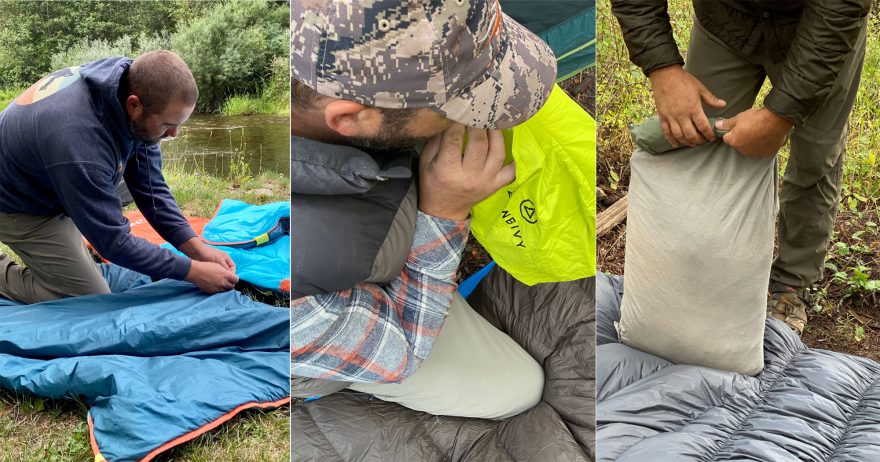 With a wide variety of camping sleep systems to choose from, both in-store and online, here's how to choose the right setup for you
---
Camping is a great way to get away from civilization, unplug or simply get some fresh air while star gazing around a campfire. While camping, you can unwind, enjoy the peaceful sounds of nature and take a break from your busy schedule. But just because you leave the comforts of home behind to embrace the great outdoors, doesn't mean you have to sacrifice comfort while you're camping. You can still get a good nights' sleep if you have the right camping sleep system.
But how do you choose a sleep system? There are several camping sleep systems from a variety of outdoor brands online and in stores to choose from. A quick online search on camping sleeping pads alone will bring up a variety of sleeping pads like thick inflatable pads, thin inflatable pads, foam pads, super lightweight and compact pads, backpacking pads, etc. The same is true with camping pillows and sleeping bags.
It can seem overwhelming trying to find the right camping sleep system for you. But once you find the right one, you'll have endless comfortable nights while you're camping. And you may even plan more camping trips knowing that you'll sleep comfortably every night away from home.
Here are three of the most comfortable outdoor sleeping systems we've tested in the field that are sure to give you a cozy nights' sleep outside.
Zenbivy Light Bed Sleep System
Michael Glavin founded Zenbivy in 2018. Inspired by his passion for climbing, he set out to create an outdoor sleeping system that was lightweight, comfortable and would accommodate back sleepers, side sleepers and stomach sleepers. And that's exactly what he did.
The Zenbivy Light Bed is a four-piece camping sleep system ideal for backpacking but also versatile enough to use most camping situations, like packing in your kayak or boat while backcountry camping along a river.
Each piece of the Zenbivy sleep system has a specific innovative function to keep you nice and cozy while you're out adventuring.
The Zenbivy Light Mattress is an ultralight sleeping pad that weighs in at just 1 pound, 5 ounces for the large (20″x72″) and 1 pound, 9 ounces for the extra large (25″x77″). The air tubes run long-ways across the full length of the mattress, making it easy for you to get snug and prevent you from rolling off easily while sleeping. With an R-value of 5+, this mattress also meets the thermal performance of EN-rated sleeping bags, so you can use it in temperatures down to around 10 degrees F.
The mattress is noticeably quieter than other camping mattresses that can be noisy when you move around at night. And you can inflate it with around 20 breaths or use the included inflation sack. Both ways were easy and quick.
The Zenbivy Light Sheet 10° pairs nicely with the Zenbivy Light Mattress and fits securely over the four corners like a glove. The puffy hood is attached and filled with 800 fill-power HyperDry and is oh so comfy! You can comfortably sleep on your back, stomach or side without the hood moving so you stay warm when the temperature drops. If you're a stomach sleeper, you'll like that your arms can easily fit in the fluffy hood to keep them warm.
There's also an inner pocket built into the top of the hood of the light sheet to keep your valuables warm and easy to access. Another thing to love about this Zenbivy sheet is the silky (yet durable) 20d nylon taffeta fabric. It feels nice against the skin so you'll feel more like you're "glamping." Another plus is that Zenbivy's product engineers designed this sheet to fit most camping mattresses on the market with rectangular or tapered shapes, so you may be able to use the light sheet with a sleeping pad you already have and love.
The Zenbivy Light Quilt 10° is where the magic happens in this Zenbivy sleep system. The quilt is zipperless and weighs in at just 1 pound, 14 ounces for the regular quilt, 2 pounds, 2 ounces for the large and 2 pounds, 6 ounces for the extra large. The 800-fill power HyperDry fluorocarbon-free water-resistant 90/10 duck down is incredibly comfortable and fluffy and rated to temperatures down to 10 degrees F, with a comfort rating of 20 degrees F.
A bonus is that Zenbivy sources its down according to the Responsible Down Standard, and you can track where your down came from with the attached tag.
When used with the Zenbivy Light Sheet 10°, you can use the down Zenbivy Light Quilt as a sleeping bag in mummy mode by bungee cording the foot box on the bottom, in rectangular mode — keeping all the warmth tucked and slightly closing the foot box, or in blanket/quilt mode to sleep in warmer temperatures in a tent, outside of a tent, on a hammock or at a hostel.
All those different sleeping "modes" are possible due to a unique hook and loop system. I found this system can be a bit complicated until you get the hang of it. But after a few times of trying — paired with Zenbivy's video instructions — it became easier. Overall, this quilt is ideal for someone wanting to shed weight while backpacking, or if you just want a blanket to use all year round that's cozy lightweight and versatile enough for a variety of camping applications.
The Zenbivy Pillow packs down smaller than your hand in the included stuff sack and is easy to inflate. And it weighs in at just 5oz. with an air bladder and a luxurious feeling pillowcase. You can also customize it by letting in more air to make it firmer or letting out air to make it softer.
Zenbivy Light Bed features we love:
Ultralight and ideal for backpacking
Versatile for back, side and stomach sleepers
Cozy and sustainably sourced 800-fill down
---
Klymit Sleep System
Klymit was born in the backcountry of the Wasatch Mountains of Utah and has been challenging the conventional approach to outdoor gear since 2007. Klymit's team works hard to create gear that is comfortable, easy-to-use and engineered for every adventure. The team also tests all their outdoor Klymit gear in the deserts and mountains of Utah.
The Klymaloft sleeping pad is an ultra-thick 5-inch plush mattress with a foam topper. And it will elevate your comfort while camping. The innovative I-beam air chambers give you loft and help stabilize you while you're sleeping. The pad also conforms to your body and eliminates pressure points, so you won't be tossing and turning all night. It's one of those sleeping pads that makes you go, "Ahh," when you lay down at night.
To inflate the sleeping pad, it takes a little more than 20 breathes and is compatible with Klymit's Rapid Air Pump. I found it was easy enough to inflate manually. Weighing in at 6 pounds, this sleeping pad is ideal for car camping, short day hikes or packing in a boat for a river trip if you have the space.
The combination of air and foam makes sleeping in nature a more calming experience. It's also great for back and side sleepers, with an air/foam combination that won't let you sink to the hard ground below. With an R-value of 2.1, this sleeping pad is ideal for summer and early fall — depending on where you live. The material is also durable, so you can use the pad outside of your tent as seating without being worried about it being easily punctured.
The Klymit KSB 20 Sleeping Bag is like a big warm winter hug. If you've been against mummy bags, you'll find that the KSB 20 is a game changer. The built-out foot box gives you a ton of room and doesn't restrict your movement. And the built in elastic (Flexible Stretch Baffles) have a lot of give to keep you comfortable and able to move around without getting stuck in one position unable to move.
The top has 650 fill power down and the bottom is filled with a synthetic fill and is rated for temperatures down to 20 degrees F. One thing that was noticeable is how easy the two-way zipper was to use. You can open it from the bottom or top to control air and it doesn't get stuck like the zippers in other sleeping bags.
The sleeping bag hood is also fluffy and cozy. You can even use the draw cord to let in more air or keep air out while adjusting the draft collars to how you like them. This sleeping bag packs down small and weighs in at 3 pounds, 7 ounces for the extra large (tested) and 3 pounds, 1 ounce for the large.
Once you snuggle into this Klymit sleeping bag on top of the Klymaloft sleeping pad, you'll feel like you're lying in a cloud and ready for a good night's sleep.
The Klymit Drift Camp Pillow is unique and comfortable. Using shredded memory foam for the inside with a jersey cotton pillowcase, Klymit delivers a very comfortable camping pillow. You can also remove the shell to wash it separately.
The pillowcase is easy to swap between protective cover mode to soft sleep cover mode. To swap between the two, you simply slide the pillow down and roll and reverse the cover. It's also nice to use on road trips or any travel where you'll want to comfortably rest your head. Weighing in at 28 ounces for the large and 19 ounces for the regular, it's a great option for car camping or short overnight hikes where weight isn't a priority.
Klymit sleep system features we love:
Comfy foam/air inflatable sleeping pad eliminates pressure points
Fluffy KSB Sleeping Bag lets you move freely
Cozy hood with customizable draw cord
Versatile pillow with memory foam chunks that's easy-to-clean
---
ust Gear Sleep System
Although ust (Ultimate Survival Technologies) has been around for more than eight decades, they recently rebranded and launched a line of camping gear. Based in Columbia, Missouri, their mission is to "inspire and cultivate people's love of all things outside." With a colorful, fun and functional approach, ust's innovative camping sleep system is multi-functional and cozy.
The Fillmatic sleeping mat is 4 inches thick and oh so comfortable as it's primarily made of foam inside. It's self-inflating and the first self-inflate will take you longer (nearly overnight) since the mat is mostly foam and comes vacuum sealed. I found it's quicker to add your own air to top it off if you want a firmer pad or lay it out all day at camp while you're out hiking or adventuring. The two-way valve makes it easy to both inflate and deflate.
This sleeping mat also doubles as comfortable seating outside your tent. It's easy to carry around and use in different ways like down by a river or creek to avoid sitting on rocks, laying in the woods or even putting in a hammock. With a weight of 4 pounds, 11 ounces, this sleeping pad is ideal for car camping or shorter hikes and packs down to 26″x7″.
The Monarch sleeping bag gives you a nice range or temperature comfort. It's rated for 17 degrees F with both of the "wings" (side blankets) attached and 37 degrees on its own without the wings. The name is synonymous with the look of the sleeping bag while folded — like a butterfly while open and a cocoon while closed.
One thing noticeably different in the monarch sleeping bag is the number of pockets. You have a pillow sleeve to hold your pillow in place, a protective zip pocket in front and a stuff pocket in the wings to store tings. It's like the convenience of multi-pockets in pair of hiking cargo pants but in a sleeping bag. You can also unzip the foot box to let air in and un-restrict your feet at night to make your sleep more comfortable.
The wings are easy to detach from the sleeping bag and can be used by themselves as camp blankets. You can even roll one of the wings into the built-in stuff pocket and use it as a fluffy camp pillow — which is what we did to test the sleep system in the field. It's filled with a synthetic poly fill from used water bottles with an outer shell made of 20D Nylon Ripstop fabric, making it incredibly durable. The body has 150g of fill, and the wings have 220g fill.
The weight of the Monarch sleeping bag comes in at 4 pounds, 2 ounces with the wings attached, and 2 pounds on its own. It packs down to 15.5″x9″ for easy packing and storing.
The ust sleep system will give you a great night's sleep at camp and has an element of fun with unique bold colors and patterns to brighten up any campsite.
ust gear sleep system features we love:
Thick comfortable (mostly) foam mattress has a luxurious feel
Puffy and comfy sleeping bag customizes for a wide temperature comfort range
Footbox unzips for added comfort and unrestrictive feel
Removeable wings of sleeping bags act as stand-alone blankets
Multiple bonus pockets throughout to keep valuables warm and secure
---
Like with almost any category of outdoors gear, there's no one perfect-in-all-scenarios camping sleep system. You need to find what's most comfortable and functional for you, exploring weight, seasonality, loft and a host of other innovative features on these kinds of items. But we've put these particular camping sleep systems from Zenbivy, Klymit and ust through the paces and showed what they can do in real-world situations. We highly recommend them and hope that they can serve you well on your next outdoors adventure.
---
Suzanne Downing is an outdoor writer and photographer in Montana with an environmental science journalism background. Her work can be found in Outdoors Unlimited, Bugle Magazine, Missoulian, Byline Magazine, Communique, MTPR online, UM Native News, National Wildlife Federation campaigns and more.
---
We are committed to finding, researching, and recommending the best products. We earn commissions from purchases you make using some of the retail links in our product reviews. Learn more about how this works.