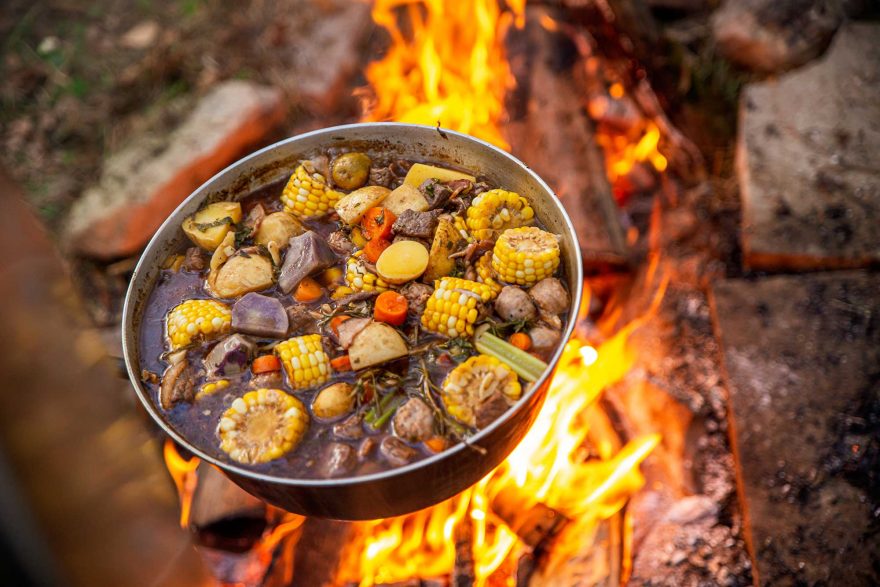 After a long hike, the best backcountry cookbooks are going to be ones you can rely on for a meal that'll make every part of you feel wonderful again
The love for food is universal. Many things are responsible for the widespread segregation and divisiveness that humankind suffers from; race, beliefs, nationality, wars, education, religion, social class, etc. But when it comes to good food, our taste buds never discriminate. Save for a relatively small percentage of the populace who may battle some eating disorders (anorexia nervosa, etc.), everybody loves a decent meal. Food brings people together, serves as a livelihood source for many, and is an indubitable condiment of optimum physical, emotional and mental health.
However, we understand cooking to be more of an art than anything else, requiring you to learn. While it is valid that some of us possess an inherent prowess for kitchen duties, we must also realize that no one is born a master culinarian. Skilled chefs achieve their expertise and acclaim through years and years of extensive research, devoted adventure and sheer hard work. To enjoy your favorite dinner, would you want to do the same? Certainly not. Yet, we all want to reap the many benefits of their discoveries and cooking techniques. How best can we do this? Cookery books provide an easy path.
Cookbooks and other cooking guides (like dietician Aaron Mayhew's BackcountryFoodie.com site) are your best friend, not just in the kitchen, but in every setting where you can prepare food and backcountry camps. Many people who go on backcountry camping trips will want to cook their food — primarily because restaurants and eateries are rare to find in these locations.
There are abundant recipes and cooking instructions to access in a fair backcountry cookbook. However, you need the best options. To help you taper down your search for reliable backcountry cookbooks, we will review the top seven that we recognize.
8 Best Backcountry Cookbooks
We recommend the following eight backcountry cookbooks (in no particular order):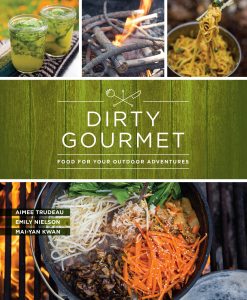 1. Dirty Gourmet: Food for Your Outdoor Adventures
Three women, Emily Nielson, Aime Trudeau, and Mai-Yan Katherine, are the 256-page cookbook authors. "Dirty Gourmet" contains at least 120 unique modern recipes that cater to day trips, car camping and backcountry excursions nutriment needs. The authors of the book have, in the past, featured in many national media, such as Sunset Magazine. The cookbook promises a leisurely and straightforward strategy to help defeat difficulties encountered with camping food preparation while still offering great recipes.
The book, arising from a website and blog managed by the authors, claims to provide excellently crafted but healthy global eating options for outdoor occasions. Entailed are breakfasts, desserts, dinners, refreshing camp beverages, various snacks, appetizers, side dishes, etc. The book has different activity-based recipes to help aid the selection process — picnics, biking, paddling, car camping, day hikes, etc. The book provides step-by-step instructions, quick-reference icons, needed equipment, supplies, and ideas with full-color pictures.

---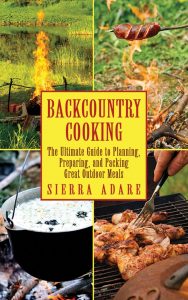 2. Backcountry Cooking: The Ultimate Guide to Outdoor Cooking
Sierra Adara authors this 240 paged book. She is an acclaimed cook and writer whose works have appeared in various publications, e.g., The Denver Post and Mother Earth News. The backcountry cookbook offers inexpensive but tasty, environmentally conscious outdoor cooking options. The author shares her cooking expertise creatively with easy to follow cooking instructions. She employs Western culinary history and first accounts to drive deep her message, enhancing the understanding of cooking traditions.
The "Backcountry Cooking" cookbook lists essential grocery items to buy beforehand while also adding tips on dehydrating your food cheaply. The cookbook, therefore, also helps in cutting costs. It claims to target all outdoor cooking events comprehensively.

---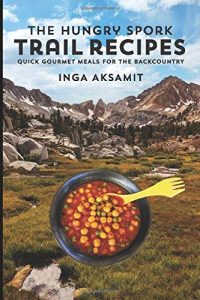 3. The Hungry Spork Trail Recipes: Quick Gourmet Meals for the Backcountry
Inga Aksamit, who is a Northern California travel writer, is the author of "The Hungry Spork Trail Recipes." This cookbook claims to provide exceptional alternatives to packaged trail food. It features various wholesome and nourishing "just-add-water" recipes to cater to the needs of the many wilderness backpackers and explores alike. The trail-tested recipes encompass flavors from the world's prominent cuisines, special diets, and whole, none-additive foods.
The majority of the recipes highlight freeze-dried or home-dehydrated ingredients. The campers can rehydrate the food items using warm water. These freeze-drying and rehydrating processes are freezer-bag methods. The book further features vegan, dairy-free, gluten-free, and vegetarian options for each recipe.
A distinct chapter of the book describes spice blends, gravy powders, sauces, bouillon, vegetarian bouillon, etc. Another chapter discusses various backcountry beverage options, smoothies, spiked drinks for particular events, homemade hydration mix, etc. The book, however, does not target users of the cold-soak technique of meal rehydration. It also does not explicitly describe the food dehydration process (however, this previous article we've done does talk about dehydrating food).

---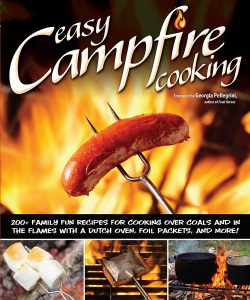 4. Easy Campfire Cooking: 200+ Family Fun Recipes
Peg Couch, an amateur seamstress and Editorial Director at Fox Chapel Publishing, authors this 128-page cookbook. The book mainly features over-the-fire cooking recipes that employ various items;
Sticks (for meatballs or eggs)
Skewers & kebabs (for pork, shrimp, vegetables, or pizza)
Foil packets (for potatoes, eggs, fajitas, or pears in caramel sauces)
Pie irons (for toasties, frittatas, turnovers, or pies)
Skillets (for flapjacks or a pork chop dinner)
Dutch ovens (stews, soups, chilli, or one-pot lasagnas)
Grates (for burgers, French fries, chicken, or corn).
The "Easy Campfire Cooking" cookbook also lists tips, how-tos, and several helpful campfire cooking techniques. The recommendations include making the perfect cooking fire and safety tips for individual campers and families alike.

---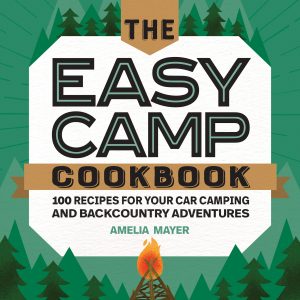 5. The Easy Camp Cookbook: 100 Recipes For Your Car Camping and Backcountry Adventures
Amelia Mayer is the author of this one-of-a-kind cookbook. At 6.5-by-6.5 inches in size, the book is described to be "sized perfectly for limited packing space." It claims to be an all-inclusive camping cookbook that aims to expand your culinary chops and options when outdoors, in the wilderness — the book details varieties of healthy family favorites that require little skill and experience to prepare.
The book contains two sections: the car camping and backcountry camping sections. Most of the recipes can be prepared at home, enabling you to focus on your camping activities.
The Easy Camp Cookbook also features vegetarian recipes.

---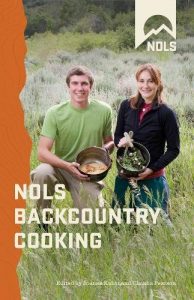 6. NOLS Backcountry Cooking: Creative Menu Planning for Short Trips
One of the two authors is Editor Joanne Kuntz, the book publishing coordinator of the National Outdoor Leadership School in Lander, Wyoming. Claudia Pearson, the other author, serves as the rations manager for the National Outdoor Leader School's Rocky Mountain Branch.
The 112-page cookbook helps campers in planning meals for short outdoor trips lasting five days or less. It also caters to the needs of small groups consisting of 1 to 4 people. The backcountry cookery book features 32 recipes, including breakfasts, dinners, snacks, beverages and desserts.
The "NOLS Backcountry Cooking" book helps cut down on the expenses of freeze-dried foods, and it provides sample menus and packaging guidelines for tasty meals, snacks, beverages, etc. Its recipes help the user to eat better nutritionally.

---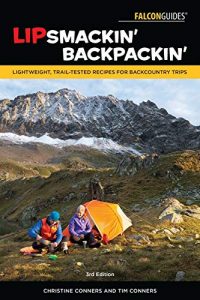 7. Lipsmackin' Backpackin': Lightweight, Trail-Tested Recipes for Backcountry Trips
The authors, Tim and Christine Conners are experienced campers and outdoor chefs. The cookbook pledges healthy alternatives to "bland, boring and lifeless meals after a hard day of backpacking." It serves as an all-in-one food directory that provides specific and comprehensive at-home and on-trail recipes.
In addition to recipes, the book renders nutritional information, preparation, and serving directions. It further provides a bulk of reference information, illustrations and instructional material to assist the user.
Doing things yourself is something most people would love to pride themselves in, and indeed it is worth it. Backcountry cooking is one such exercise you can master with the aid of the books we listed above. Enjoy your camping and backcountry activities!

---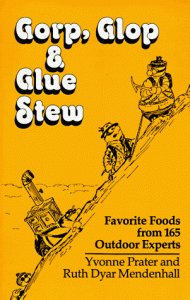 8. Gorp, Glop and Glue Stew: Favorite Foods from 165 Outdoor Experts
This one is a classic, and rightfully so! Written by Yvonne Prater and Ruth Dyar Mendenhall, the book features recipes from scores of outdoor folk who share their memorable cooking and  in the outdoors. It's humous and engaging and worth keeping handy when you put together your wilderness meals.
One 5-star reviewer sums up the book better than any other. She says: "For the backpackers, there are recipes for breads, bars, cookies and cakes; fruit and candy; granolas and gorps; and jerky, pemmican, and toast. For the camp-cooked meals there are glops, hooshes, stews, and soups; frying pan foods and one-burner baking; beverages, salads, and snacks; and perishable main dishes. For the truly outdoorsy types, the section on wild food feasting includes wild plants, varmints (mouse soup) and fish and game. The last section Better Food, Less Work includes recipes with comical names such as mushing along, raison d'eats, and chemical experience."

Ojonugwa Lawrence is a creative and disciplined outdoor writer with a background in psychology. Her love for outdoor adventures helps her connect to her readers and the universe as a whole.
Feature image by Z2Marketing, Shutterstock
We are committed to finding, researching, and recommending the best products. We earn commissions from purchases you make using the retail links in our product reviews. Learn more about how this works.