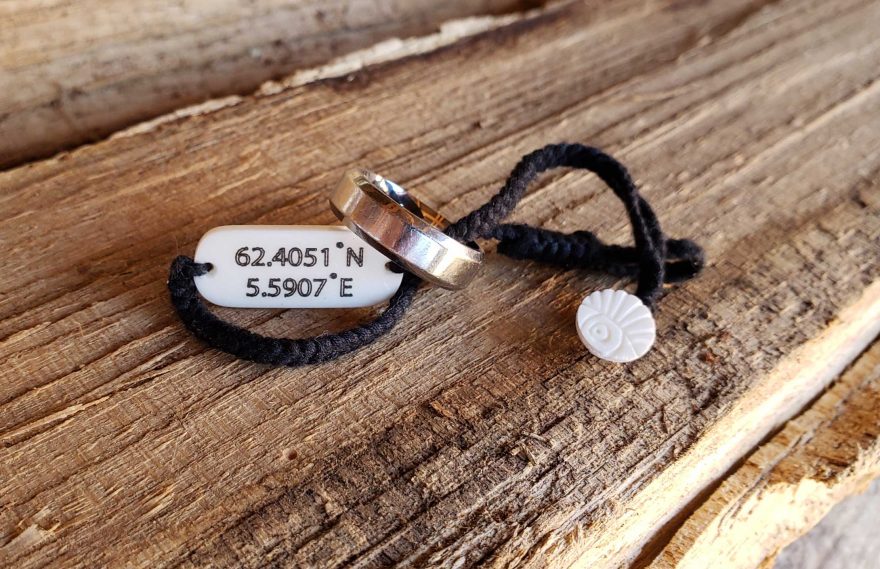 In 2007, my new wife and I set out on a two-week honeymoon adventure through Norway, where stunning fjords, friendly people and impressive wildlife made it one of the most exciting experiences of our lives. Every turn brought us something new, but perhaps the most memorable excursion was the late-night visit to the island of Runde, where we lay at the edge of a steep cliff, looking down upon tens of thousands of puffins socializing on its walls. It was about 1 a.m. on a day in June — the skies never fully darkened at that time of year — and we absorbed every moment there … together.
It happened at 62.4051º N, 5.5907º E
Today, those coordinates are enshrined around my wrist, thanks to the Wanderer Bracelet my wife bought me one Christmas. It's a small token that reminds me of that epic journey — and inspires us to relive it again some day.
If you've never heard of the Wanderer Bracelet company before, their bracelet pendants are crafted by hand out of water buffalo bone in a Balinese artistic style that has been passed on for generations. Because they are handmade in Bali and not mass-produced, each pendant takes its own slightly varied shape, meaning no two will ever be the same.
A thin rope connects each of the various pieces. The company says, "Weaving is a deeply important part of Balinese culture. Each morning, you will find Balinese locals placing offerings called 'canang sari' — small woven baskets filled with flowers, incense, and other items – in streets and temples as a thank you to the gods to maintain balance and peace on earth. All of our bands are hand-woven to honor this important Balinese practice."
The centerpiece item features an array of customizable options — including coordinates for any special place you want to honor — while the latch has it's own creative design for you to choose from. While the coordinates style was certainly my favorite, other options include the time/date of when a couple met, the crossing of their initials, or letters engraved on a heart design. No matter what it is, it should evoke something emotional for you and your significant other, as well as something deeply personal.
Mine helps me feel more connected to my life's great adventure, and thinking of that Norwegian experience often conjures images my other favorite destinations: Greece, Costa Rica, Israel, Ireland. I don't live in the past, but I use those past memories to motivate me to keep exploring the world around me. My Wanderer Bracelet keeps that motivation front and center.
I've enjoyed wearing my Wanderer Bracelet since the moment I got it out of the packaging. Though the string is thin, it has held up amazing well, a testament to its weave and craftsmanship. I contacted Wanderer Bracelets via their Facebook page with a question early on, and they were quick to respond. And despite a lot of wear since I received the bracelet as a gift in 2018, the lettering and bone material has held up very well. 
While the customizable bracelets are certainly Wanderer's flagship product, they have lots of other options to choose from, to accent any look you're trying to create: matching elephant or turtle styles, nautical or mountain-inspired designs, heart shapes or infinity and other mathematical designs. They also have several woven accent bracelets and water buffalo horn bracelets in a variety of colors, clarity and markings. I'll admit that in researching some of those designs for this article, I got caught up in them and placed my own order to add to my collection.
There is a pretty cool back story to Wanderer Bracelets, which talks about its founder finding himself turned around in a Balinese jungle and coming into contact with the craftsmen and -women who would ultimately help in creating the bracelets. Wanderer has always been sure to feature those workers often on social media.
Wanderer has built a dynamic culture around their brand, and includes materials in each shipment to help adventurers tell their story and to share why they chose what they did for their particular bracelet. If you do get your own bracelet, I encourage you to share your bracelet inspiration. There's no telling how many people will see it and become inspired, too.