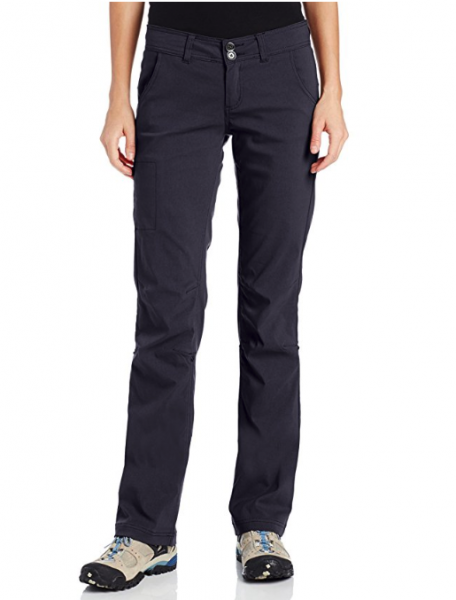 Adventurous women are hiking farther and climbing higher than ever before, so they need clothing that truly functions. When outdoor clothing fits well, wicks away moisture, and stands up to wild conditions, it is worth the purchase. The PrAna Halle pant passes this test, withstanding adventures from desert exploration and forest treks — keeping you comfortable with every step.
PrAna is known for making stylish, comfortable clothing to suit a variety of activities. Yogis, rock climbers, hikers, globe trekkers, and more wear their clothing for daily and activewear. The company says they base their designs on their own experiences, creating clothing with bold colors and classic design.
And the Halle pants reflect what adventurous women want.
Designed to Move With You
PrAna writes that "your imagination will limit you before the Halle ever is," and this notion is reflected in the design. These mid-rise pants are water resistant, allowing you to venture without worry. They also wick away moisture, so you can wear them in any climate. The durable Halle pant is reinforced at the knees to prevent wear. Available in green jasper, black, cargo green, coal, khaki, and thistle, you can choose whichever color fits your style.
As for the more technical design of the pants, its durable Zion fabric is made with a two-way stretch for mobility and comfort. Made of 97% nylon and 3% spandex, the specifics of the material cause water to bead and wick off. The pants have several pockets — hand pockets, back patch pockets, and a stash pocket on the thigh — allowing you to stash necessities for easy access.
The Halle pant is available in sizes 00-18.
Dress For Your Adventure
By building an adventurous wardrobe that functions effectively, you can immerse yourself in the outdoors. With their reinforced knees, comfortable fit, and flexible sizing, the Halle pant can be your go-to for your next climb or trek. If you enjoy the Halle pant, be sure to check out the rest of PrAna's collection of women's pants. You are sure to find a product that fits your lifestyle.