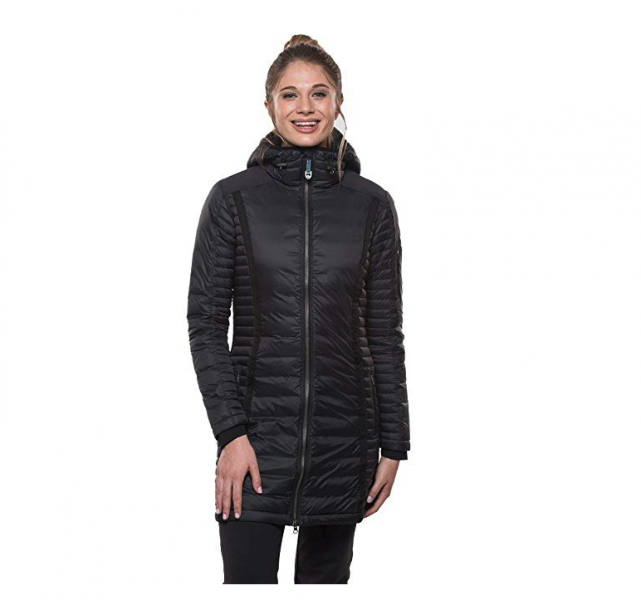 Compact outerwear is key for cold-weather adventures, and it can be tricky to find a warm option that packs easily. The Kuhl women's Spyfire jacket lives up to this challenge. With its lightweight design and functional features, this jacket offers efficiency, portability, and comfort for today's adventurous women. While the price is on the higher side, you are choosing a coat that lasts by investing in this product.
Ready For Any Adventure
The design of this jacket truly speaks for itself, helping the product stand out among the competition. Made of primarily nylon, the smooth lining surrounds the 800-fill 100% goose down fabric insulation. The jacket and high collar are filled to keep you warm while on the go and relaxing. While the fabric is lightweight, it is tear resistant.
As for the structure of the jacket, a series of baffles are secured on the front of tha jacket, back of the sleeves, and top of the sleeves to add extra warmth. There are hand pockets, inner pockets, and a sleeve pocket to stash your belongings. With a full-zip and elastic cuffs, this piece is designed for optimal fit. Its body-contouring design makes it perfect for layering.
With little bulk and flattering fit, this jacket is the perfect option for women on the go. You won't be weighed down by heavy down. Rather, you can expect to move with ease in this comfortable jacket.
This piece is available in XS-XL and in carbon, black, and blue colors.
A Backpacking Essential
Layering is one of the main challenges of backpacking, so it's important to find items that roll and compress easily. This is why many travelers bring a lightweight down jacket on all of their trips. Since you can never truly predict when the weather will change, or when you will decide to take a spontaneous hike into the mountains, it's important to have an extra layer you can rely on. By investing in the Kuhl Sypfire down jacket, you can be even more prepared for the elements on your next journey.
Image Courtesy of Amazon