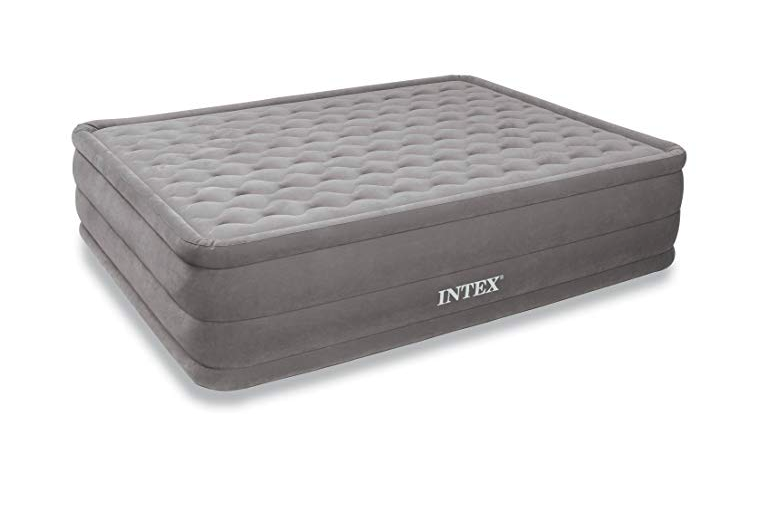 It's time to say goodbye to your old, leaky air mattress. Whether you frequently host guests or are looking for a little extra comfort on your travels, you need an airbed that is comfortable, portable, and easy to use. The Intex Ultra Plush Queen Airbed checks off all of these boxes, offering a more luxurious sleeping experience for a better night's rest.
At an affordable price, you or a guest can doze off on this mattress and never wake up touching the floor again. And with it's standard queen size, you can use the sheets and blankets you already have, creating a comfortable sleeping experience.
User-Friendly Design
Older airbeds include faulty pumps that inflate slowly and break easily. This Inex product takes the hassle out of setup, coming with a built-in electric pump that inflates the mattress in about four minutes. Once inflated, the stable outer perimeter will keep the mattress in place, so you don't have to worry about it sagging on the edges. When storing this mattress or bringing it with you on a trip, it conveniently folds into a compact duffel bag.
The queen mattress has dimensions of 60 x 18.5 x 80 inches and has a 600-pound capacity. Its ultra plush design is sure to give your guests a more comfortable experience.
One Amazon user listed the soft outer material as a perk:
"The top of the mattress has a soft cloth feeling to it so it doesn't feel plasticky against your skin if you don't use a sheet. I do use a sheet on the air mattress and a queen sized sheet fits perfectly when stretched. It also supports you fairly well when you roll over from side to side instead of just laying still. Even if you lay on one side of the mattress, it will support you."
With more padding than the regular Intex models, this mattress is likely worth the extra investment. Some Amazon users did report the inflation and material not lasting as long as they would like, so be sure to contact Intex customer services about defective products.