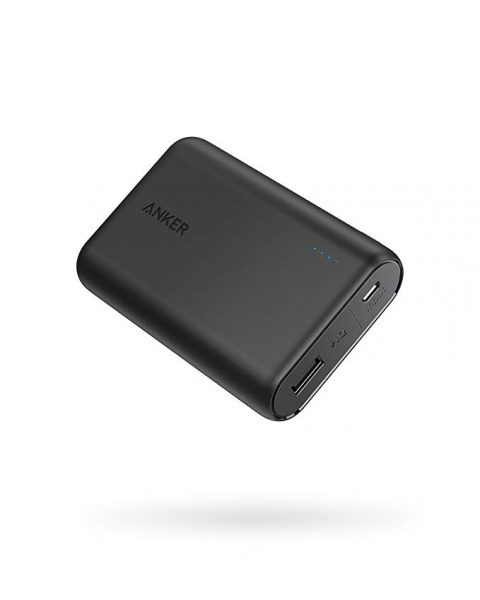 Just because you're away from an outlet doesn't mean your electronics can't stay charged, thanks to the Anker PowerCore 10000.
It's happened to the best of us: a long day of hiking or a camping trip away from civilization only to return to an area of service and notice your phone is dead when you have to make an important phone call, send a text or navigate your way home.
The Anker PowerCore 10000 is a portable battery that lets you charge any electronics that use a USB cord — phones, tablets, smartwatches, cameras etc.
The PowerCore 10000 is an affordable product ($29.99) that comes with the satisfaction of knowing that you won't have to worry about a dead phone again. It is available in white, red and black and comes with a USB cable, travel pouch and welcome guide.
Best of all, it's "smaller than a deck of cards and as light as a baseball," so it doesn't take up space or weight on your outdoor excursions.
The Anker PowerCore 10000 can charge a smartphone more than three times and tablets once before it needs a recharge itself. In one battery cycle, it can charge an iPhone X 2.4 times, iPhone 8 3.6 times, Samsung S9 2.2 times and iPad Mini 4 1.2 times.
Anker's PowerIQ and VoltageBoost technologies also provide a fast charging experience, so you don't have to wait long for your phone to charge. However, it does take 6 to 7 hours for the PowerCore 10000 to charge itself, so plan ahead if you want to use it.
You can also charge your electronics without worry; the Anker PowerCore 10000 provides surge protection and short-circuit prevention, which ensures that your product charges safely.
Sound too good to be true? Fortunately, it's not. Customers are happy with the Anker PowerCore 10000. It has more than 7,000 Amazon reviews and a 4.5-star rating. Eighty-three percent of customers gave the portable battery 5 stars.
If, however, you are unhappy with the PowerCore 10000, Anker offers an 18-month warranty.
So, go on that hike and enjoy your camping trip without worry. With the Anker PowerCore 10000, a dead battery will be a thing of your past.